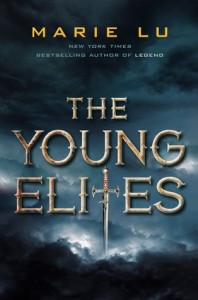 The Young Elites
(
The Young Elites #1
)
by
Marie Lu
Purchase on:
Amazon
, 
iBooks
Add to:
Goodreads
Synopsis:

I am tired of being used, hurt, and cast aside.

Adelina Amouteru is a survivor of the blood fever. A decade ago, the deadly illness swept through her nation. Most of the infected perished, while many of the children who survived were left with strange markings. Adelina's black hair turned silver, her lashes went pale, and now she has only a jagged scar where her left eye once was. Her cruel father believes she is a malfetto, an abomination, ruining their family's good name and standing in the way of their fortune. But some of the fever's survivors are rumored to possess more than just scars—they are believed to have mysterious and powerful gifts, and though their identities remain secret, they have come to be called the Young Elites.

Teren Santoro works for the king. As Leader of the Inquisition Axis, it is his job to seek out the Young Elites, to destroy them before they destroy the nation. He believes the Young Elites to be dangerous and vengeful, but it's Teren who may possess the darkest secret of all.

Enzo Valenciano is a member of the Dagger Society. This secret sect of Young Elites seeks out others like them before the Inquisition Axis can. But when the Daggers find Adelina, they discover someone with powers like they've never seen.

Adelina wants to believe Enzo is on her side, and that Teren is the true enemy. But the lives of these three will collide in unexpected ways, as each fights a very different and personal battle. But of one thing they are all certain: Adelina has abilities that shouldn't belong in this world. A vengeful blackness in her heart. And a desire to destroy all who dare to cross her.

It is my turn to use. My turn to hurt.


"Come out, demon." His smile fades, replaced with a chilling blankness. "Come out, so we can play."
I can't breathe. I swear to God-I literally. Can't. Breathe.
I was in shock. I was in utter denial. I was half hyperventilating and half watching Friends (I mean, I have to calm down somehow, right?). The beginning and the end….they were truly something to behold. When I picked this book up, it felt right. Near the end, I was an absolute mess and completely engrossed in what could possibly become of these wonderfully flawed characters-And that is really saying something, because somewhere in the middle I had decided I didn't care anymore-Go figure.
Who will ever want you, Adelina?
My fury heightens. Everyone. They will cower at my feet, and I will make them bleed.
I always say I won't write a long review and then I proceed to write an even longer review. It's one of my many curses gifts-The gift of gab. But, with so many mixed emotions, I feel it would be unfair-or rather, very hard on myself-to write a review on a book that I both loved and hated. Because I did-I loved and hated it. And I think that's testament to this author-everyone adores Marie Lu. And as a person? I think she's great. As a writer-So creative. But, somewhere along the lines, she always loses me in her books. It's like, do you have a certain way you'd love things to go in your mind when you read? Especially dystopian or peril-ish type books? Well, I do, and most authors tend to either go exactly in the direction I want it to-but much better-or somewhere very close and very pleasing to me. But, with Marie Lu, she always…veers off. And I don't know why. I never like the journeys her books take, but I generally always love the end result. I guess we will call that a matter of creative differences.
My sorrow turns to anger, then to ice-cold fury. My soul curls in on itself in defense. I am gone. I am truly gone.
I am not sorry.
The beginning. Strong. Haunting. Engrossing. It immediately draws you in and you're like-Fuck yes, this is going to be epic. And the beginning is.
I struggle feebly against my chains. My legs are shaking violently. I want to hide my body from all of these people, hide my flaws from their curious eyes. Is Violetta somewhere in this crowd? I scan the faces for her, then look up toward the sky. It's such a beautiful day-how can the sky possibly be this blue? Something wet rolls down my cheek. My lip quivers.
Gods, give me strength. I am so afraid.
We learn of a girl who is badly mistreated because of a genetic defect she can't help, a genetic defect she acquired through no fault of her own when she was younger-it effected more than just her because of a plague or something. The kids effected by this plague are labeled malfettos….they are mistreated and deemed not fit to be a part of society. But there's one strong male who is gathering malfettos-the best of the best. They are called the Young Elites….and he's coming for Adelina. (By far one of my favorite scenes of book, second only to the end). Rating? 5/5.
The Middle. I'm sorry, the middle just….ugh. It lost my interest. And it's not because it wasn't good-it was. It just….wasn't for me. It gave me negative angst-not the good angst I crave and am sickeningly in love with. No, this angst had me losing sleep (not in the giddy, excited way) and worrying if Lu was going to ruin the end for me (yes, I'm very selfish like that)…and basically the middle was what I was speaking of earlier-It just wasn't going where I wanted it to go. Boring and almost cause for DNF….which is never a thought in my mind. Rating? 2/5.
Enzo watches me silently. The lanterns on the courtyard wall outline his face in a halo of damp, golden light, and the beads of water glitter in the darkness. He is such a startlingly different beauty from Raffaele-dark, intense, wary, perhaps even menacing-but I see a softness in him, a stirring desire. Something mysterious flickers in his eyes.
The End. Can you really put this fucking epic end into words? Can you? I'm not so sure. Let's just say-It's my absolute favorite. Most-perilistically-pleasing. Sickening. Maddeningly perfect. Ending type ever. Ever. I got exactly what I normally want but…Marie Lu? You got some balls, girl. Because…
Rating? 10/5. I'm not happy about it, though.
It is my turn to use. My turn to hurt.
My turn.
So, you know. I don't know what to say. I hated it. I loved it. It was perfect. It had dumb parts. It was intense…but only in the beginning and not until the very end. I don't know. I mean, are we all always so sure what works for us? Why something doesn't click until we get precisely what we want? Is it fair? I never have a problem with authors playing things out as they please, but, I definitely am feeling a little harsh on this one. But, eh, I've always been fickle. Take what you want from this review-I have no clue what to say to anyone, anyway.
If you want a more thorough and well thought out review, check out Anna's review. Thanks for joining, Bug!
Related Posts