OH MY GOSH!  The San Fran Golden Gate Author Event was SO much fun!  I got to meet Jennifer L. Armentrout (Lux Series
, The Covenant Series
, Wait for You Series & more
), Karina Halle (The Artists Trilogy
, Experiment in Terror Series
and most recently Racing the Sun
), Jay Crownover (The Marked Men Novels
 & The Point Novels
) and so many more authors!  I met up with an old friend, who now lives in the city, so that way we could fangirl together.  We grew up down the street from one another, but had drifted apart over the years.  Thank goodness for Goodreads, because it brought us back together again and we realized that we were BFF in regards to our book list!  Same favorite authors?  Check!  Same favorite books?  Check!
Upon arriving at the hotel, I have to admit there was a moment when I didn't know what to say or think.  I went into complete sputtering fangirl mode!  While we were waiting in line to get into the event, Jennifer L. Armentrout and Drew Leighty walked through the lobby.  A simple enough act, but I was too excited to do anything lol.  Thank goodness I got my act together by the time we got to meet her!  We stood in line for almost an hour and a half and it was SO worth it! (That's me in the white shirt and camel colored purse 🙂 )


*picture from DebbieReadandBlogs*
Jennifer L. Armentrout was so friendly!  She was easy to talk to and made me feel comfortable right away!  And the best part?  She spent a while talking to us.  She didn't just sign books, take pictures and then we left.  Nope, we actually got to spend time visiting with Jennifer and Drew.  She filled us in about the Hatfields and McCoys in West Virginia, answered some of our questions about Apollycon, and then we even chatted about the show Moonshiners.    And we were stoked to find out that Drew complete agreed with us in regards to Kayne's music-since he was performing in SF that night.  His new music just can't compare to his old tracks!  So random, but those conversations were so much fun!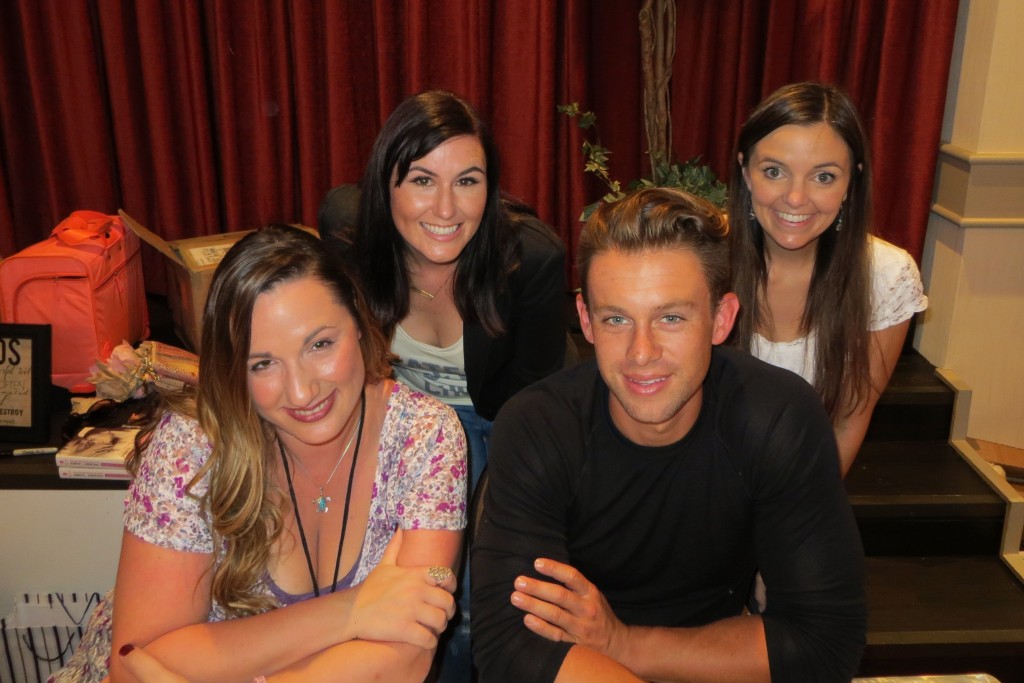 We also got to meet Karina Halle and she scared the living daylights out of me lol.  I told her that a scene in The Artists Trilogy
had freaked me out so much that I woke up my husband who was sleeping – whoopsy.  When she found out where I was in the third book, Bold Tricks
, Karina gave me the doom and gloom warning that I hadn't seen anything yet.  That there was a scene coming up that was going to make me squirm and probably freak out even worse.  ACK!  Karina Halle was super friendly and we even chatted a little bit about painting our nails.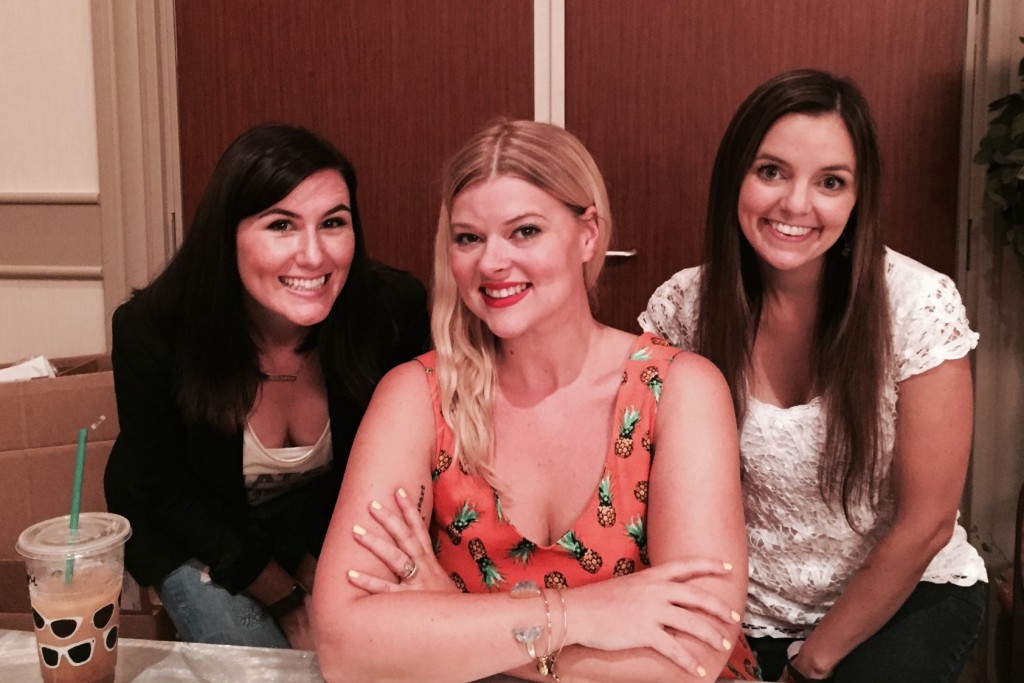 And then we met Jay Crownover.  Can I say that she is a badass?  Because she is!  She told us stories about her previous work experience in the bars and how it helped mold the characters and situations that she writes about.  She got to watch the guys in front and behind the bar hit on girls plus all of the drama that unfolded.  She saw so much.  She loved Astin and my story about reuniting over books!  It was her favorite story of the day!!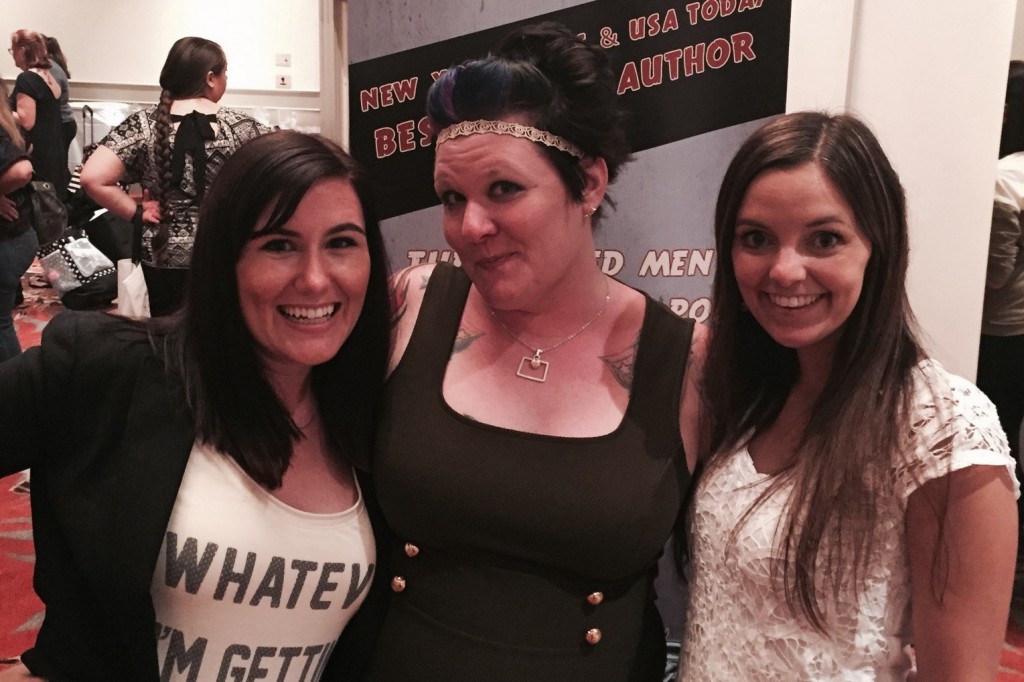 There were so many other authors that we spoke to whose books we haven't read yet.  Sawyer Bennett, Mary Ting, Lauren Stewart and Dani Hart are definitely on my to-read list after we had fun chatting with them!
Sawyer Bennett told us about the amazing experience she had while shooting the covers of the books in her house.  How she had a mostly naked female cupping her breasts bending over with a guy unbuttoning his pants and lowering himself behind her lol.  Add in that some of the men were walking around her house shirtless…..well I was fanning myself while listening to her stories.
Mary Ting was HILARIOUS!  She was easy to talk to and I loved that she was sipping wine during the event!  And Lauren Stewart and Dani Hart were so sweet and friendly!  It was such a great group of authors to visit with!
Overall, I ended up with lots of swag, an ARC of JLA's next NA book Forever with You
(SCREAMS WHILE JUMPING UP AND DOWN!!!!!) and all my books happily signed.  I can't wait to go to my next signing!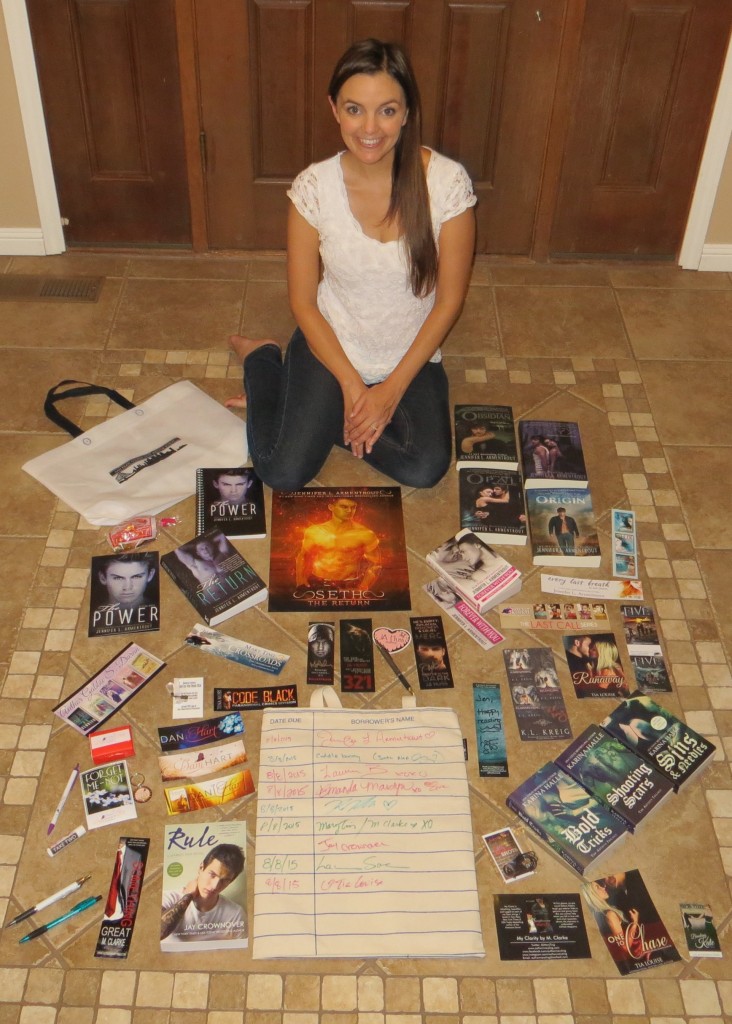 Related Posts