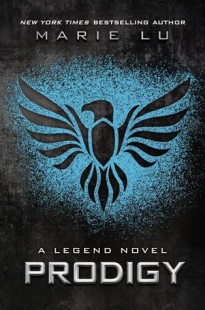 Prodigy
(
Legend #2
)
by
Marie Lu
Purchase on:
Amazon
, 
iBooks
, 
Book Depository
Add to:
Goodreads
Bull. Shit. I call
bullshit
on that little ending. I knew there was going to be a cliffhanger-something devastating-but that was a cheap shot. You hear that Marie Lu? Cheap. Shot.
I don't know what I expected…except that I do. It's all so confusing. It's not a matter of the cliffhanger itself, it's the mix of events and emotions compiled with the cliffhanger that left me a tad teary-eyed. Yes. A bomb was most certainly dropped on us. Yes, it was supposed to be sad. No, I was not sad when this bomb was dropped on us. Mix that bomb with whatever the hell of an excuse that ending was, though, and YES, I became sad.
I'm fickle with cliffhangers. I am. I'll be the first to admit it. I have a love/hate relationship with the bastards. I'll be shaking with nerves or anticipation, and then this astronomical…thing will happen and I'll either be pissed/oh-my-gosh-I-need-the-next-book-now or pissed/indifferent. On Prodigy, I have to lean toward the latter emotion. Why? Oh, I don't know (view spoiler)[They fight to get to the Patriots. They fight separately to assassinate the Elector and infiltrate the Republic incognito, succeed, [June and Day] botch it on purpose. They fight to stay alive and get to the colonies. Switch back to the Republic, then we find out Day essentially has a brain tumor that's been secretly killing him. Then, on top of that, he basically ends it with June because of said brain malfunction, and doesn't even tell her why. This is my biggest problem!!! He just won't open his mouth and tell the girl-then she doesn't even ask whhhyy?! (hide spoiler)]
Come on. I know that was a lot for a spoiler, but geez. The more I typed, the angrier I got. It was cute, it was heartwrenching, I ate it up, but I can't get over my final stated fact in the spoiler tag. It bothers me. A lot. Enough that I am anxious for the next book-we went through all that and now…what? How long will it take to make things happen or right in Champion? Damn.
Anyway, now that I got really the only problem I had with the story out of the way, I can say with absolute certainty that I enjoyed this book. Immensely. It was action packed from page one, there was a lot more romance and feelings that made me feel all warm and fuzzy inside, and a [despite that stupid flaw] pretty cool ending scene.
June and Day are such likeable characters. Day is fierce, passionate, loyal [for the most part], and would do anything for those he loves. June is smart, loving (I loved seeing that in this book), and very intelligent. Day is so adorable when it comes to June. That little 'trinket' we see around the beginning of the book? Swoon. Made my heart melt. Then the end? Double Swoon. Again, my heart melted-I might have even misted up a bit lol. You know me…romance to the core…
A couple of the secondary characters stood out for me as well, while a couple just pissed me off-not that I hadn't guessed these things might happen, but still. Kaede, a character I've always enjoyed, was pretty fun and badass in this one. Then there's Anden. He is a pretty sweet guy. I don't like his feelings toward June, of course, but overall an interesting character to add to the story.
I'm sorry. I realize I hardly said anything about the book, but this can't be helped. I normally finish books at night, then write the review for them when I get to work the next day. This is why they are more calculated and concise, while this one is a jumbled mess of rants/feelings. It's how I feel immediately after finishing, so I will just go with it. A very fun story, and I grew to love Day and his sweet vulnerabilty. It was a side we saw in Legend, but we didn't see the confusion that went along with the vulnerabilty-it added depth to this story. Pick up these books and read them before Champion comes out. Even if they don't become your favorite, they'll surely keep you entertained and wanting to find out what happens next. 🙂
Related Posts