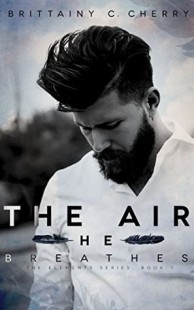 The Air He Breathes

(Elements #1)
by Brittainy C. Cherry
Purchase on: Amazon, 
Book Depository
Add to: Goodreads


Synopsis:

I was warned about Tristan Cole.

"Stay away from him," people said.
"He's cruel."
"He's cold."
"He's damaged."

It's easy to judge a man because of his past. To look at Tristan and see a monster.

But I couldn't do that. I had to accept the wreckage that lived inside of him because it also lived inside of me.

We were both empty.
We were both looking for something else. Something more.
We both wanted to put together the shattered pieces of our yesterdays.

Then perhaps we could finally remember how to breathe.

Warning : This is a DNF review of a book I pretty much hated. As much as I would have wanted to finish it, I reached 34% and there's no redeeming this book.
Just a little over a year ago, I started reviewing books on Goodreads. I gave up on New Adult at roughly the same time. Well, more or less, and this is why :
– They often romanticize unhealthy/abusive relationships and are full of sexist tropes.
– Honestly, most of them aren't well-written.
– They rely on unrealistic and over the top drama.
So, yes. A few of them are good, and when I stumbled across The Air He Breathes, I decided to try it because a) Did you see the ridiculously high rating? b) It was part of the Romance Finalists in the Goodreads Choice Awards and c) It was a freebie. That blurb, though. I'm not gonna lie, it screamed cheap NA to me, but I know I can be judgmental towards blurbs so I didn't listen to my instincts.
Verdict : I should have trusted my guts, because this book is TERRIBLE, and if I usually understand why people love books I personally hate, I just can't here. Poorly written, following a ridiculous storyline filled with clichés and stereotypes & punctuated by cringing dialogues.
This leads me to : WHAT THE FUCK DID I JUST READ?
The story starts with the two main characters relating the deaths of their loved-ones. Four, to be exact, because life is a bitch in NA, you know. What better way to picture characters who are BROKEN than let them shattered by the deaths of their respective significant others? Oh, I know : add a child's death (because tears. Tears are always good for sells) and a father's death, too, just for the sake of having the female-lead say things like,
"Mama became a whore after Dad died. (…) There weren't many other ways to put it other than that."
I personally could find other ways to say that your mother dates a lot, but hey, maybe that's just me. Don't be too worried though! She's sure her mum never cheated on her father before his death, because "when he'd go off to work at the crack of dawn, she would have his breakfast and lunch packed with snacks".
So, just tell me if I misunderstood, girl, but you're either a whore or a housewife. Nice. (3%, and I already knew our relationship wouldn't be easy, UGH)
But moving on.
Because with four deaths we didn't reach the end of our NA drama feast (WOOT!), Liz hits a dog with her car. And then you think, she is a decent human being, I guess? She's going to take care of him, surely? Yes she does, but before checking on the poor dog LYING ON THE GROUND, she takes the time to a) stare fixedly into the eyes of the owner that "match the shadows of the sky right before a thunderstorm" (whatever that means), b) notice his clothes, his headphones, his muscular arms, his fucking SHOES, all of this before looking at the poor dog LYING ON THE GROUND. I mean, okay. Psycho much? Unsurprisingly Tristan (of course he's our love interest!) is pretty pissed and sort of yell at her right away.
About this : the only criticize I've read about this book is the way Tristan acts when they meet. Let me get this straight : I don't condone any kind of violence, even verbal, BUT SHE JUST HIT HIS DOG WITH HER CAR AND IS STARING AT HIM LIKE A DROOLING FANGIRL. Trust me, I would be beyond pissed if someone hit my dog, and I'm not a yelling kind of person.
But moving on.
That's when I realized that this kind of book turned me into a psycho : they're at the vet, and kind of bicker all the way – not in a love/hate banter fashion, mind you, but more like this :
"Are you always… always…"
"Always what? Spit it out! Use words!" he ordered.
So charming, right?
So, they're at the vet. Poor dog is healed. And then, there's this (Liz is describing):
"He lost himself in his emotions, and when he exhaled, he began to sob uncontrollably. He wailed, his tears harsh, raw, and painful."
I laughed at that. I'm a terrible human being.
But moving on.
Because a NA wouldn't be a NA without some kind of woman hating, Liz encounters her old neighbors who – OF COURSE – are the perfect stereotypes of noisy, mean and gossip women. Of course Liz hates every second of their conversation. They complain about the poor state of her yard and say stuff like this : "After Stephen died, you left so fast that I wasn't able to make you any comfort food, so now I was finally able to make you this meatloaf to help you mourn" or this : "But, just to be clear, Emma [her little daughter] is not suffering from depression, is she? I hear that can be quite contagious with other kids." Because women are all kinds of stupid aren't they? ARGG.
Oh, by the way, thanks for the *discreet* info-dumping beautifully hidden in the dialogues. *snorts*
Speaking of women, let's talk about her best friend, okay? See, I'm always happy when authors picture women who have an active sex-life without slut-shaming them, so at first I thought, hey, good. I was a fool. There's a stereotype I hate almost as much : the crazy, over-the-top best-friend whose sex-life is never directly condemned but discreetly mocked.
Meet Faye. Faye is happy.
"[she] snuggled her head against my breasts, as if they were her pillow."
Faye is 27.
Faye doesn't know that a (bad) joke is always better told only once.
"Or, you could fire Sam," Faye offered. "He already has another part-time job! Plus, he's kind of creepy."
"I can hear you," Sam said, shyly." (she's going to make that joke third times)
Faye has no filters.
"What do you mean you're trying to get laid?" I gasped. "Faye, are you having sex right now?"
(…)
"Well, if you mean is there a penis currently sitting in my vagina, then yes. I guess you could semi call that sex."
"Oh my God, Faye! Why the hell would you answer the phone?!"
"Um, because chicks before dicks? Like, literally." She laughed. I gagged."
Let's pay a little attention at what we're being sold, okay? Faye, the sexually active best-friend, is annoying and unbearable. She talks (loudly) about Liz's "aging" vagina while Liz is serving customers at the restaurant. She visits at night with friends after Liz explicitly texted her that she was fine (don't mind me on this, apparently that's okay – I'm certainly awkward to find that annoying). Truth is, it's sneaky, but I felt as if this ridiculous stereotype of a woman's purpose was to make us despise her, and with her, women who date (the mother is a whore, remember?).
This is what the book is telling us (in my opinion) : So, women, you want to have a sex-life? Don't you see how ridiculous you would be?
Fuck you, book.
But moving on.
I'm sure that by this point you're dying to know how the romance between our two *insert gagging emoji* broken souls will unfold.
Well, you know, the usual :
fighting ► forced kiss ► OMG this is HAWT! ► pushing away.
ARGG. Terrible book, not recommended.
Related Posts