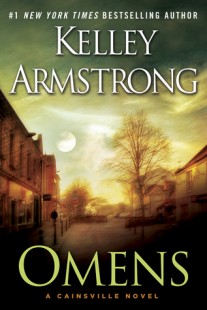 Omens
(
Cainsville #1
)
by
Kelley Armstrong
Purchase on:
Amazon
, 
iBooks
Add to:
Goodreads
Synopsis:

Twenty-four-year-old Olivia Taylor Jones has the perfect life. The only daughter of a wealthy, prominent Chicago family, she has an Ivy League education, pursues volunteerism and philanthropy, and is engaged to a handsome young tech firm CEO with political ambitions.

But Olivia's world is shattered when she learns that she's adopted. Her real parents? Todd and Pamela Larsen, notorious serial killers serving a life sentence. When the news brings a maelstrom of unwanted publicity to her adopted family and fiancé, Olivia decides to find out the truth about the Larsens.

Olivia ends up in the small town of Cainsville, Illinois, an old and cloistered community that takes a particular interest in both Olivia and her efforts to uncover her birth parents' past.

Aided by her mother's former lawyer, Gabriel Walsh, Olivia focuses on the Larsens' last crime, the one her birth mother swears will prove their innocence. But as she and Gabriel start investigating the case, Olivia finds herself drawing on abilities that have remained hidden since her childhood, gifts that make her both a valuable addition to Cainsville and deeply vulnerable to unknown enemies. Because there are darker secrets behind her new home and powers lurking in the shadows that have their own plans for her.
"First you buy me a mocha. Then you let me help you hide a body. Now you take me to a biker clubhouse. Best. Day. Ever."
Wow. Color me surprised : I certainly didn't start Omens with high expectations and yet… It kept me on the edge of my seat right up to the end.
The first thing you need to know is that it is NOT Urban Fantasy by any means. Although I was more than okay with that because UF never was my favorite genre (that's an understatement), the blurb and the shelves can be misleading and you would be disappointed if that's what you expect.
Think… Criminal Minds meets Supernatural. A murder investigation with sparks of paranormal. A mystery that will keep you guessing the whole time, glued to the pages, where you need to pay attention at every omen and even every dream. Just sayin'.
"I sat there, feeling sick and shocked and angry, most of all furious with myself for being such a fool, such a damned fool.
This wasn't a game. It was serious and ugly and I wanted nothing to do with it. And yet, in wanting nothing to do with it, I was a hypocrite."
As for the writing, don't expect purple prose or beautiful sentences here. Yet despite the pretty generic writing, I enjoyed it immensely for what it is : to the point, true. And it works : I genuinely laughed. Smiled. Feared. Freaked out. Ate it up.
If Olivia's POV (in first person past tense) owns the show, the story is interspersed with passages in random people's POV that are told in third person. How unsettling as it sounds, strangely it didn't bother me at all but on the contrary I thought that it added interesting layers to the story.
But what I preferred were, by far, the dialogues. Indeed they were clever and funny in a non show-off way, the kind of private joke funny that doesn't allow me to take a sentence off context and say LOOK AT THIS! THIS IS HILARIOUS! Nope. Yet in context? With all the characters' dynamics background? I laughed. I giggled. At the most random parts.
To sum-up, we have :
An enthralling mystery to resolve ☑
An interesting background filled with fae folklore ☑
Several scenes really creepy ☑
A compelling writing ☑
In my opinion Kelley Armstrong handled her characterization perfectly : quietly, she set her characters in motion and just…. let the reader manage them, scrutinize them. I can't express how much I loved how she let me forge my own opinion without never telling me who they're supposed to be. Indeed she never tells us what to think, and that's brilliant – and so, so rare. Actually it's when we stumble upon books like this one that we realize how often we're told how the characters are in many books : This character is nice. He is hot. She is mean. Not an once of this telling strategy with Omens characters, and I'm so grateful for that.
Both main characters are manipulative and selfish. BEST. FEEL. EVER. Oh, also, their banter is fabulous.
The heroine, Olivia, is relatable, believable, willing to be strong but quite stung by the news, as everyone would be : how would you react if you learnt that you were adopted and that your biological parents were famous serial-killers? Huh? Does she hide behind her soon-to-be-senator fiancé?
She's going to handle it her way, thank you very much. Courageous this one. Frankly, I cared for her from the start. Don't get fooled, though : she's not our perfect little one, faaaaar from it, but she's ready to do anything to unravel the truth and we follow her wanderings like nice puppets. Trust me, Gabriel is right : she does have a backbone, and I loved that.
"You're not shooting the cat. It would leave a mess."
"True. Also, the killing of small animals is the entrance ramp onto the serial killer highway." I paused. "Damn. I bet the cat knows that. He picked me because I can't hurt him, or I'd be fulfilling my biological destiny. So I'm screwed. The cat stays. Unless you'll kill him…" I glanced at him. "How does fifty bucks sound?"
SPOILER ALERT : Don't worry, nobody harms the cat. Yet. (I kid, I kid)
Now, Gabriel.
"My nephew is a manipulative, scheming, unscrupulous son of a bitch. And those are his good qualities."
I'm a sucker for multi-layered and quite untrustworthy characters, that's why it won't come as a surprise that I'm completely drawn to Gabriel's character, and not in a romantic way : here's a man who is fascinating and not because he's a love-interest but because what I saw of his personality (I know! Not eight-packs or other shining things guys always have *in books*) appeals to me and above that, intrigues me. The problem I usually have with controlling – or powerful – male-leads lies with the fact that the heroine spends more time drooling over them than standing for herself : there's no romance here, therefore I can focus on his moral ambiguity without feeling the need to rage – I already said that : more than the characters alone, the characters' dynamics are important to me and influence my reading experience. Let me get to know them first. We'll see about the romance later (maybe).
"He had nothing to feel guilty about. If he knew one thing about life, it was this : look out for yourself. No one else would do it for you."
Gabriel isn't a "good" guy, and I sure don't want him to be. He's bossy, but trust me, Olivia knows how to handle him, and is even more bossy perhaps. To be frank, it pleased me to no end to see her snapping at him and analyzing his behavior. Really, I'm shameless : I loved seeing her destabilize him and push his limits (and I can't wait to see how their relationship will evolve).
To sum-up, we have :
Strong and interesting heroine ☑
Captivating male-lead ☑
Well-developed secondary characters ☑
A cat (yes, that's important, duh) ☑
Awesome dialogues between the characters ☑
Real character development ☑
► Kelley Armstrong offers us a strong debut for Olivia and Gabriel's story : I will definitely recommend it to any reader who loves mystery and good characterization. As far as I'm concerned, I'm off to read the sequel right now.
Related Posts