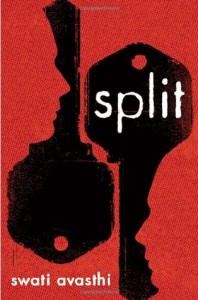 Split
by
Swati Avasthi
Purchase on:
Amazon
, 
iBooks
Add to:
Goodreads
Synopsis:

A riveting portrait of life after abuse from an award-winning novelist.

Sixteen-Year-Old Jace Witherspoon arrives at the doorstep of his estranged brother Christian with a re-landscaped face (courtesy of his father's fist), $3.84, and a secret.

He tries to move on, going for new friends, a new school, and a new job, but all his changes can't make him forget what he left behind—his mother, who is still trapped with his dad, and his ex-girlfriend, who is keeping his secret.

At least so far.

Worst of all, Jace realizes that if he really wants to move forward, he may first have to do what scares him most: He may have to go back. Award-winning novelist Swati Avasthi has created a riveting and remarkably nuanced portrait of what happens after. After you've said enough, after you've run, after you've made the split—how do you begin to live again? Readers won't be able to put this intense page-turner down.
I wonder if I'm a broken kid. Was Christian ever broken? My mother would say, No, too strong, and would sneak a satisfied smile at her folded hands.
What about me, Mom? I would ask.
And the smile would leave her.
She would be right.
Once again I find myself bursting with so many emotions that I can barely contain them…yet at a loss on how I can explain how wonderful, deep, and thought-provoking this book is without tarnishing it's beautiful simplicity. It's not often a book speaks to you on such a fast-paced, addicting level, yet keeps a slow, steady pace that manages to portray the overall message without becoming boring. This book wasn't explosions and romantic rendezvous' and extreme acts of heroism-It was so much more than that.
Sometimes I wonder why words can't actually make us bleed.
It was heartbreaking struggle and broken relationships. It was wishful dreaming and regrets of mistakes from the past. It was aching for forgiveness and finding who you are, fighting to be better than you appear to be, even when you can feel the darkness creeping in through the edges of your peripheral vision. This book fought to show what it means to walk away even when it's hardest…the story not often told: After. What. Happens. After? This was Jace's story.
In Chicago, I knew everything. I could look at the sky and know how warmly to dress; I knew where every street led, and where every fight would end. I could look at my father and know when to keep my mouth shut, when to piss him off so I could take the hits for my mother, and when only his wife-punching bag would do. I understood when a fight was coming, how fast It was going, where it was going, everything. Fights have a rhythm; they do. I swear it. And they don't end up like that. Not where I'm from.
I guess I don't know what I was expecting when I picked this story up. The blurb was clear that our dear Jace was abused, but I didn't really know just what the story would be about. I mean, yeah-He's abused by his father, as was his whole family. Years ago, when Jace was 10 or 11 (I forget which), his brother finally had enough of it; Enough of seeing his mother beaten to a bloody pulp; Enough of standing in the line of fire so his mother could avoid another crippling fight; Enough of almost dying. Jace, at the time, was a child-he still idolized his father even though he saw things that made him cringe and retreat to hide frequently. He didn't understand the magnitude of what was happening and what it meant for his family…even as they were fracturing into pieces right before his eyes.
Fightology Lesson #8: Relax when hits are coming because it hurts less.
When Christian, his brother, left, he thought that Jace would be fine-After all, he was his father's favorite. But the one thing he didn't take into account was just how much his brother loved, adored, and looked up to him. He didn't look past the last rib-breaking blow to see that he was his little brother's role model….And that when he left, Jace would just step into his place.
Right hook. Let him explain away a shiner. Like I've had to. Soccer, I've said, Fight, I've said, Hockey, basketball, croquet.
Fast forward a few years later: At sixteen, Jace did the one thing that neither his brother nor his mother had ever thought to do: He fought back. Thus leading to the start of the story when Jace shows up on his estranged brother's doorstep bloody, beaten, wired on Mountain Dew from a 19 hour drive, and barely able to stand on his own two feet. What?? I didn't say he won, he just tried.
My stomach is starting to flutter because I know what I want to do, and I have stage fright. Fist into his face. Another in his gut. After all, I've had a day. Isn't that what we're supposed to do? Hit something, hit someone. The moment our fists make contact, we feel better, right, Dad? Let it out. Punish her so she won't do it again. Right, Dad? Isn't that the way?
This story, you guys, was just so special to me. It didn't need loud storytelling or colorful sex scenes to touch my heart. It seemed, from page one, I was a slave to it's meaningful message and heartfelt words. I can't even begin to explain the intense feels and capture of each waking thought that this story provoked. Each scene where Jace and his brother would open up a little more to one another-past the pain, the hurt, the secrets-becoming closer through simple acts and small gestures, my heart would squeeze and seize up, forcing me to choke out silent tears for how hard their lives were and how they were slowly, but surely, finding each other again.
It's weird when someone gets you, understands what you would never say, not even to yourself. It's so weird that it makes my throat tighten up again. When I speak, my voice comes out small.
For once…I wasn't rooting for the romance (though there was a very small one that made my heart shine with happiness at each and every turn) to take precedent: I wanted Jace to find his inner strength and peace, his freedom of body and soul and, more than even that, I longed for his loneliness to cease as he and his brother worked to make themselves whole again-One puzzle piece at a time.
"You're the incentive."
The writing was so simplistic, yet poetic (at least, to me), out-of-this-world amazing, and spoke to me on so many levels. I can't always explain why certain styles of writing speak to me, but sometimes it's just a matter of: Because. And sometimes, that just has to be enough. Each chapter, layered with vivid, imaginative, and candid storytelling, ensnared me in ways I can't even begin to express. It's a story not often told, at least not correctly, and I think it's an important book for people to read. I am on a huge realistic fiction kick, of that I am certain everyone is aware, but none have spoken to me on such a deep emotional level like this one did. Perhaps it was the story itself, or maybe the family bonds that are tested with each dwindling email from his mother, or it might just be the broken down, tortured young man that only wants to begin a new life with his brother…either way, this is my first REAL absolute favorite this year and it somehow feels, I don't know…it makes me feel as light as air. I'm not sure why-perhaps I am just enlightened…or maybe I just read a truly exceptional story that blew my expectations out of the water.
We all screw up. We all wish we were stronger than we are, and not one of us will get through this life without regret.
Jace's story isn't a happy one, but he is on the road to recovery. He doesn't always do what's right and he isn't what you would call 'morally sound.' He holds a secret that not only defines him, but weighs so heavily on his heart that he's like a walking, talking, ticking time bomb.
Fightology Lesson #5: Anger comes in all forms: a slow burn; relentless, constant flames; or a hot flash, popping here and there. It can lie in wait, and you think you've forgiven, you think you've doused it with trust, but give it a sudden burst of oxygen and-backdraft.
Pinned down and held back by his secretive past, he feels he can't truly move on with his life, date the girl he's falling for, and altogether become who he wants and strives to be. Grasping on and desperately holding to the abysmal hope that his mother will finally break away and join he and Christian (And Mirriam, Christian's girlfriend whom I ADORED but ran out of time to talk about-their relationship (she and Jace's) tore me to shreds…I can't even) in their new private life, miles and miles away from the abusive man they know as their father.
Isn't it too convenient just to forgive yourself, let yourself off the hook?
Not everyone's story is a HEA, and I think that's the harshest reality this book brings to light. We don't all get to live in a fairy tale and wake up with the perfect man in the perfect life with the perfect family. Everyone has flaws; Some minute, others destructive and abusive and depraved. But that's the point: Don't let who you used to be define who you are. Pave your own path and make your own way. Never look back. Never blame others for your mistakes. But most importantly: Family is everything. Don't let past hurts and mistakes obliterate what could be the most valuable and endearing moments in your life. Jace's story, whether a happy ending or not (I can't say, you have to read it to find out), is over: Yet, there are so many untold stories being written as we speak-Decisions being made, excuses spewing left and right, and women (even some men) and children fighting for their lives…Take the time to hear them.
Second chances. Who deserves one of those, anyway?
****************************
Without a doubt one of my favorite realistic fictions…ever. A strong, poignant, and dark voice, this book tells the story of a boy left behind to fend for himself and his mother as they were beaten to within an inch of their life by his father. This is the story of when he finally says enough is enough. It's not sugar-coated or contrived, but beautifully written and told in a way that makes it impossible to put this masterpiece down….I still am having trouble NOT thinking about it.
I am beyond excited to try and express how much I adored Jace's journey of finding himself and reconnecting with the brother that left it all behind. Jesus, I am tearing up just sitting here typing this.
SO MUCH LOVE FOR THIS FUCKING STORY. AMAZING-from beginning to end.
Review to come-Most definitely. ♥
Related Posts