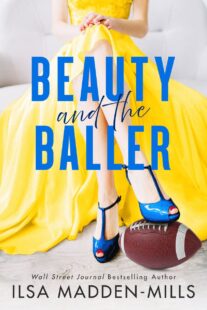 Beauty and the Baller
(
Strangers in Love #1
)
by
Ilsa Madden-Mills
Purchase on:
Amazon
Add to:
Goodreads
Synopsis:

An NFL quarterback turned small-town coach gets sacked by a Texas beauty queen in this swoony, passionate romance from Wall Street Journal bestselling author Ilsa Madden-Mills.

Gorgeous, talented, and brilliant, NFL quarterback Ronan Smith has the world in his hands. But after losing his career and his fiancée in a car accident, he falls into a pit of grief and bad choices. When a mysterious girl shows up to his party, he feels drawn to her and makes her his…for one night.

Former beauty queen Nova Morgan is on a mission. Scantily clad as a princess from a galaxy far, far away, she sneaks into a high-profile party to capture the attention of her favorite quarterback. But her hopes crash after an awful one-night stand.

Fast-forward two years. Broke and desperate, Nova returns home to Blue Belle, Texas, where, by a cosmic twist of fate, her broody neighbor is none other than Ronan, the shiny new football coach everyone adores. But he has no idea who she is.

The booster club keeps shoving women at Ronan to keep him in town. His solution? He proposes fake dating to Nova. But things heat up for real under these Friday-night lights when he realizes she's the one who slipped away.

Has this jaded beauty found her forever baller, or will his past keep them apart?
Review:
I want to touch the stars, even if I get burned.
Beauty and the Baller was a sexy, swoony, angsty read!  With a spunky cat, a lovable heroine and a sexy hero, this book was a lot of fun.  Add in fake dating, small town charm and a wonderful HEA and this book was such a beautiful love story.  If you like sexy, adult romance then you definitely need to check this one out!
"I like seeing you squirm," she murmurs.
"Why?"
"Payback." A slow blush works up from her neck to her face as she mutters something under her  breath.
"What was that?"
She clears her throat. "Just . . . life has a funny sense of humor."
Ronan Smith had a tragic past.  His fiancé was killed in the car wreck that also killed his professional football career.  While still struggling a year later, Ronan found himself having a one night stand with someone he actually felt a connection to.  Too bad for Ronan, Nova Morgan saw it as a horrible and left before he woke up.  I just want to say I screamed noooooo out loud over something that went down, so I got why Nova bailed afterwards….you'll see lol.  Two years later, fate had them both living in the same small town, neighbors and unable to escape one another at every turn.
I'm Ronan Smith and . . . I pause as clarity runs through my head. I want my life back, no matter what that may be.
Closing my eyes, I touch the ring around my neck.
Today is when everything changes.
Ronan was in Blue Belle Texas coaching their high school football team.  With the small town scared that they could lose their coach, they went to unimaginable lengths to keep him.  Especially their attempts to set him up with every single female.  So when Nova re-entered his life, he didn't remember her.  He just knew that she wanted nothing to do with him, unlike everyone else.  So when he proposed that they fake date, to solve both of their problems, I was so happy when she said yes!  Yes Ronan had some growing to do, but I absolutely loved him.  Jaded characters always sneak so easily into my heart.  And when Ronan started to show us little bits of himself, I just knew he was so much more than meets the eye.
"Everything will be fine. We're different flowers from the same garden, but we're perfect together. Mama always said so."
Nova was completely unique.  She was someone who knew what she wanted and went after it, like dressing up in the past as a Star Wars character to win over Ronan for their one night stand.  She loved telling us about the outfits she was wearing.  She had so much sass.  But her life completely flipped upside down when she gained custody of her high school aged sister, since her mother passed away.  While trying her best to raise Sabine, Nova definitely had her hands full.  This story was an emotional journey for Nova too, and Ronan helped play a big part of that.  But Nova had no problems pushing Ronan's buttons.  And telling him when he was being a jerk, I actually clapped out loud in one scene lol.
I literally have no idea what I've gotten myself into. On the outside, I'm cool, but on the inside, I'm quivering with uncertainty.
The way the fake dating played out was so much fun!  The touching.  The kissing.  Showing the town that they were together.  And time and again they crossed that line of what was real and what was fake.  Because Ronan and Nova definitely wanted to rip each other's clothes off.  The passion between them was so intense.  And when things did develop between them, it was extremely sexy and hot!  But Ronan was terrified to feel and he didn't want to love.  His past still haunted him.  Except when he was around Nova, it was impossible not to feel.  And for Nova, each time Ronan showed a true piece of himself to her, it was hard to keep him away from her heart.  It didn't matter that they didn't want anything to happen, there was no stopping it!
My head tells me to keep the walls up around us, but the other side of me—my stupid, weak heart—clamors to tell him things.
This story was rounded out so well with some fabulous side characters.  I'm looking at you Skeeter, Sabine and Sonia!  And I loved the feel of the small town charm that was laced throughout this story.  Plus not only did Nova and Ronan's love story cause me to laugh so much, but I even shed a tear.  Beauty and the Baller was a wonderful, adult romance that many will fall hard for!
*I voluntarily read and reviewed an advanced copy of this book, provided by the author. All thoughts and opinions are my own.*
About Ilsa Madden-Mills:
Wall Street Journal, New York Times and USA Today best-selling author Ilsa Madden-Mills is best known for her angsty new adult romances and romantic comedies.

Eight of her eleven novels have placed in the Amazon Top 10 Best-seller List: Dirty English #1; Fake Fiancée and I Dare You #2; I Bet You, Filthy English, and Very Bad Things #6; Boyfriend Bargain #8; The Last Guy, her collaboration with Tia Louise, #4.

A former high school English teacher, she adores all things Pride and Prejudice, and of course, Mr. Darcy is her ultimate hero.

She's addicted to frothy coffee beverages, cheesy magnets, and any book featuring unicorns and sword-wielding females. Feel free to stalk her online.

Amazon I Instagram I Mailing List I Goodreads I Bookbub I Book+Main I Website

Join her Unicorn Girls Group on FB, the best way to keep up here.

Sign up for phone alert for book releases (max of 4) Text ROMANCE to 21000
*Text message rates apply*
Related Posts
Beauty and the Baller was such a wonderful story! Check out my 4.5 Star Review below, enjoy ♥!