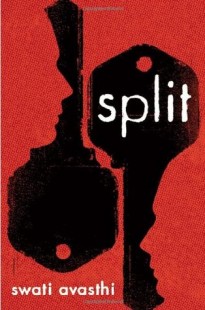 Split
by
Swati Avasthi
Purchase on:
Amazon
, 
Book Depository
Add to:
Goodreads
Synopsis:

A riveting portrait of life after abuse from an award-winning novelist.

Sixteen-Year-Old Jace Witherspoon arrives at the doorstep of his estranged brother Christian with a re-landscaped face (courtesy of his father's fist), $3.84, and a secret.

He tries to move on, going for new friends, a new school, and a new job, but all his changes can't make him forget what he left behind—his mother, who is still trapped with his dad, and his ex-girlfriend, who is keeping his secret.

At least so far.

Worst of all, Jace realizes that if he really wants to move forward, he may first have to do what scares him most: He may have to go back. Award-winning novelist Swati Avasthi has created a riveting and remarkably nuanced portrait of what happens after. After you've said enough, after you've run, after you've made the split—how do you begin to live again? Readers won't be able to put this intense page-turner down.
"It's not really all right, is it? I mean, who would miss that bastard? Shouldn't I hate him, just simple, pure hatred? Shouldn't I write him a thank-you note for getting me out of there, for not wanting me around anymore?"
Every time I open a book labeled as realistic fiction, I brace myself, knowing that this genre covers such different kinds of stories. What will that be? A stereotypical high school cutesy? A misleading "issue book" where romance outweighs everything? A flat and boring nonsense?
Sometimes, though. Sometimes its pages contain larger than life characters whose journeys are related with such honesty and depth that we feel a little like voyeurs. Sometimes we realize how wonderful it is that an issue we read about over and over again can be pictured in a different – yet real – way. Sometimes opening this realistic fiction novel feels like being punched in the guts, our throat closing, the air thinning around us.
This is how realistic fiction should be, and Split did a splendid job at it.
Never an abusive homelife – and its consequences – has been tackled with such sincerity. I mean, perhaps it has, but I have yet to read these books. See, I often complain about twirling moustaches evils and one-dimensional characters and I can assure you that you'll find none of them here. Don't get fooled, I'm not saying that Jace and Christian's dad isn't to blame because Christ! I want him to burn to death but Swati Avasthi perfectly pictures how difficult it can be to escape an abuser – how he/she twists the reality – your reality – so much that you convince yourself that hoping for a better life is just a stupid dream. If I'm thankful enough to never have been through that, one of my best-friend did and I know how upset she would feel whenever someone implied that she was to blame for not having reacted faster. That kind of bullshit made her positively furious, and she was oh so right to be. Come on, assholes. Just try and use your brains. But I digress – In that account, Split was raw, painful at times, but – sorry, I'm repeating myself – fundamentally honest.
And you've got the brothers. Aw, Jace and Christian. I can't express how much I loved seeing their complicated relationship unfold, all guilt and desire to escape and just be. They made me care and laugh and cry. I wanted to shake and protect and hug them. None of them is perfect, and their mistakes – their anger, their denial – were sometimes hard to stomach, but their fierce love and loyalty was straight-on beautiful. Swati Avasthi doesn't shy away from the psychological effects of such abuse and Jace's struggles to escape how it changed him. Following him was heartbreaking, yet so very hopeful.
Just – read this book, okay? I can't promise you that you'll enjoy every second of it, because some parts made my heart ache – others made me furious – but in the end, even if I would have wanted for some questions to be resolved View Spoiler »I feel like crying when I think about their mum out there *wails* WHY? « Hide Spoiler[I feel like crying when I think about their mum out there *wails* WHY? (hide spoiler)], I can't deny that Split is a powerful book, and Jace and Christian characters who will not be easily forgotten.
How comes that this novel isn't more widely read?
Related Posts