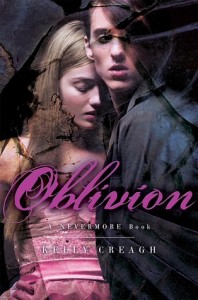 Oblivion
(
Nevermore #3
)
by
Kelly Creagh
Purchase on:
Amazon
, 
iBooks
, 
Book Depository
Add to:
Goodreads
Synopsis:

This electrifying conclusion to the Nevermore trilogy takes one last trip to the dream world of Edgar Allan Poe to reveal the intertwined fates of Isobel and Varen.

The boundaries which divide Life from Death are at best shadowy and vague. Who shall say where the one ends, and where the other begins? —Edgar Allan Poe

The fine line between life and death blurred long ago for Isobel Lanley. After a deadly confrontation with Varen in the dreamworld, she's terrified to return to that desolate and dangerous place. But when her nightmares resume, bleeding into reality, she is left with no choice. Varen's darkness is catching up to her. To everything. Threatening to devour it all.

Isobel fears for her world. For her sanity and Varen's—especially after a fresh and devastating loss. To make matters worse, the ghostly demon Lilith wants Varen for her own, and she will do anything to keep him in her grasp—anything.

Can Isobel ever find her happy ending? Worlds collide and fates are sealed in this breathtaking finale to the Nevermore trilogy.
*VACATION REVIEW*
"Paper girl," he whispered, and she flinched when he touched her cheek, "in a paper play." She placed her trembling hand on his sleeve, but no sooner did she touch him than her fingers disintegrated, flaking away to nothing in the same way the false versions of herself had. Isobel tried to speak, but she felt her throat cave in. His lips came close to hers, almost touching. "I thought I wrote you out," he whispered.
I can't even.
"She wants you," he hissed. One of his arms looped her waist, and the Noc pulled her snug against him. "But then, " he added, pressing his cold lips to her ear, "don't we all?"
Epic. Beautiful. Heart-wrenching. Perfection. This series is just so addicting…I don't think I'll ever forget it. And this final books was everything the first book was and more. Everything I could ask for. Peril. Devastation. Heart-stopping romance.
Reliving her demise over and over, seeing her image all around him, frozen in the form of these cold, unfeeling monuments locked in eternal sleep-this had become his fate in this horrendous realm. His existence. This was his darkness. His hell.
I could go on and on…but I've been ranting about it all week already..and I could rant until next Sunday. I cannot wait to add quotes when I get home. I'm so obsessed. Just UGH.
"Item number two," he said as he lifted his arms out to either side, "you should know that, as far as we can-the boy and I, that is-as much as we allow ourselves-" "Don't." Isobel broke into a run. "We really do-" "Pinfeathers, stop!" she yelled. "-love you."
I can't.
Related Posts