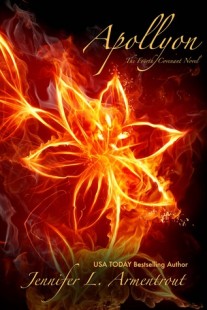 Apollyon (Covenant #4)
by Jennifer L. Armentrout
Purchase on: Amazon, iBooks, 
Book Depository
Add to: Goodreads


Well. Thank Gods I checked Goodreads Saturday, or I would have missed Jen's Apollyon early release announcement. What a shame that would have been, for I finished this amazing novel in less than 24 hours. I don't know how much gushing is truly appropriate without becoming obsessive, so I will make it simple: Jen has done it again. She kidnapped my mind and kept me prisoner for a chunk of the weekend, making it impossible for me to think of doing anything else.
We begin where we left off at the end of Deity and Elixir. If you haven't read Elixir, I truly feel you are missing out on some super sweet moments, and there are a few references you won't get in Apollyon unless you read the novella.
Anyway, we start with Alex in a cage, fighting to be free so she can connect with "her Seth". Don't get me started on just how wrong typing that was. She struggles to both break free from those holding her and also from Seth's voice in her head, trying to find her location.
And then we have Aiden-the sweetest, most loyal guy ever. He hasn't given up on Alex even when everyone else has. He even goes as far as to piss off the Gods to protect her-he literally punched a God in the face in Elixir…so adorable….or at least I think so. I don't even know what to say to do him justice. He is willing to risk it all: his life, his brother, and everyone and everything inbetween. He loves her more than his own life, and I can't help but to fall a little more in love with him with each new installment.
Packed with suspense and peril, my eyes were glued to the pages within this novel. I love suspense in romances, I feel like it's the perfect touch to an already perfect story in most cases. My only problem with Apollyon? I didn't think the cliffhanger was that bad. I always complain or comment on these horrible cliffhangers, and here I am begging for a whopper that would scar me until the final installment comes out in December. I found something out about myself after I realized that I wanted more shock factor for an ending-I am apparently a masochist-at least in these action/romance novels by Jen I have grown to love. I don't know what that says about me…
So now we wait. What will come of Alex and Aiden? Will there be an epic battle for Earth? What will come of Seth? These are all plot lines I cannot wait to find out about or finalize, and until then, I will eagerly await the release of Origin in August, Sentinel in December, and Frigid in July-all by Jen, all in the forefront of my mind for surely the whole summer. I can only hope I stay sane until at least one of these novels is released. Sigh. The wait begins.
Related Posts