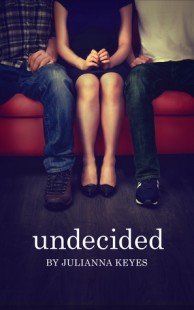 Undecided
by
Julianna Keyes
Purchase on:
Amazon
Add to:
Goodreads
Synopsis:

Nora Kincaid has one goal for her second year of college: be invisible. Last year's all-party-no-study strategy resulted in three failed classes and two criminal charges, and if she messes up again she'll lose her scholarship. But there's one problem with her plan for invisibility, and his name is Crosbie Lucas: infamous party king, general hellraiser…and her new roommate's best friend.

Crosbie's reckless reputation and well-known sexcapades aren't part of Nora's studious new strategy, but as she's quickly learning, her new plan is also really boring. When Crosbie's unexpected gestures of friendship pull her head out of her books long enough to see past his cocky veneer, she's surprised to find a flawed and funny guy beneath it all. The muscles don't hurt, either.

But as Nora starts to fall for Crosbie, the weight of one of last year's bad decisions grows even heavier. Because three failing grades and two misdemeanors are nothing compared to the one big secret she's hiding…
2.5 stars? 3 stars? I think I'll remain forever Undecided (and sorry for this terrible pun, you know I had to do it). Don't get me wrong, I was actually pleasantly surprised by Crosbie's magic tricks. And no, I'm not being naughty.
Much.
If I had to compare it to most of the NA I read, Undecided would have really interesting things to offer :
✔ The drama is never over the top, as in : no important issue used as a background to try (and fail) making the main character interesting. Thank you.
✔ For once the fact that the male-lead played around before doesn't mean that he has to be obnoxious because really, why assholes are the only ones to get laid in NA is beyond me. Hello, some guys have 20+ hook-ups in a year and are actually nice and decent persons. They don't need to slut-shame or be such cocky bastards. See, I don't hate 99% of the "player" kind of male-leads because they have sex with multiple women. No. I hate them because more often then not, they're unredeemable sexist jerks. Crosbie isn't. Crosbie is actually very sweet. Kellan *cough* …. isn't the love interest. Yet I can't deny that if he cares about his friends, love-wise he's oblivious at best, irresponsible, and infuriating at times. He's not my favorite person, let's say, but I do not hate him.
✔ There's no love-triangle, no matter what the cover and the blurb are trying to tell us. WTF, really. Do they really think that it's a selling point? Because it's not. There are two guys, but in no way can their relationships with the MC be called a love triangle. It seems like it at first but… no.
✔ It's surprisingly well-written. Surprisingly, because I'm sorry, but if I – as a non English speaker – can notice weird phrasing or grammar mistakes, I tend to think that it's really, really bad, and it happens a lot in NA. Bonus points because it made me laugh.
See? It's not near as bad as I expected it to be. However, if the beginning put a smile on my face and let me hope for a shocking winner, I have complaints I can't overlook :
✘ Alright, so I already said that Crosbie was cute – I didn't? He is super cute, trust me – and I really liked the build-up of his relationship with Nora. Unfortunately, if they do share chemistry, I never really saw their feelings growing after they started dating. Oh, yeah, they had sex. Loads and loads of sex. I mean, GREAT. Sex is important in a relationship. But somehow I felt that their story was lacking and that they didn't really get to know each other. No matter all of Crosbie's gestures – adorable, this one, did I say that? – they don't really spend time together except for having sex, and it got boring pretty fast. That's why the Iloveyous in the end made me roll my eyes a little, because where did that come from? Infatuation, yes. Crush, yes. Lust? Oh god yes. Love? Hmmpf. Nah.
✘ Although I'm pretty sure that Julianna Keyes had good intentions, the treatment of double standards when it comes to sex – and especially one-night stands – felt short in my opinion. See, I'm really glad that it was actually acknowledged, because slut-shaming is so ingrained in NA that the mere mention of the existence of double standards is pretty good. Pretty good, but not nearly enough. It remains that Nora, the MC, who'd lived in the "wild" side the year before (her words – not mines), only had sex with 5 guys. Sure enough, the sex-part of her year isn't the only thing that made her want to go all serious. BUT the fact that she slept with 5 guys – and one in particular – plays such a major part in the plot that I'm feeling a little dizzy at the unfairness of it all. I mean, Kellan "dated" more than 50 girls. Crosbie, more than 20. If it's okay for them, it should be okay for her, too. Don't get me wrong, neither Kellan nor Crosbie act like jerks about it, but I still felt like the issue was only brushed off – so much potential wasted on that account.
✘ "Sexy" is ALWAYS a better choice than "slutty" in my book. Please use it.
► In the end, Undecided isn't a bad book by any means, but it isn't amazing either. I wasn't enthralled, and I can't help but feel that the love story was lacking. Forgettable, you know? Oh well. I've read far, far worst.
Also, magic tricks sorry, illusions.
Related Posts