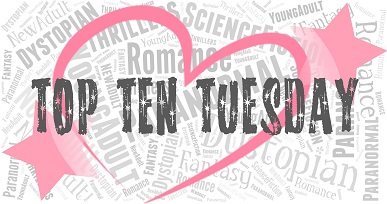 Top Ten Tuesday is a weekly meme hosted by The Broke and the Bookish
This week is – Books I Wouldn't Mind Santa Leaving Under My Tree This Year.  *forwards post to my husband* 😀
| | |
| --- | --- |
| (Jen's Choice) | (Jen's Choice) |
1. The Deal (Off-Campus #1) by Elle Kennedy – Pretend dates?  Sexual tension?  Wildest sex of their lives? I'm sold! One of my friends from back home is harassing me that I need to pick up this book, and I can see why just from the synopsis!
2. Nevermore (Nevermore #1) by Kelly Creagh – This promises to be a page-turning psychological mystery that is equal parts horror, humor, and romance. And Chelsea described this trilogy as Epic. Beautiful. Heart-wrenching. Perfection.  Ohhh this sounds like something I desperately need!

| | |
| --- | --- |
| (Jen's Choice) | (Jen's Choice) |
3. Made for You (The Best Mistake #2) by Lauren Layne – LL's books are crazy addicting and sometimes you just need to binge read the whole series. I already own the 1st in this duology, Only With You, so I know that the moment I finish that book, I'm definitely going to want start the 2nd one right away!
4. Ruined (The Eternal Balance #1) by Jus Accardo – I fell hard for this author's book, Infinity, so I can't wait to read this completed trilogy! In Ruined, we meet Jax. He's descended from Cain, the world's first murderer, he's plagued by a curse that demands violence in exchange for his happiness. He left everything behind, including the girl he loved, but thriving on the pain of others is lonely… And it's killing him. Oh my gosh, I LOVE tortured males, so I have to meet Jax!
| | |
| --- | --- |
| (Jen's Choice) | (Jen's Choice) |
5. How (Not) to Fall in Love by Lisa Brown Roberts – Like #4, I loved a book written by this author, Playing the Player.  It was the most adorable story filled with a swoon worthy male, a heroine I loved, and I flew through the pages.  This book is about a girl, who has never had to worry about money, and then the next moment her father's business hits the skids, and he bails on her.  She hides out in her Uncle's thrift shop while interacting with Lucas, the wickedly hot fix-it guy she can't stop crushing on, even if she's not sure they'll ever get out of the friend zone.   Sounds like fun to me!
6. Cracked (Soul Eaters #1) by Eliza Crewe – I've heard that the peril in this book is fabulous!  It's about Meda. She eats people.  Well, technically, she eats their soul. But she totally promises to only go for people who deserve it. She's special. It's not her fault she enjoys it. She can't help being a bad guy. Besides, what else can she do? Her mother was killed and it's not like there are any other "soul-eaters" around to show her how to be different. That is, until the three men in suits show up.

| | |
| --- | --- |
| (Jen's Choice) | (Jen's Choice) |
7. Altered (Altered #1) by Jennifer Rush – This one sounds like a page turner! –  Everything about Anna's life is a secret. Her father works for the Branch at the helm of its latest project: monitoring and administering treatments to the four genetically altered boys in the lab below their farmhouse. There's Nick, Cas, Trev . . . and Sam, who has stolen Anna's heart. When the Branch decides it's time to take the boys, Sam stages an escape, killing the agents sent to retrieve them.   Anna is torn between following Sam or staying behind in the safety of her everyday life. But her father pushes her to flee, making Sam promise to keep her away from the Branch, at all costs. There's just one problem. Sam and the boys don't remember anything before living in the lab—not even their true identities.
8. See Me (See Me #1) by Wendy Higgins – I absolutely adored her Sweet Trilogy, so I have to discover this book too!  Love, desire, and jealousies collide as Robyn's family and McKale's clan must work together to outsmart the powerful Faeries and preserve the only hope left for their ancient bloodlines.  This is a coming-of-age modern folktale filled with Irish magic and romance.
| | |
| --- | --- |
| (Jen's Choice) | (Jen's Choice) |
9. Flashfall (Flashfall #1) by Jenny Moyer – I love this book's synopsis – Orion is a Subpar, expected to mine the tunnels of Outpost Five, near the deadly flash curtain. For generations, her people have chased cirium―the only element that can shield humanity from the curtain's radioactive particles. She and her caving partner Dram work the most treacherous tunnel, fighting past flash bats and tunnel gulls, in hopes of mining enough cirium to earn their way into the protected city.  But when newcomers arrive at Outpost Five, Orion uncovers disturbing revelations that make her question everything she thought she knew about life on both sides of the cirium shield. As conditions at the outpost grow increasingly dangerous, it's up to Orion to forge a way past the flashfall, beyond all boundaries, beyond the world as she knows it.
10. A Darker Shade of Magic (Shades of Magic #1) by V.E. Schwab/Victoria Schwab – Chelsea describes Kaz in this book as kind, loyal, determined, and lonely and someone she fell for hard.  Therefore, I can't wait to meet him!

So these are some of the "Books I Wouldn't Mind Santa Leaving Under My Tree This Year".  Do you share any of the same with me?  If not, then what are some of the books that you would want Santa to leave under your tree?
Related Posts