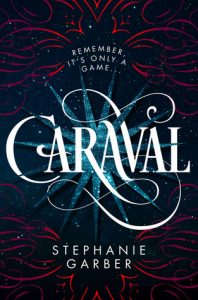 Caraval
(
Caraval #1
)
by
Stephanie Garber
Purchase on:
Amazon
, 
iBooks
, 
Book Depository
Add to:
Goodreads
Synopsis:

Whatever you've heard about Caraval, it doesn't compare to the reality. It's more than just a game or a performance. It's the closest you'll ever find to magic in this world . . .

Welcome, welcome to Caraval―Stephanie Garber's sweeping tale of two sisters who escape their ruthless father when they enter the dangerous intrigue of a legendary game.

Scarlett has never left the tiny island where she and her beloved sister, Tella, live with their powerful, and cruel, father. Now Scarlett's father has arranged a marriage for her, and Scarlett thinks her dreams of seeing Caraval, the far-away, once-a-year performance where the audience participates in the show, are over.

But this year, Scarlett's long-dreamt of invitation finally arrives. With the help of a mysterious sailor, Tella whisks Scarlett away to the show. Only, as soon as they arrive, Tella is kidnapped by Caraval's mastermind organizer, Legend. It turns out that this season's Caraval revolves around Tella, and whoever finds her first is the winner.

Scarlett has been told that everything that happens during Caraval is only an elaborate performance. But she nevertheless becomes enmeshed in a game of love, heartbreak, and magic with the other players in the game. And whether Caraval is real or not, she must find Tella before the five nights of the game are over, a dangerous domino effect of consequences is set off, and her sister disappears forever.
*ARC(s) courtesy of Flatiron Books in exchange for an honest review*
Not quite sure how far she'd already fallen, she imagined loving him would feel like falling in love with darkness, frightening and consuming yet utterly beautiful when the stars came out.
I read this before Christmas, and it was like the most wonderful gift. Like all gifts, if unwrapped slowly, the anticipation is built and, if the present is worth anything, the end is an explosion of fireworks, hysteria, and utter glee at all your questions being answered…and all your wildest fantasies coming alive.
And that's exactly what Caraval was like. I'm not quite sure what I was expecting, but not once was it anything that happened in this story. But, the best part is, you really don't have to strain yourself trying to figure everything out. In fact, I quite enjoyed unraveling the mystery bit by bit…without having to drive myself insane to feel like I was keeping up with everyone and everything.
"Don't look at me like that," Scarlett said. "It doesn't work on me."
"That's why it's so fun."
No, the beauty of this story is the simplicity. Not once does Garber try to make Caraval something it's not. Instead, she ventures into a world of vivid imagination, creating something that feels real, palpable…well, at least in fantasy.
It's a world we all want to escape into, to become a part of…that is, until things don't seem so pretty. Until seemingly vile people begin to surface and even less appealing scenarios arise. Not all is as it seems in the beautifully alluring world of Caraval…and Scarlett has a front row seat.
Scarlett has always wanted to attend Caraval, admiring it from afar since she was a child. She and her sister Donatella dreamed of the day the Caraval Master would write back and say he was finally bringing the show to them, that they'd finally get to see the show of all shows. After all, he is a man of legend, and his show and it's performers proceed him. But perhaps the Caraval Master isn't as illustrious and kind and amazing as he seems…maybe he's more monster than man, and he's finally taken notice of Scarlett's pleas.
Not only did Flatiron send me an ARC of this novel, they also, additionally, sent me the audio version to listen to for my enjoyment. I'll admit this is my first audio version of any book EVER, but I found it to be quite nice and it really enhanced the story after I had read it already. It was nice to lay back and listen, to hear the different voices and see the book from a different perspective. I had thought it would hinder my enjoyment of the story, but it actually enhanced it. It's apparently narrated by the person who also did the Lunar Chronicles, so perhaps this will help sway your decision. She really put everything into the voices and I think added something special I hadn't realized was possible. (Look at the end of my review for a free clip of the audiobook version).
"…Follow the boy with a heart made of black."
I can't quite explain the magic of this story, only that it seems unparalleled, at least while you're entwined within its pages. There were moments where I felt 'color explanation' was overused, and that might be my only lingering concern when I think back, but then again, I remember truly enjoying the visceral feelings I experienced when they were used-so can I really complain?? Colors, as a closet artist, are like crack to me, so seeing them so intricately used within the story is thrilling…if not overly so.
So, if you're looking for a fun, quick read where you're surrounded by magic, intrigue, and a mystery that gets more dangerous with each passing page-this is the book for you. Scarlett is an intelligent girl, and by a certain point in this book, she has no clue who to trust. Her enchantment with the traveling show begins to fade as things begin to turn darker…and instead of a fantasy, it's a race to save her sister's life.
But before you fully enter into our world, you must remember it's all a game. What happens beyond this gate may frighten or excite you, but don't let any of it trick you. We will try to convince you it's real, but all of it is a performance. A world built of make-believe. So while we want you to get swept away, be careful of being swept too far away. Dreams that come true can be beautiful, but they can also turn into nightmares when people won't wake up."
I can't help you with who to trust…but I can assure you that someone stole my heart from the moment we meet him-whether he's friend or foe, I can't say…but damn if he isn't sexy as hell. Have fun. *smirky face*
Metallic and wet and just a little sweet. Bravery and fear and something else she couldn't distinguish. Dimly, she knew she tasted his blood. It was like no other gift she'd ever received. Strangely beautiful, alarmingly intimate. And she wanted more of it. More of him.
If you want a clip of the audible of Caraval, click HERE, courtesy of Flatiron.
Save
Related Posts