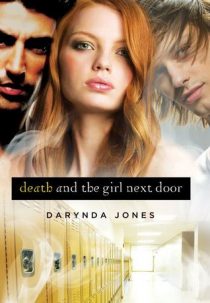 Death and the Girl Next Door
(
Darklight #1
)
by
Darynda Jones
Purchase on:
Amazon
, 
iBooks
, 
Book Depository
Add to:
Goodreads
Synopsis:

Ten years ago, Lorelei's parents disappeared without a trace. Raised by her grandparents and leaning on the support of her best friends, Lorelei is finally beginning to accept the fact that her parents are never coming home. For Lorelei, life goes on.

High school is not quite as painful as she thinks it will be, and things are as normal as they can be. Until the day the school's designated loner, Cameron Lusk, begins to stalk her, turning up where she least expects it, standing outside her house in the dark, night after night. Things get even more complicated when a new guy―terrifying, tough, sexy Jared Kovach―comes to school. Cameron and Jared instantly despise each other and Lorelei seems to be the reason for their animosity. What does Jared know about her parents? Why does Cameron tell Jared he can't have Lorelei? And what will any of them do when Death comes knocking for real? Thrilling, sassy, sexy, and inventive, Darynda Jones's first foray into the world of teens will leave readers eager for the next installment.
Review:
Death and the Girl Next Door was so much fun and a quick read.  The story-line was easy to follow, and within those first few chapters I knew some of the characters and I would get along just fabulously.  There was  a wonderful mix of personalities, and I loved how many of them had sarcasm as their form of humor.  While I had a few hangups with some of the people, and not wanting info dragged out longer than should need be, Death and the Girl Next Door was still exactly what this paranormal lover was looking for.
Nothing would ever be fine again.
Lorelei has had visions for as long as she could remember and it would occur, at times, when she touched someone.  The visions would be a peak into that person's life, whether it was a glimpse into their past or their future.  There were also times when the visions didn't make any sense at all.  But regardless, I loved how she accepted that this was just a part of who she was.  And her two best friends, Brooklyn and Glitch, did too.
"Oh my god," Brooklyn said.  She swung her surprised look at me.  "Just what did you two talk about this morning?"
I beamed, not daring to breathe as he walked towards us. "Oh, you know, the usual.  School.  The weather.  How many children we want."
I expected Brooklyn to at least giggle, but apparently her current state of shock had immobilized her vocal cords.  What I hadn't expected, however, was the faint laughter from Jared.  He lowered his eyes like before, as though embarrassed by what someone had said.  As if embarrassed by what I'd said.  No way could he have heard me.  Not from that far away.
But things started to get weird when the class loner Cameron, who they've known since grade school, started appearing everywhere Lorelei was.  Including outside her house all night long.  Creepy!  And then things become even stranger when we met the new hot guy at school, Jared.  Jared had a lot mystery surrounding him from just his name (I was like uhhh really, that's how you're going to play it?! Lol) to how he made Lorelei feel.  So when push comes to shove, and Lorelei's whole world explodes on a city street, things got a lot more interesting!
He leaned forward and whispered in my ear.  His warm breath sent shivers cascading over my body.  "You intoxicate me, Lorelei McAlister.  You will be my downfall."
I absolutely loved Lorelei.  So I was happy to struggle right along with her, with not only trying to figure out what some people were, but also who was good and who was bad.  Because while she'd always known Cameron, he acted a little psychotic lately.  And while she didn't know anything about Jared, he made her heart do crazy things and I wanted him around just as much as she did.  So be warned, there was a little bit of insta-love going on in this book.  But regardless, I loved both of those boys!  Cameron and Jared were broody, grumpy, held on to their secrets extremely tight and I just wanted to learn everything about them.  And don't worry, there wasn't a love triangle at all.
"…..My desires are a bit more…self-serving." he said with a wry gleam.  "So, no, Lorelei, I should not be here.  In a thousand different ways, I shouldn't be here."
Normally friends can fade into the dark when supernatural elements get involved, but thankfully Brooklyn and Glitch got to learn right along with Lorelei.  Btw, I loved Brooklyn.  She was funny, warm and I saw a lot potential for a possible future love interest for her.  But Glitch? *shrugs*  He never won me over, I never connected with him and I just didn't care about him.  I'm sorry Glitch.  Another thing I never connected with were the twins, Ashlee and Sydnee, and I didn't get Lorelei's hatred towards Brooke – those were people they all went to school with.  But even with my issues towards not understanding feelings or not caring about certain characters, it was still so easy to become lost in their world.  I absolutely adored this book, and I can't wait to see how the rest of the series goes!  Plus I can't wait to spend more time with Jared so I can fall even harder for him, and Cameron too!
PS Yes, I know I didn't talk a lot about what happened in the story, but but but spoilers.  It's hard to say anything without giving everything away. 😉
Related Posts