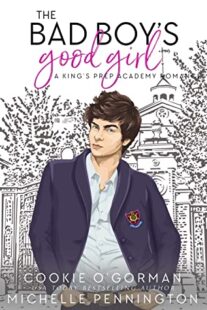 The Bad Boy's Good Girl
by
Cookie O'Gorman, Michelle Pennington
Purchase on:
Amazon
Add to:
Goodreads
Synopsis:

Logan King was trouble.

I knew it from the moment I laid eyes on him. But when I challenged him, I had no idea he'd take his revenge so far.

To make up for his inexcusable behavior, his parents gave me a scholarship to King's Prep Academy. My mom insisted that I accept. Now, I'm the poor, public school girl attending an elite academy for the rich.

Even worse, Logan is here. He rules the school, and he wants me gone.

But I have a dream to chase, and no one, not even a King, will stop me.
Review:
The Bad Boy's Good Girl was an enemies to lovers that was addictive, swoon worthy and beyond intoxicating! From that very first page I was hooked! This story took place at an academy and I loved being lost in their world and lives. Deals were made. Secrets took place. And it all made this book impossible to put down! If you love young adult romance or academy books then you definitely need this one on your tbr!
In a sea of perfection, she strode confidently in her scuffed checkered Vans with her head held high—messy, falling-down bun and all.
Ava Deluca ended up in a twisted situation that landed her at King's Prep Academy. It was a dream school to attend and would help her reach the stars with her love of art. Yet, there was one huge hiccup. She got a scholarship there to make up for Logan King's actions to her mother, and her. Logan was not one to be messed with. He could be the devil, and Ava found herself right in his cross-hairs.
I knew I should've been sorry or scared— or both.
But I wasn't.
Justice had been served, and I couldn't regret it.
Logan came across as beyond conceited, spoiled and he seemed to see the worst in certain people. So when Ava landed in Logan's world, she gave it right back to him as good as he gave it. While that made him pause, it set off a chain reaction for their enemies to lovers relationship. Logan always got what he wanted, and unfortunately he wanted Ava gone from his school. But I held out all the hope. Because there were tiny flickers of another Logan, or maybe it was a side of him I wanted him to be. I wasn't sure. Regardless, I held out hope that he had a heart buried underneath it all. And as we slowly got to witness who Logan truly was, I fell hard!
"Did you need something?" I asked . "Or are you here to annoy me as usual?"
"Funny, isn't it?" he said. "That's the same word I associate with you. An annoyance I just can't seem to get rid of."
I loved Ava right away! She had so much fire and sass. She also had a ton of heart too, and I loved her relationship with her mom! But at King's Prep Academy, Ava quickly realized she was in over her head. The girls there were beyond mean and viscous. The bullying Ava experienced broke my heart! It seemed that she was trying to be wrecked at every single turn. But regardless, Ava kept her head up and still had her kindness. Which turned her situation around in a way I didn't expect, yet entirely loved! That moment of kindness transformed her future and I couldn't read this book fast enough to see what happened next!
"You know what?" she asked softly. When I didn't answer, she blazed ahead anyway. "I don't think you're as bad as you try to be."
Ava and Logan together were like a storm that you never knew which way it would blow. I loved their banter and that Ava wouldn't back down. She would go head to head with Logan and wasn't afraid of his games. And even when they hurt each other, I still loved every single one of their moments on the pages! The passion between them was so intense. While they definitely wanted to hate the other, they couldn't not be attracted to each other too. So when help coming from unlikely sources, and the lengths those went to protect others, it just made this book that much more addictive! And payback?! Eeps, I can't even! It was all so perfect!
How do you get close to a girl when there are a million reasons she should stay as far away from you as she possibly can?
The Bad Boy's Good Girl was an addictive, young adult romance that many will absolutely love! With friendships, romance and family laced throughout the pages it made this book an instant favorite! And with a strong enemies to lovers vibe set at an academy, I was obsessed! Now I'm just needing more stories from this world please! Could Logan's sister or Chris be next? I hope!
*I voluntarily read and reviewed an advanced copy of this book, provided by the author. All thoughts and opinions are my own.*
Related Posts