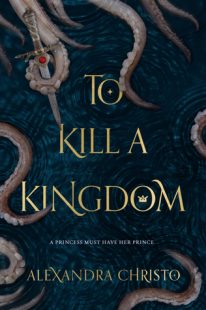 To Kill a Kingdom
by
Alexandra Christo
Purchase on:
Amazon
, 
iBooks
, 
Book Depository
Add to:
Goodreads
Synopsis:

Princess Lira is siren royalty and the most lethal of them all. With the hearts of seventeen princes in her collection, she is revered across the sea. Until a twist of fate forces her to kill one of her own. To punish her daughter, the Sea Queen transforms Lira into the one thing they loathe most—a human. Robbed of her song, Lira has until the winter solstice to deliver Prince Elian's heart to the Sea Queen or remain a human forever.

The ocean is the only place Prince Elian calls home, even though he is heir to the most powerful kingdom in the world. Hunting sirens is more than an unsavory hobby—it's his calling. When he rescues a drowning woman in the ocean, she's more than what she appears. She promises to help him find the key to destroying all of sirenkind for good—But can he trust her? And just how many deals will Elian have to barter to eliminate mankind's greatest enemy?
Review:
"You should pay less mind to fairy tales, Elian, or that's all you'll become."
When he leaves, I think about if that would be awful, or beautiful. Could it really be such a bad thing, to become a story whispered to children in the dead of night? A song they sing to one another while they play.
I've gotten extremely lucky with my ARCs so far this year! While the writing in this one wasn't exactly my cup of tea at first (I felt like there was a lot more telling than showing until later on in the book) that changed quickly. By the end of the book I was flying through the pages because I couldn't get enough of the adventure or characters.
"That's the thing about risks," Kye says. "It's impossible to know which ones are worth it until it's too late."
Coincidentally, even though I was named after the Little Mermaid, I have never bothered to read any of the books about mermaids that have been published in the world of YA. The ones that I have seen, seem to be a little too cheesy or have contemporary aspects that don't appeal to me in any way. This book though, was about blood-thirsty sirens and pirates and was pure fantasy–just the way I like them.
Everything is muted and Lira swoops her blade down on mine once more, I let it all fall away. My mission, my kingdom. The world. They exist somewhere other than in this moment, and now there is only this. Me, my ship, and a girl with oceans in her eyes.
Without giving too much away there were vicious sirens who rip the hearts from princes, a curse that leaves one siren in particular with two legs (doesn't that always seem to happen), a dashing prince who moonlights as a pirate, and an adventure to a faraway kingdom to change the world as said siren-turned-girl and prince know it. I very highly recommend to anyone who is a fan of nautical adventures and can appreciate a good enemies to lovers story thrown into the mix as well. I loved that while there was centuries worth of animosity between the sirens and mankind, Lira was able to break free of the preconceived notions that her horrible mother had pounded into her basically her whole life and rise above them. She learned to respect Elian's crew and care for all of them and as a result…well you'll see!
As far as I know this is a standalone and that's okay. I usually love long YA fantasy series (other than waiting for the books to actually come out) but everything was wrapped up very nicely at the end of this one and you know without having to actually read about them that Elian and Lira will have plenty of adventures at sea for a very long time.
Become the queen we need you to be.
*ARC kindly provided by Feiwel & Friends via Netgalley in exchange for an honest review* ♥
Related Posts