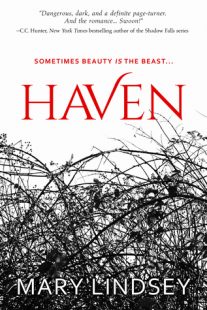 Haven
by
Mary Lindsey
Purchase on:
Amazon
, 
iBooks
, 
Book Depository
Add to:
Goodreads
Synopsis:

"We all hold a beast inside. The only difference is what form it takes when freed."

Rain Ryland has never belonged anywhere. He's used to people judging him for his rough background, his intimidating size, and now, his orphan status. He's always been on the outside, looking in, and he's fine with that. Until he moves to New Wurzburg and meets Friederike Burkhart.

Freddie isn't like normal teen girls, though. And someone wants her dead for it. Freddie warns he'd better stay far away if he wants to stay alive, but Rain's never been good at running from trouble. For the first time, Rain has something worth fighting for, worth living for. Worth dying for.
Review:
Time had simply been a bookmark. Something that held his place while he waited to finish the story.
Haven was a paranormal tale that wove mystery and suspense throughout the pages.  It definitely leaned heavily on the mystery side, and we started out just as clueless as Rain Ryland.  When Rain arrived in the little town of New Wurzburg, to live with his Aunt Ruby, he realized that something felt off.  And as Rain started school, met his Aunt's coworkers and even got a job, things become even more confusing.  While little clues appeared here and there, Rain became more than determined to get to the bottom of whatever was going on in New Wurzburg.
He'd never feared losing something before because he'd never had anything worth keeping. This girl, though. She was different. And he wanted her.
While I easily guessed what the paranormal element was, there was so much shrouded in mystery that I wasn't able to decipher.  I loved being as lost as Rain sometimes, and I had fun trying to figure it all out right along with him!  Rain was by far my favorite thing about this book.  You know I'm a sucker for a tortured soul, and with his history of a hard life and being raised on the streets, it drew me right into him.  Rain wasn't expecting much in this little town, but moving in with his Aunt Ruby was the new start he desperately needed.  He slowly started to make connections, find hope and even some happiness.  And I have a good feeling that a lot of people will fall in love Rain just as much as I did.  He was intense, put his heart on the line and I loved that he jumped in feet first.  His intentions proved again and again that he had a heart of gold, despite his hard past.  And when Rain first met Friederike Burkhart, I loved how he saw her.
"So, you want me to listen to my instincts."
"Yes."
He reached out and pulled her to him by a belt loop on her jeans. Her eyes widened as she crashed into him. The contact with her long, muscular body made the blood roar in his ears and other places. "My instincts aren't telling me to go home. They're telling me to do this." He took her face in his hands and covered her mouth with his.
I was so addicted to Rain, that I thought I'd easily love Freddie and their romance too.  And while Freddie was intense, tough and struggled with her father's recent passing, I just couldn't connect to her.  Which made me not connect to the insta-love romance either.  But I still loved watching him fall in love with her.  And I loved even more how Rain vowed to protect Freddie, when he learned that her life was on the line.  Sigh, Rain was beyond amazing.  I desperately wanted to love and be obsessed with everything that he was, yet I wasn't.  So I'm keeping my fingers crossed that you connect to Freddie and the romance much better than I did!
Never had he been kissed like that— like the world revolved around that moment. And he wanted more. He wanted everything.
But I still had a lot of fun reading Haven despite my inability to connect to Freddie or the romance.  So if you love stories that keep you guessing until the very end and have characters that will do anything to protect the ones they love, then definitely check this book out!  After finishing Haven I picked up Shattered Souls by this author, and I'm keeping my fingers crossed that I completely connect with that duology!
"I'm not afraid of dying," Rain said. "I'm afraid of dying for nothing."
Looking up, Petra met his eyes directly, and it struck him again how large and nonhuman they looked. "You'll make a difference. It's not for nothing."
PS I loved Petra!  She's a girl who is hmmm yeah I'm not going to tell you that lol.  But she was by far my favorite secondary character and I wish I got to spend more time with her!
*ARC kindly provided by Entangled:Teen via Netgalley in exchange for an honest review*
About Mary Lindsey:

Mary Lindsey is a multi award-winning, RITA® nominated author of romance for adults and teens. She lives on an island in the middle of a river. Seriously, she does. When not writing, she wrangles her rowdy pack of three teens, two Cairn Terriers, and one husband. Inexplicably, her favorite animal is the giant anteater and at one point, she had over 200 "pet" Madagascar Hissing Cockroaches. The roaches are a long story involving three science-crazed kids and a soft spot for rescue animals. The good news is, the "pet" roaches found a home… somewhere else.

Website | Blog | Twitter | Facebook | Instagram | Pinterest | Goodreads
Related Posts
I'm so happy to be on the tour for Haven! This paranormal tale wove mystery and suspense throughout the pages and was a lot of fun! So check out my review below and enter a fabulous giveaway! Enjoy!