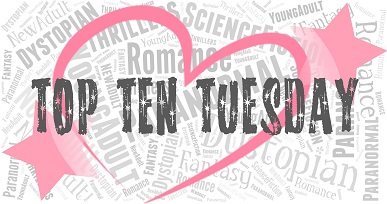 Top Ten Tuesday is a weekly meme hosted by The Broke and the Bookish
This week is – Books We Meant To Read In 2017 But Didn't Get To (and totallyyyy plan to get to in 2018!!). And they are….
| | |
| --- | --- |
| (Jen's Choice) | (Jen's Choice) |
1. If There's No Tomorrow by Jennifer L. Armentrout
Amazon * Goodreads
Lena Wise is always looking forward to tomorrow, especially at the start of her senior year. She's ready to pack in as much friend time as possible, to finish college applications and to maybe let her childhood best friend Sebastian know how she really feels about him. For Lena, the upcoming year is going to be epic—one of opportunities and chances. 
Until one choice, one moment, destroys everything. 
Now Lena isn't looking forward to tomorrow. Not when friend time may never be the same. Not when college applications feel all but impossible. Not when Sebastian might never forgive her for what happened. 
For what she let happen. 
With the guilt growing each day, Lena knows that her only hope is to move on. But how can she move on when her and her friends' entire existences have been redefined? How can she move on when tomorrow isn't even guaranteed?
2. Seeker (Riders #2) by Veronica Rossi
Amazon * Goodreads
The final book in the duology!
When Daryn claimed she was seeing visions during her sophomore year of high school, no one believed the truth.
She wasn't losing her mind; she was gaining the Sight—the ability to see the future. Daryn embraced her role as a Seeker. The work she did was important. She saved lives.
Until Sebastian.
Sebastian was her first—and worst—mistake.
Since the moment she inadvertently sealed him in a dark dimension with Samrael, the last surviving demon of the Kindred, guilt has plagued her. Daryn knows Sebastian is alive and waiting for help. It's up to her to rescue him. But now that she needs the Sight more than ever to guide her, the visions have stopped.
Daryn must rely on instincts, intelligence, and blind faith to lead the riders who are counting on her in search of Sebastian. As they delve into a shadowy realm where nothing is as it seems and where Samrael is steadily amassing power, Daryn faces the ultimate test. Will she have to become evil to destroy evil?
The very fate of humankind may rest in the answer.
| | |
| --- | --- |
| (Jen's Choice) | (Jen's Choice) |
3. Trust by Kylie Scott
Amazon * Goodreads 
After being held hostage during a robbery at the local convenience store, seventeen-year-old Edie finds her attitude about life shattered. Unwilling to put up with the snobbery and bullying at her private school, she enrolls at the local public high school, crossing paths with John. The boy who risked his life to save hers.
While Edie's beginning to run wild, however, John's just starting to settle down. After years of partying and dealing drugs with his older brother, he's going straight—getting to class on time, and thinking about the future.
An unlikely bond grows between the two as John keeps Edie out of trouble and helps her broaden her horizons. But when he helps her out with another first—losing her virginity—their friendship gets complicated.
Meanwhile, Edie and John are pulled back into the dangerous world they narrowly escaped. They were lucky to survive the first time, but this time they have more to lose—each other.
4. Hunted by Meagan Spooner
Amazon * Goodreads
Beauty knows the Beast's forest in her bones—and in her blood. After all, her father is the only hunter who's ever come close to discovering its secrets. So when her father loses his fortune and moves Yeva and her sisters out of their comfortable home among the aristocracy and back to the outskirts of town, Yeva is secretly relieved. Out in the wilderness, there's no pressure to make idle chatter with vapid baronessas…or to submit to marrying a wealthy gentleman. But Yeva's father's misfortune may have cost him his mind, and when he goes missing in the woods, Yeva sets her sights on one prey: the creature he'd been obsessively tracking just before his disappearance. The Beast.
Deaf to her sisters' protests, Yeva hunts this strange creature back into his own territory—a cursed valley, a ruined castle, and a world of magical creatures that Yeva's only heard about in fairy tales. A world that can bring her ruin, or salvation. Who will survive: the Beauty, or the Beast?
| | |
| --- | --- |
| (Jen's Choice) | (Chelsea's Choice) |
5. Alex, Approximately by Jenn Bennett
Amazon * Goodreads
Classic movie buff Bailey "Mink" Rydell has spent half of her junior year falling for a sensitive film geek she only knows online as "Alex." Two coasts separate them until she moves in with her dad, who lives in the same California surfing town as her online crush.
Faced with doubts (what if he's a creep—or worse?), Bailey doesn't tell Alex she's moved to his hometown. Or that she's landed a job at the local tourist trap, the oddball Cavern Palace Museum. Or that she's being tormented daily by Porter Roth, a smart-alecky yet irritatingly hot museum security guard. But when Porter and Bailey are locked in the museum overnight, Bailey is forced to choose whether she should cling to a dreamy fantasy in Alex or take a risk on an imperfect reality with Porter. The choice is both simpler and more complicated than she realizes, because Porter Roth is hiding a secret of his own: Porter is Alex. Approximately.
6. Renegades (Renegades #1) by Marissa Meyer
Amazon * Goodreads
The Renegades are a syndicate of prodigies―humans with extraordinary abilities―who emerged from the ruins of a crumbled society and established peace and order where chaos reigned. As champions of justice, they remain a symbol of hope and courage to everyone…except the villains they once overthrew.
Nova has a reason to hate the Renegades, and she is on a mission for vengeance. As she gets closer to her target, she meets Adrian, a Renegade boy who believes in justice―and in Nova. But Nova's allegiance is to the villains who have the power to end them both.
| | |
| --- | --- |
| (Chelsea's Choice) | (Chelsea's Choice) |
7. Warcross (Warcross #1) by Marie Lu
Amazon * Goodreads
For the millions who log in every day, Warcross isn't just a game—it's a way of life. The obsession started ten years ago and its fan base now spans the globe, some eager to escape from reality and others hoping to make a profit. Struggling to make ends meet, teenage hacker Emika Chen works as a bounty hunter, tracking down Warcross players who bet on the game illegally. But the bounty-hunting world is a competitive one, and survival has not been easy. To make some quick cash, Emika takes a risk and hacks into the opening game of the international Warcross Championships—only to accidentally glitch herself into the action and become an overnight sensation.
Convinced she's going to be arrested, Emika is shocked when instead she gets a call from the game's creator, the elusive young billionaire Hideo Tanaka, with an irresistible offer. He needs a spy on the inside of this year's tournament in order to uncover a security problem . . . and he wants Emika for the job. With no time to lose, Emika's whisked off to Tokyo and thrust into a world of fame and fortune that she's only dreamed of. But soon her investigation uncovers a sinister plot, with major consequences for the entire Warcross empire.
8. Fireblood (Frostblood Saga #2) by Elly Blake
Amazon * Goodreads
Against all odds, Ruby has defeated the villainous Frost King and melted his powerful throne. But the bloodthirsty Minax that was trapped inside is now haunting her kingdom and everyone she loves. The answers to its demise may lie to the south in Sudesia, the land of the Firebloods, and a country that holds the secrets to Ruby's powers and past….
Despite warnings from her beloved Arcus, Ruby accompanies a roguish Fireblood named Kai to Sudesia, where she must master her control of fire in a series of trials to gain the trust of the suspicious Fireblood queen. Only then can she hope to access the knowledge that could defeat the rampaging Minax–which grows closer every moment. But as sparks fly in her moments alone with Kai, how can Ruby decide whom to trust? The fate of both kingdoms is now in her hands.
| | |
| --- | --- |
| (Chelsea's Choice) | (Chelsea's Choice) |
9. Our Dark Duet (Monsters of Verity #2) by Victoria Schwab
Amazon * Goodreads
The sequel—and conclusion—to Victoria Schwab's instant #1 New York Times bestseller, This Savage Song.
Kate Harker is a girl who isn't afraid of the dark. She's a girl who hunts monsters. And she's good at it. August Flynn is a monster who can never be human. No matter how much he once yearned for it. He has a part to play. And he will play it, no matter the cost.
Nearly six months after Kate and August were first thrown together, the war between the monsters and the humans is a terrifying reality. In Verity, August has become the leader he never wished to be, and in Prosperity, Kate has become the ruthless hunter she knew she could be. When a new monster emerges from the shadows—one who feeds on chaos and brings out its victim's inner demons—it lures Kate home, where she finds more than she bargained for. She'll face a monster she thought she killed, a boy she thought she knew, and a demon all her own
10. Three Dark Crowns (Three Dark Crowns #1) by Kendare Blake
Amazon * Goodreads
In every generation on the island of Fennbirn, a set of triplets is born: three queens, all equal heirs to the crown and each possessor of a coveted magic. Mirabella is a fierce elemental, able to spark hungry flames or vicious storms at the snap of her fingers. Katharine is a poisoner, one who can ingest the deadliest poisons without so much as a stomachache. Arsinoe, a naturalist, is said to have the ability to bloom the reddest rose and control the fiercest of lions.
But becoming the Queen Crowned isn't solely a matter of royal birth. Each sister has to fight for it. And it's not just a game of win or lose…it's life or death. The night the sisters turn sixteen, the battle begins. The last queen standing gets the crown.
So these are the Books We Meant To Read In 2017 But Didn't Get To (and totallyyyy plan to get to in 2018!!). Have you read any of these books already?  If none of them are on your tbr, then what are some of the books you meant to read last year but didn't get to?

Related Posts