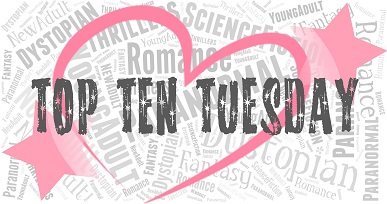 Top Ten Tuesday is a weekly meme hosted by The Broke and the Bookish
This week is – Books We're Looking Forward to In 2018.  And they are….
| | |
| --- | --- |
| (Chelsea's Choice) | (Jen's Choice – Review) |
1. The Cruel Prince (The Folk of the Air #1) by Holly Black – 01/02/2018
Amazon * Goodreads
Jude was seven years old when her parents were murdered and she and her two sisters were stolen away to live in the treacherous High Court of Faerie. Ten years later, Jude wants nothing more than to belong there, despite her mortality. But many of the fey despise humans. Especially Prince Cardan, the youngest and wickedest son of the High King.
To win a place at the Court, she must defy him–and face the consequences.
In doing so, she becomes embroiled in palace intrigues and deceptions, discovering her own capacity for bloodshed. But as civil war threatens to drown the Courts of Faerie in violence, Jude will need to risk her life in a dangerous alliance to save her sisters, and Faerie itself.
2. The Shadow Weave (Spell Weaver #2) by Annette Marie – 01/12/2018
Amazon * Goodreads
Clio might be a nymph living in exile among humans. And she might possess the rare ability to mimic any magic she sees. And she might have just seriously ticked off the most powerful family of spell weavers in the Underworld.
But she is not in love with an incubus.
Lyre is the rebellious black sheep of said weaver family, and he's the only reason she survived her recent Underworld "vacation." He's also the sexiest thing she's ever seen. Together, they have to track down a catastrophically dangerous magic—a magic he created, she sort of stole, and they both lost—before his family gets their hands on it. And that means fighting alongside him in a desperate attempt to avert complete disaster.
But she is definitely not in love with him. At least, she's pretty sure she's not.
Mostly sure.
Maybe sure?
…Crap.
3. Immortal Reign (Falling Kingdoms #6) by Morgan Rhodes – 02/06/2018
Amazon * Goodreads
In the epic conclusion to the Falling Kingdoms series, sworn enemies must become allies as they fight to save Mytica. 
Jonas continues to willfully defy his destiny, but the consequences of plotting his own course are drastic. As the fight for Mytica rages on, he must decide just how much more he's willing to sacrifice. 
Lucia knows there's something special about her daughter and she'll do anything to protect her, even if that means facing Kyan alone.
Amara is called back home to Kraeshia. Grandma Cortas has her own plans for Mytica's future. She promises Amara  power, revenge, and dominance if she agrees to be part of her scheme.
Magnus and Cleo's love will be put to the ultimate test. Dark magic is causing widespread destruction throughout the kingdom. Enemies across the sea are advancing. And unrest is stirring throughout the land. Is their love strong enough to withstand the outside forces tearing them apart?
4. Assassin of Truths (Library Jumpers #3) by Brenda Drake – 02/06/2018
Amazon * Goodreads
The gateways linking the great libraries of the world don't require a library card, but they do harbor incredible dangers.
And it's not your normal bump-in-the-night kind. The threats Gia Kearns faces are the kind with sharp teeth and knifelike claws. Not to mention there's an evil wizard trying to use his magical abilities to take her down. Because she has the keys to end his devious plan. That is, once she figures out what to do with them.
With the handsome, cocky, and maybe-perfect-for-her Bastien by her side, Gia travels through the beautiful wizard havens and Mystik covens to gather the answers she seeks. The journey is harrowing, and it pits Gia against someone she loves. But there's only one way to destroy her enemies―if she can uncover it before they catch up to her.
Because sometimes facing our demons is the only way out.
5. More Than We Can Tell (Letters to the Lost) by Brigid Kemmerer – 03/06/2018
Amazon * Goodreads
With loving adoptive parents by his side, Rev Fletcher has managed to keep the demons of his past at bay. . . until he gets a letter from his abusive father and the trauma of his childhood comes hurtling back.
Emma Blue's parents are constantly fighting, and her only escape is the computer game she built from scratch. But when a cruel online troll's harassment escalates, she not only loses confidence but starts to fear for her safety.
When Rev and Emma meet, they're both longing to lift the burden of their secrets. They connect instantly and deeply, promising to help each other no matter what. But soon Rev and Emma's secrets threaten to crush them, and they'll need more than a promise to find their way out.
6. The Prophecy (Titan #4) by Jennifer L. Armentrout – 03/08/2018
  Goodreads
The end has come.
Old gods will fall.
New ones will rise…
and Seth and Josie will need more than love to survive the final battle that could not only destroy them, but the world as they know it.
| | |
| --- | --- |
| (Chelsea's Choice) | (Chelsea's Choice) |
7. The Fates Divide (Carve the Mark #2) by Veronica Roth – 04/10/2018
Amazon * Goodreads
The lives of Cyra Noavek and Akos Kereseth are ruled by their fates, spoken by the oracles at their births. The fates, once determined, are inescapable.
Akos is in love with Cyra, in spite of his fate: He will die in service to Cyra's family. And when Cyra's father, Lazmet Noavek—a soulless tyrant, thought to be dead—reclaims the Shotet throne, Akos believes his end is closer than ever.
As Lazmet ignites a barbaric war, Cyra and Akos are desperate to stop him at any cost. For Cyra, that could mean taking the life of the man who may—or may not—be her father. For Akos, it could mean giving his own. In a stunning twist, the two will discover how fate defines their lives in ways most unexpected.
8. Inferno (Talon #5) by Julie Kagawa – 04/24/2018
Amazon * Goodreads
Ember Hill has learned a shocking truth about herself: she is the blood of the Elder Wyrm, the ancient dragon who leads Talon and who is on the verge of world domination. With the Order of St. George destroyed, Ember, Riley and Garret journey to the Amazon jungle in search of one who might hold the key to take down the Elder Wyrm and Talon. If they can survive the encounter.
Meanwhile, Ember's brother, Dante, will travel to China with a message for the last Eastern dragons: join Talon or die. With the stakes rising and the Elder Wyrm declaring war, time is running out for the rogues and any dragon not allied with Talon.
The final battle approaches. And if Talon is victorious, the world will burn.
9. Spies, Lies, and Allies by Lisa Brown Roberts – 05/01/2018
Amazon * Goodreads
There isn't a synopsis yet, but I love books by this author, so I can't wait to pick this book up!
10. A Reaper at the Gates (Ember Quartet #3) by Sabaa Tahir – 06/12/2018
Amazon * Goodreads
Beyond the Empire and within it, the threat of war looms ever larger.
The Blood Shrike, Helene Aquilla, is assailed on all sides. Emperor Marcus, haunted by his past, grows increasingly unstable, while the Commandant capitalizes on his madness to bolster her own power. As Helene searches for a way to hold back the approaching darkness, her sister's life and the lives of all those in the Empire hang in the balance.
Far to the east, Laia of Serra knows the fate of the world lies not in the machinations of the Martial court, but in stopping the Nightbringer. But while hunting for a way to bring him down, Laia faces unexpected threats from those she hoped would aid her, and is drawn into a battle she never thought she'd have to fight.
And in the land between the living and the dead, Elias Veturius has given up his freedom to serve as Soul Catcher. But in doing so, he has vowed himself to an ancient power that will stop at nothing to ensure Elias's devotion–even at the cost of his humanity.

So these are the Books We're Looking Forward to In 2018. Are you excited about any of these books too?  If not, which ones are you looking forward to?
Related Posts