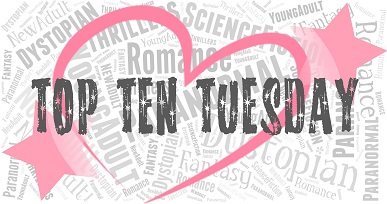 Top Ten Tuesday is a weekly meme hosted by That Artsy Reader Girl.
This week is – Our Bookish Resolutions/Goals. And they are….
Jen's Resolutions/Goals:
 Join reading challenges

✔


I joined three!  And they are the Contemporary Romance Reading Challenge, Beat The Backlist, Library Love Challenge.  I'm so excited to be participating in them! 🙂
Read backlist books by my favorite authors.
I own almost every single book that has been written by my favorite authors.  They're just sitting on my shelves or my Kindle.  So this year I want to get caught up on books by Jennifer L. Armentrout, Lauren Layne, Lisa Brown Roberts, SM McEachern, Julie Kagawa, Veronica Rossi, Wendy Higgins and Veronica Roth!
Read a book a week.
I always set this goal for myself every year.  Even though I don't do it on Goodreads.  I've read 3 books so far, although Goodreads won't show that since one was a BETA read.  So so far, so good!
Take my little boys to the library every other week.
Another goal I set every single year and that I usually always hit.  Unless we're all sick the majority of the month. 🙂  I love our local library!
Attend RT Booklovers Convention 2018 in Reno.
This is the goal I am the MOST excited about!!!!!  It's only an hour away from me and while I can't attend the whole week because of life, I want to attend ALL day Saturday.  600 authors?!?!  I can't even fathom!!!!  So many of my favorites have attended in the previous years and I can't wait to see the rest of the list of names that are supposed to be released in February.  YAY!!!
Read books by new to me authors attending RT.
While I'm waiting for them to update the author list next month, there are a few on the current list I need to get to ASAP!  They are Julie James, Monica Murphy, Mary Ting and Sylvia Day.  I'm sure this list will grow ridiculously huge next month!
Read the majority of books by my favorite authors who are attending RT.
I'm just sitting here stalking their Facebook account waiting to see who's attending.  Last year some authors who attended that I love were Julie Kagawa, Katie McGarry, Lisa Brown Roberts, Brenda Drake, Alexandra Bracken and soooooo many others.  So until February, hopefully I can get a good jump start on my #6 resolution!

Chelsea's Resolutions/Goals:

Get back to three reviews a week.
Meet a 2018 reading goal on Goodreads.
Create an Instagram

✔


You can find our new Instagram account here.
Do more book discussion posts.
So those are Our Bookish Resolutions/Goals.  Do we share any of the same?  If not, then what are some of yours?
Related Posts