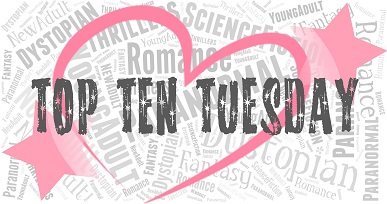 Top Ten Tuesday is a weekly meme hosted by That Artsy Reader Girl
This week was a Love Freebie!  So we chose a topic that we are all obsessed about…… hate to love romances.  We are sooooooo addicted to those.  So here are 13 of our Favorite Hate to Love Romances…….
1. Punk 57 by Penelope Douglas
Amazon * Goodreads
Jen – This book was both scorching hot and utterly heartbreaking.  Misha was brutal to Ryen, he was hurtful, mean and viscous.  BUT I more than got why he acted that way to her.  So it was impossible to be upset with him.  This is definitely one of my top favorite hate to love romances!!
Chelsea – I don't know that I've read a more 'hate' to love romance ever-the vehemence with which Misha hates Ryen is breathtaking…and it makes you fall all the harder.
2.Obsidian (Lux #1) by Jennifer L. Armentrout
Amazon * Goodreads
Daemon's feelings towards Katy are a conundrum and you will feel as though you are suffering from whiplash. One moment his words are lashing out at her, and the next moment he is being his sexy, intoxicating self.  I wanted to kick and punch him, but heaven help me because I fell for him hard.
3. Good Girl by Lauren Layne
Amazon * Goodreads
Noah was hurtful to Jenny.  He was the biggest jerk.  Actually, jerk is too nice of a word.  He was the biggest asshole.  Yet Noah completely deserved my love….you'll find out why.  Annnndddddd – Who knew pink zip ties could be so sexy?!?!?!

4. Anew (The Archers of Avalon #1) by Chelsea Fine
Amazon * Goodreads
Tristan completely won over my heart and soul. His dark, sarcastic humor was intoxicating. His selflessness and bravery was endearing. But even though he was cold and standoffish to Scarlet, I couldn't get enough of him. Tristan was everything I love, and so much more.
5. Angelfall (Penryn & the End of Days #1) by Susan Ee
Amazon * Goodreads
They're enemies.  His kind has destroyed her world.  And even though Raffe is a creature who could decimate Penryn in a second, she stood up to him.  Oh my gosh…..I just loved how their relationship evolved as this trilogy progressed!
6. Falling Kingdoms (Falling Kingdoms #1) by Morgan Rhodes
Amazon * Goodreads
Ahhhh my favoritessss-Magnus really doesn't like ANYONE…but he begins to find he has a soft spot for the girl with golden hair and blue eyes-but she hates him, too! 
| | |
| --- | --- |
| Chelsea's Choice | Chelsea's Choice |
7. The Cruel Prince (The Folk of the Air #1) by Holly Black
Amazon * Goodreads
I'mmm not sure what went on here…but Cardan is one intense dude. He had me guessing from beginning to end.
8. Everless (Everless #1) by Sara Holland
Amazon * Goodreads
AGHH the feelssss. I can't say anything…but by this being on the list, I hope my feelings are clear ;).
9. Frostblood (Frostblood Saga #1) by Elly Blake
Amazon * Goodreads
I loved this book so very much, that much is no secret-Arcus and Ruby had heat from the moment they met…and the fact that he hated her at first sight only helped that matter 😛
10. From Lukov with Love by Mariana Zapata
Amazon * Goodreads
IVAN LUKOV. Guys. He is….so good. The verbal sparring that went on between him and Jasmine was HILARIOUS. Oh man I was dying so many times laughing because of the horrible crap they said to each other..and his nickname for her. Lol, sigh.
11. The Hating Game by Sally Thorne
Amazon * Goodreads
Chelsea – Joshua and Lucy were forced together in one of the most competitive ways…in the same office. The tension between the two is high…but their chemistry is off the charts. I can't even DEAL with how cute their 'enemies' to lovers relationship is ♥♥.️️
12. Dating You / Hating You by Christina Lauren
Amazon * Goodreads
It was an interesting take on the hating to loving trope because they had met BEFORE the chaos started and really hit it off. So that spark was there the entire time, even while the fighting commenced. Their prank war was HILARIOUS. I have not laughed out loud so many times at a book in quite awhile which was a relief after the emotional roller coaster that was ACOWAR.
| | |
| --- | --- |
| Arielle's Choice | |
13. The Winner's Curse (The Winner's Trilogy #1) by Marie Rutkoski
Amazon * Goodreads
I mean, this one isn't a typical hate to love, but they're legit enemies at first soooo–it counts, right? 😂.
So these are our Favorite Hate to Love Romances. Have you read any of these books already? Or are they still on your tbrs too? If not, then what book is your favorite hate to love romance?

Related Posts