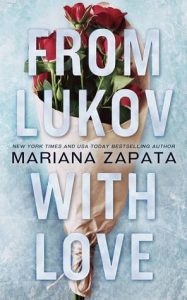 From Lukov with Love
by
Mariana Zapata
Purchase on:
Amazon
, 
Book Depository
Add to:
Goodreads
Synopsis:

If someone were to ask Jasmine Santos to describe the last few years of her life with a single word, it would definitely be a four-letter one.

After seventeen years—and countless broken bones and broken promises—she knows her window to compete in figure skating is coming to a close.

But when the offer of a lifetime comes in from an arrogant idiot she's spent the last decade dreaming about pushing in the way of a moving bus, Jasmine might have to reconsider everything.

Including Ivan Lukov.
The most I'd ever seen out of him was a smile or two around his family, specifically Karina.
But that was it.
I hadn't even known he knew how to laugh….
Unless he was doing something shitty, like taking people's souls and stuff.
There are very few things in life I love as much as I love the books my favorite authors write. Even fewer still are the moments where I can't even finish a page because I can't seem to find the breath to support the amount of air in my lungs it takes to supply hosting a mass amount of butterflies inhabiting my stomach, throat, and chest cavities. I don't do the dance where I can't move on to another book very often…but this author, in the span of two months, has managed to do just that-make it impossible to read anything for a week or more after-with two novels I think I'll take with me to my grave.
Me and Ivan?
Partnering? There was no way. No chance.
They had to be full of shit.
…right?
That's right, bury me with my preciouses, because I can't live without them now! Okay, sorry to get creepy, but, again, I'm very creepy. You should know this. How do you not know this? And, upon further inspection with a friend, it's come to my attention that I am one picky starts with a 'b' and ends with an 'itch'. See? My girl Zapata taught me that little trick. She has become my new favorite terrible influence.
You are who you are in life, and you either live that time trying to bend yourself to make other people happy, or… you don't.
And I sure as hell had better things to do with my time.
I find it so hard, at the moment, to just zero in on one thing to talk about, because my brain is just flooded with all the epicness that was this novel (and I even have gone so far as to flood some Winnipeg moments in at the same time-Brain=FRIED). How do you compartmentalize what you love so deeply that it all makes you happy at the same time? How can I possibly communicate the cuteness that comes with this novel? I can't. I really and truly can't. So, I guess I won't. I suppose I'll just get on with what makes these books so special.
Figure skating had always made me feel invincible. But more than anything, back then, it had made me feel amazing. I hadn't known it was possible to feel like you could fly.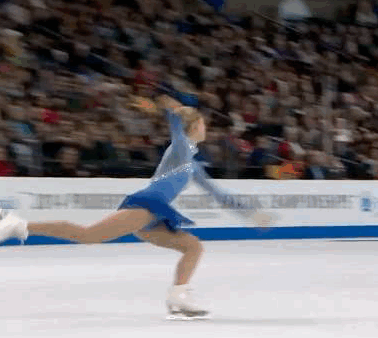 The characters. Without the characters, I don't think I'd give a darn about these books. And that's the beauty of Mariana Zapata-her books are 100% character driven, and you care so deeply for Ivan and Jasmine, Aiden and Vanessa, that every little thing that happens to them rips and tears at your soul, makes you a puppet to their emotions, twisting and pulling at each and every hardship, failure, or triumph. These characters aren't just characters, they're YOU. They're your BEST FRIENDS and soul mates and whatever you want them to be. You care THAT much about them. Or, at least, I did.
Ivan Lukov and Jasmine Santos have been enemies for years. From the moment they crossed paths (close enough, anyway) they've hated one another. And, come on, we all know it's not as simple as that. But each and every interaction between the two had me cracking up silently (I lie-I guffawed long into the night, causing many looks from my husband wondering as to why I looked like a deranged loon) all night long. I'm not kidding-every time I picked this up, there wasn't a scene that wasn't hilarious.
Neither one of us said a word, but our eyes met.
And I mouthed you suck.
And he whispered back with his pale pink mouth, you suck more.
There was another sigh, but it sounded even more resigned. "My eyes work. I can read your lips. Both of them."
And, if you've ever read a book by Zapata, you know that there is a hell of a lot of internal monologue (dialogue?). I JUST LOVE THIS. I don't always in other books, but I do when it's this author. She just knows how to tug on my heartstrings, how to reach my inner self-whether it's for failures, triumphs, encouragement, or any little thing, she touches me in ways I can't explain. Is it perfect? No. Far from it-but it should say something that I am not sitting here dissecting every little mistake, oversight, or overall imperfection, and instead singing the praises of this woman's hard work. 'Cuz writing books THIS LONG…and making me care?? That's HARD to do. And she has THOUSANDS of fans who tend to agree with me-so yeah. Think on that.
Was I dying?
Was this what having you heart broken felt like? Because if it was, I was sure fucking glad I'd never fallen in love before because goddamn. My God.
It felt like my organs were rotting away.
Talent. Raw talent. And heart. You can't fake this-it's authentic and real and it reaches you in ways fancy words can't. And with each new admission these two characters share, I became more and more enraptured, bound, and obsessed. It's like crack. Truly, this is the definition of book crack.
Not because his last name was the same last name as one of my favorite people in the world, but because his first name reminded me of Satan. I was pretty sure his parents had adopted him straight out of Hell.
Alas, I keep repeating myself, so I will wrap this up with some fangirling (wait, isn't that what I've been doing, you ask? YOU HAVEN'T SEEN THE LEAST I CAN DO (hehe Cruel Prince shoutout WOOT WOOT).
Jealousy I had no right to feel, but couldn't exactly ignore, pierced right through my sternum, and I hated it. I fucking hated it.
Ivan is the most decorated figure skater of all time, and Jasmine is…not. She skates at his family's complex and has worked her ass off for years-all for nothing. These two are at each other's throats every time they pass. And….I JUST LOVE IT. The things they say are absolutely horrible, but they give it as good as they get. He crosses lines that tear your heart out, and she misunderstands sooo many different things, guarding her heart against the guy that has been nothing but nasty to her since they met.
"You really want to wait around here for someone to come get you?" he asked, raising his eyebrows again.
He had me there.
But I also didn't want to get into the car with him, so….
"Get in, loser."
And that had me blinking. "Did you just quote—"
But when we start to see the change in Ivan, when he begins to defend her, when he starts to help her out, when the barbs get less sting and more affection…you just cannot-I repeat, CANNOT-defend your heart. You want Jasmine to open up, to see that he's trying to be her friend-but how can she? After everything he's done and said, she can't give in that easily. And, she can't forget, their contract is just for a year, just until his other partner comes back. She can't let her heart get invested. But she'll give it her all, her everything.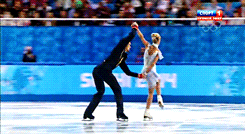 But I wanted to win. I wanted this. I'd always wanted it. I'd bled for it, cried for it, bruised for it, had broken bones, had concussions, pulled just about every muscle in my body, never made friends, never went to a single school anything, never loved anyone, ignored my family, all for this.
The obsession is real, yet, I don't want to start gushing about Ivan like I thought I would-is that weird? I find I just want to bottle him up, keep his best moments to myself-maybe this is a more mature me but…I feel like I want y'all to find out for yourself, almost. It's the oddest feeling. I mean, because, there's really no way to express how I truly feel through just words (I'm not an author, after all), and I don't want to hype it up [more than I already have] and ruin it for others. So, yeah. I'll leave it, I guess.
Sometimes it's easy to take something so essential to your existence for granted.
Or maybe I'm just tired. Who the HELL knows? Either way, I'll leave you with my positive thoughts. Zapata's men never want their girl to play the damsel in distress– they always want them to be more, to take care of themselves and to not let their weaknesses show-because they know how strong their girls are….it's precious. But then, always always, always…they are the first to save them. To catch them before they fall. They are their biggest supporters, fans, friends, and teammates-they are their not-so-white-knights in shining armor. They don't want them to lose themselves in their doubts or weaknesses, but they only want what's best for them-it's the most precious thing. They are their princesses in distress…and I can't even.
And I love everything animal this woman creates…just lol. That's all. So. Hope I didn't ruin too much, say too much (or too little?). When I read books I love more than words can express, I find the reviews are 50 times harder to write. I really don't know what else to say except…I love this author. I've now officially stalked all the things and have ordered two signed copies of her books, and I still have my unsigned Winnipeg copy I'd never part with, so I have three books [or I will]-with one that I already owned ha. If that's not obsession…I really don't know what is.
**SPOILER Quotes** MY FAVS EVER but do NOT read if you want don't want moments ruined (and believe me-you wait far too long in these books to let this stuff be spoiled!
View Spoiler »
"I wanted you to be my partner for years, dumbass. When Karina had told me you were thinking about switching to pairs, I had thought you would say something to me, even in passing as a joke. I thought you would say you were going to kick my ass, and I had planned on talking to you over it. But you never did. The next thing I knew, you had a partner. Some dipshit that wasn't half as good as you." Was I on imaginary drugs again?

And that had to be the right fucking answer he was looking for because the smile that came over his face was the best one he'd ever shared with me yet. "Give me back your wrist, you little shit," he ordered, beaming that smile that I wished with all my heart was mine and only mine. And except for his dogs and his pig and his bunny, it might very well be. So I gave him my wrist.

"Because I'm okay with you having ten other people be your favorite. But you're always going to be my favorite person," he finished. "Always. No matter what." « Hide Spoiler
**********
Me, after these two Zapata books:
Sad…but true. I'm the equivalent of a shaking chihuahua with all the feels I can't begin to handle.
This author. This author slays me. No book-NOT ONE BOOK-has made me want to stay up so late it's almost morning in years…yet, between this book and TWOW, I have stayed up until 4 in the morning countless times to immerse myself in everything Ivan, Aiden, and Mariana Zapata. I love you, Mariana-I LOVE YOU. There is no way to come back from this obsession-no way. And I don't want to. Not at all. This woman is my spirit animal….and these two books (Winnipeg and Lukov) are in a serious death match with one another over who will be my #1 2018 read….because it's all them, baby. ALLL THEM. ALLLL THE FEELS. ALL OF THEM.
And two new amazing book boyfriends I would stand in front of and take a bullet for so early in the year?? COME ON NOW. I. Can't. EVEN.
Review to Come.
Related Posts