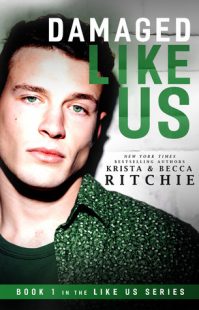 Damaged Like Us
(
Like Us #1
)
by
Krista and Becca Ritchie
Purchase on:
Amazon
, 
iBooks
Add to:
Goodreads
Synopsis:

Don't date your bodyguard.
It was the one rule he had to break.

Maximoff Hale is a force of nature. A ship unwilling to be steered. Headstrong, resilient, and wholly responsible — the twenty-two-year-old alpha billionaire can handle his unconventional life. By noon, lunch can turn into a mob of screaming fans. By two, his face is all over the internet.

Born into one of the most famous families in the country, his celebrity status began at birth.

He is certified American royalty.

When he's assigned a new 24/7 bodyguard, he comes face-to-face with the worst case scenario: being attached to the tattooed, MMA-trained, Yale graduate who's known for "going rogue" in the security team — and who fills 1/3 of Maximoff's sexual fantasies.

Twenty-seven-year-old Farrow Keene has one job: protect Maximoff Hale. Flirting, dating, and hot sex falls far, far out of the boundary of his bodyguard duties and into "termination" territory. But when feelings surface, protecting the sexy-as-sin, stubborn celebrity becomes increasingly complicated.

Together, boundaries blur, and being exposed could mean catastrophic consequences for both.

The Like Us series is a true series, one continuous timeline, that follows a family of wealthy celebrities and the people that protect them. Damaged Like Us can be read and enjoyed without reading any of Krista & Becca's other novels.
We're like lightning and thunder, inherently different but alike enough to share the same sky.
Okayyyyy let me first preface this review by saying that I ABOSOLUTELY ADORED the other books that these sisters have written (the Addicted and Calloway Sisters series). You can't help but be swept up by these character's lives. By the end of Some Kind of Perfect my heart was just so full because we were able to get this huge epic epilogue for this family that I had grown so attached to. We got to see them start families, have babies–everything you usually wish you could see after you've read and fallen in love with a long series. When I found out that there was going to be a third series that centered on these kids after they'd grown up, I was ecstatic. I couldn't wait to see how they'd turn out having the childhoods that they did and the amazing parents that we all know and love.
It *mostly* lived up to my expectations. I loved reading about Moffy (who is just hot AF and so kind and selfless towards his family), Jane (who seeing so freaking cool and lovely and I want to be her best friend), Sullivan (she is the offspring of Ryke and Daisy…do I need to explain it?) and the body guards. *Side note I need a book on Sullivan and Akira* Anyway, while I thought the chemistry between Moffy and Farrow was super hot and I appreciated their banter, towards the end of the book I kind of thought to myself, 'other than the sexual tension and eventual, explosive get together—what has *actually* happened in this book?' You know, in the other two series, there were major conflicts (overcoming addiction, dealing with the aftermath of said addiction and the infamy that followed). In this book, until the very end there really wasn't. Because of the freaking crazy ass ending I suppose it didn't matter though. Ugh can we just talk about that for a minute though under a spoiler cut?
View Spoiler »
The one thing that I don't like about these books is how fucking rabid people are. I don't know if the paparazzi and crowds are just always like then when it comes to famous people but it can be SO FUCKING HARD to read about how horrible people are. The "conflict" in this book that comes out at the very end is that people start shit with Moffy and Jane and basically spread the rumor that they are having an incest relationship. What in the ACTUAL hell. They can't be left alone in the slightest. I am EXTREMELY interested to see how such a taboo subject is going to be handled for the remaining books and I pray to God that Jane and Moffy's relationship isn't destroyed because of it. « Hide Spoiler
Overall I was so happy to be back with these characters and will 100% be reading the rest of the series (and will just be sitting here pining away until Jane and Sully get their own books). ♥
For my twenty-fifth birthday, she wrote me an Avengers fanfic where Bucky Barnes and Captain America weren't merely just friends. It was entertaining as shit.
The ONLY this that really pissed me off in this book was the way that the OG fam didn't believe Moffy and Jane about the *incident*. Like what in the actual hell, guys?! Just because you all did a lot of really stupid things when you were younger, doesn't mean that your kids will have. I assume that because all of those things happened to them that they would have taken extra care in raising their children. They all seemed to communicate very well together so why on earth would they have had reason to believe that the two oldest children in the family were now suddenly hiding this really big thing from them? Just not possible. So yeah, screw them for not immediately believing those two but…I *guess* I will eventually forgive them. 
Farrow caresses my gaze as he says, "Thoreau said, 'Do not be too moral. You may cheat yourself out of much life. So aim above morality. Be not simply good; be good for something.'"
Related Posts