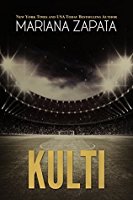 Kulti
by
Mariana Zapata
Purchase on:
Amazon
, 
iBooks
Add to:
Goodreads
Synopsis:

"Trust me, I've wanted to punch you in the face a time or five."

When the man you worshipped as a kid becomes your coach, it's supposed to be the greatest thing in the world. Keywords: supposed to.

It didn't take a week for 27-year-old Sal Casillas to wonder what she'd seen in the international soccer icon - why she'd ever had his posters on her wall or ever envisioned marrying him and having super-playing soccer babies.

Sal had long ago gotten over the worst non-break-up in the history of imaginary relationships with a man who hadn't known she'd existed. So she isn't prepared for this version of Reiner Kulti who shows up to her team's season: a quiet, reclusive shadow of the explosive, passionate man he'd once been.
Someone who didn't know me at all could only love me if I was half myself.


And this, ladies and Gents, is how you obliterate a reading slump. Sure, I struggled hard the first five percent. My eyes wouldn't focus. My mind was on how I wasn't feeling well enough and should be relaxing, watching television, and not forcing my eyes to focus on my tiny phone screen. And the utter exhaustion. Can we create an Olympic category where we get a medal for being able to read while pregnant and caring for a rambunctious two year old all day? I vote yes.


"You know your reputation is just what everyone else thinks of you, your character is what you really are."


But, as with all my darling Mariana Zapata books, it happened. It was even simpler than normal, I'll tell you. All it took for my ass to come back to the land of the living? This passage. This one RIGHT. HERE.

…I made the mistake of looking over my shoulder.
Those amber-moss eyes that I'd seen from across my bedroom walls for thousands of days in my childhood, were on me. On. Me. Not looking through me, not over me. But directly on me.

Yeah. My ovaries were gone. OH! And have I mentioned that reading a book that makes you want to throw up butterflies while pregnant essentially makes you ill? Like…that much emotion and that many feels paired with a wiggling fetus? GTFO. I almost died of spontaneous combustion. Twice.

That's not to say I'm unbiased when it comes to the queen of the slowest of slow burns. I'm a sucker. I've always said-it doesn't have to be new material. It just has to be done WELL. Let's face it-MZ has a pattern…and I dig TF out of it. Yeah, to some it may be repetitive. But the fact remains that no matter my mood, this woman somehow brings me out of the depths of hell almost every single time I pick up her stories. I wasn't reading-haven't read since April, for instance. I tried to re-read my all time favorites. Zilch. I tried a couple new books I was super ecstatic to read. Nada. Then I decided to just give in and read the last sports romance my woman had available…and guess who's on a steady reading schedule again? And I owe that to this girl who just followed her dreams, quit her job to write, and just….made magic happen. I hope, if she ever were to read this, she'd feel to the depths of her soul the gratitude I feel for her making NA/Adult Contemporary relevant at all to me. I love her and I'll read whatever she writes. Loyal fan forever and always, always and forever.




Moving on from that, though, it begs to be said that I wasn't going to read this. Yeah. I know. One of my favorite by MZ EVER, and I almost said no to it. There were so many reasons, honestly, but by far away the largest one was that I played soccer. So, okay, I'm 100% that bitch that physically cannot stand reading about something they know everything about and it being butchered all to hell. I played soccer since I was 6 so…yes. I was apprehensive. Thing was, I was good, too. I didn't just play to play, I did it all and experienced heavy travel and played for some of the best teams my humble state had to offer.

But that's why, again, MZ is my lady. What I love most about her books is this: Simplicity. She makes you feel like you're going through the whole spectrum of your MCs' lives, yet she only touches on the actual sports in the most pivotal moments that give the most impact, add the most heart, and doesn't ever take away from all the character development she worked so hard to create. And you can never say she overdoes, undersells, or makes anything too OTT with the sports scenes. They just…embellish. And it's just the cherry on top of the cake of absolute perfection. I swear. I never once felt like she didn't know what she was talking about…and that is beauty in and of itself.

[image error]


When one door closes, another one opens. I might just have to do a little breaking and entering to get the right one for me.


And then, the other reason I was unsure whether to read this? A friend told me Kulti was an old grump and a total a-hole, nothing like Ivan or Aiden and not worth my time. *scoffs* well. Friend. If you're reading this, I suppose you didn't know me at all lol. Because if by old grump you meant Sexy AF Broody Protective Coach With a Hard On For The Girl Who Was in Love With Him As A Child then YES, he is a moody old sod. But hardly. I mean. Yum. I mean….Did you even READ the softball scenes? The tender moments of friendship? The protectiveness? The jelly feels? The way he clearly, CLEARLY wanted her to succeed? I just… I get the 'he's overly barky towards her when he need not be that way' but have you ever had a coach that knows you can succeed and be even better? They are a lot like this….I hate to tell people who doubt that but, yes, it is possible to have a quiet brooding coach that only speaks in yell-and every single one of them I got was my absolute favorite and I never forgot them. Ya know why? I respected them and they respected me. Of course, I sure as hell hope none of them sported a boner for me. That's only cool in my books because lol Yeah. Fantasy, amirite?


"This isn't meant to be funny. Why are you smiling?"
"Because."
"What?"
I rolled my lips over my teeth and gave him an even look. "I watched this one game where your teammate, Keller, got tackled and had four of his vertebrae dislocated. The camera zoomed in on you, and you were retying your cleats or something. I don't know why I just remembered that. Two of my favorite things about you were that you never gave a single shit what happened to anyone else on the field, and that you never missed games unless you couldn't walk. It's impressive, really. It makes me feel really special that you care about me."
"I care about things," he argued.
"Oh? Like what?"
"Winning."
I bit my lip to keep from laughing. "Okay."
"My fish."
His fish. Jesus Christ.



There are so many moments that I can't possibly name them all, and I don't want to. But I think it needs to be said that this book was so strong to me not because it was a typical MZ, but it almost felt ATYPTICAL. I loved their relationship. The taunting.

The being on the same level of play-athletically able to push one another and therefore further development and the story. The name calling. The friendship. Their activities together. And, of course, the slow burn. Maybe the slowest yet-and I loved every little bit of it. And, this is a pivotal moment-This is the first time I'm battling within myself to keep Kulti away from my number one spot of MZ books-which forever and always belongs to my wall of Winnipeg, Aiden…but it's hard. I really am doing my best to fight my mind about why Aiden still reigns supreme…but I'm losing the battle to myself. And isn't that just the worst problem to have? Two epic stories that can't be topped by one another. What a humdinger of a predicament. But I'd battle myself every day if I could, because it means I fell just as hard in love with another of her books. Again. Huge problem. Hate it. #not.
Related Posts