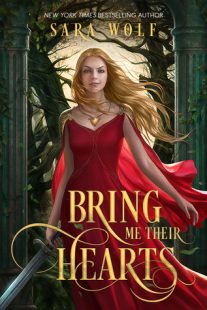 Bring Me Their Hearts
(
Bring Me Their Hearts #1
)
by
Sara Wolf
Purchase on:
Amazon
, 
iBooks
Add to:
Goodreads
Synopsis:

Zera is a Heartless―the immortal, unaging soldier of a witch. Bound to the witch Nightsinger, Zera longs for freedom from the woods they hide in. With her heart in a jar under Nightsinger's control, she serves the witch unquestioningly.

Until Nightsinger asks Zera for a prince's heart in exchange for her own, with one addendum: if she's discovered infiltrating the court, Nightsinger will destroy Zera's heart rather than see her tortured by the witch-hating nobles.

Crown Prince Lucien d'Malvane hates the royal court as much as it loves him―every tutor too afraid to correct him and every girl jockeying for a place at his darkly handsome side. No one can challenge him―until the arrival of Lady Zera. She's inelegant, smart-mouthed, carefree, and out for his blood. The prince's honor has him quickly aiming for her throat.

So begins a game of cat and mouse between a girl with nothing to lose and a boy who has it all.

Winner takes the loser's heart.

Literally.
Review:
Bring Me Their Hearts was absolutely spellbinding and will stay with me for a long time to come. With an intriguing story and witty characters, I found myself quickly flying through the pages. Especially since I always had that feeling that I had to know what happened next. So if you enjoy YA Fantasies that are filled with banter, mystery, romance, political intrigue and darkness, then you definitely have to give this book a try!
It's a small mercy that my lie is also a truth. I throw on my best genuine smile.
"I simply want your heart, my prince."
From that first chapter, I was pulled in. Zara, a heartless who was bound to the witch Nightsinger, arrived at the castle to meet the King, Queen and Prince Lucien. She was under the ruse of being a possible bride to the Prince, so she could steal his heart. Literally. In exchange for the Prince's heart, Zara would finally have her heart and freedom from Nightsinger. Those first few moments of Zara and Prince Lucien meeting? Oh I loved it! Together they were witty and charismatic and I was beyond intrigued to see how it would all play out!
Ruffles hide so much of my anger. Silk gloves do a perfect job of making my hands looks clean, instead of the bloodstained sinners I know them to be. The mirror whispers I'm beautiful, even though all I can see is the twisted, malformed darkness of my unheart bleeding out of my every pore.
After that first chapter, we jumped back in time. And while it was necessary, so we could learn about Zara and her world, I couldn't wait to get back to her moments with the Prince. Stepping into this book, I didn't realize how dark it was to be a heartless. They were viewed as horrific monsters who craved destruction and blood. So I found my heart breaking for Zara. For all that she had done, for how she was trapped and for the situation she was in. Even though her duty was to protect the witch, Nightsinger, I wanted her to have her freedom. But I had a feeling that wouldn't be so simple.
"They will ignore you. They will try and tell you that you aren't good enough. This is a lie. You are an Y'shennria. You have always been good enough." – Y'shennria to Zera

Along the way, we met those who helped transform Zara into a lady. So she would have a chance to capture the Prince's heart. I adored Lady Y'shennria, who played Zara's aunt, and even Reginal, who was one of her employees. While they were standoffish at first, I slowly came to care for them. With her training complete, Zara found herself in the castle. And I found my heart beating faster since he was there. I couldn't wait for Zara and Prince Lucien's moments to simmer and explode.
"I will never consider meeting you a mistake," Lucien says, his midnight eyes flashing.
Prince Lucien was such a complex man who easily stole my heart. Not only was he wounded from the past, but he hated the courts. So of course the more we learned exactly who he was and what he did, I was a goner. He was caring, thoughtful, passionate and such a brave man. But he could also be cynical and kept others an arm's length away. But when he was with Zara? He was still haughty but you could see all of his emotions he kept hidden swirling under the surface. Zara brought it all out of him and I loved every single moment of their slow burn romance!
I want nothing more than to stay in this moment, my hand in his. But that's an impossibility. A weakness. I am a monster, and he's a human. I want his heart, and I want his other heart. His affection, his blood. I want it all.
But if I take one, I can't have the other.
Zara was also a complex character. She was sarcastic, witty, spoke her mind and wasn't afraid to challenge others. I loved how sure she was of herself and she was a heroine that I could easily respect. It was so much fun watching what should have just been a job turn into so much more. The more she learned about the Prince and his secrets, the more she found herself conflicted. Her freedom came first, but at what cost when the Prince started treating her unlike any one else ever had. And I found myself nervous. She was to turn the man I had fallen for into a monster. How could I ever forgive her?
But I knew – I knew this was what awaited me. This was my fate from the beginning, so the sadness I feel clawing at my insides isn't justified I should've been prepared for this. I had two weeks to prepare, to harden myself, and I frittered it away pretending to be human instead.
The further I got into this book, the more obsessed and nervous I felt. For everyone's outcome, including Malvane, the Prince's personal guard and Fione who I can't say who she was. But I loved both of those characters just as deeply. And what lead up to the finale was a huge bang of emotions. There were moments that gutted and elated me and I even found myself with tears slowly dripping down my face. So now I'm dying until that next book releases because the ending was a cliffhanger. And I have a feeling that this is going to be an amazing trilogy. I can't wait to see where it goes from here!
*I voluntarily read and reviewed an advanced copy of this book, provided by Entangled Teen. All thoughts and opinions are my own.*
Related Posts