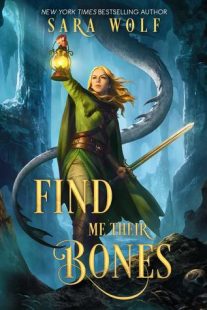 Find Me Their Bones
(
Bring Me Their Hearts #2
)
by
Sara Wolf
Purchase on:
Amazon
, 
iBooks
Add to:
Goodreads
Synopsis:

No one can save her.

In order to protect Prince Lucien d'Malvane's heart, Zera had to betray him. Now, he hates the sight of her. Trapped in Cavanos as a prisoner of the king, she awaits the inevitable moment her witch severs their magical connection and finally ends her life.

But fate isn't ready to give her up just yet.

With freedom coming from the most unlikely of sources, Zera is given a second chance at life as a Heartless. But it comes with a terrible price. As the king mobilizes his army to march against the witches, Zera must tame an elusive and deadly valkerax trapped in the tunnels underneath the city if she wants to regain her humanity.

Winning over a bloodthirsty valkerax? Hard. Winning back her friends before war breaks out? A little harder.

But a Heartless winning back Prince Lucien's heart?

The hardest thing she's ever done.
Review:
Find Me Their Bones was an incredible continuation of the Bring Me Their Hearts Series. This book started off right where the last one ended. The action packed pages were filled with secrets, friendship, betrayal, and finding faith in yourself. And it never once slowed down. So hold on because you're about to be taken on a fabulous journey! So here are some of my favorite things about this book…..
I'm being forced to choose again. Between my heart and him. But this time… this time I'll make the right choice.
✮ Zera & Sacrifice:
"How can something that was a lie mean anything at all?"
Zera was a force to be reckoned with. The fact that she was a heartless who could weep, she was wanted for something special. No matter how dark that path would become, she still had her voice. Zera still had her snark. But she had so much to learn. Who to trust. How to choose what was right. While Zera made some excellent decisions, she also made some that hurt my heart. Even if it was truly for the best.
A thousand things flood my mouth and jockey for first place: I'm sorry. I wanted to tell you. I didn't mean to hurt you—
I loved that Zera was smart, quick witted and had a heart, even if it wasn't in her chest. I hoped she'd finally find the path that led her to happiness. Because she had lost so much. Her life felt even more horrific now and I cried for her, for the injustice of it all. It hurt that she had to tarnish herself and the friendships she had with others. Her lies hurt. Her actions hurt. It all hurt. But her reasons behind it were pure hearted. She wanted to make amends with those she betrayed. But I wanted her to be selfish for once. To take what she wanted. She deserved happiness, love and friendship. She was such an amazing person and I kept waiting for her to realize how truly astounding she was.
✮ Prince Lucien & The Truth:
He's beautiful. And I can't bear to tear my gaze away. No matter how much I know I should, no matter how much I know I need to push him away, I can't bring myself to.
Neither of us speaks.
Prince Lucien was even more swoon worthy in Find Me Their Bones. And don't tell Zera, but I loved him the most! Just like the first book, I looked for clues surrounding Prince Lucien. He emitted anger and disgust towards Zera. After all, she was a heartless who deceived him and murdered others. Yet I kept my fingers crossed that he would see the light for who she truly was.
"You actually think I would tell you the truth? After everything I've done?" I whisper up at him.
"I'm giving you another chance to," he says.
My heart was in my throat when Prince Lucien would say things that made me pause or second guess what he was saying. A touch here. A glance there. Was I only reading into how I wanted it to all turn out? But Prince Lucien was also on an emotional journey. One I can't say why, other than I was so extremely proud of him!
✮ Lost In The Story:
This one moment is all I could ever ask for. It is all I will ever have, and I tattoo it into every part of my aching flesh.
Find Me Their Bones was perfectly paced and always kept me entertained. There were twists and turns and while I saw a lot of them coming, I was still in shock. I was in disbelief that that truly happened. With heart stopping peril and moments that made me laugh out loud, this book was the perfect combination. So much was revealed and it all became so clear what was happening and where it was all leading us to.
He laughs softly, hollowly, keeping his mouth by my ear. "Don't look so troubled, Lady Zera. You and I both know it's true. It was only two weeks. What sort of love is ever true after only two weeks? We were infatuated, and nothing more."
His thoughts mirror mine, the truth like needles piercing any joy I held secretly.
"And yet," he says, "emotions aren't convenient pieces of jewelry you can put on and take off whenever you want to."
Looking back, I was even more emotional with this story. I had tears for the tiny remnants of friendship I found. I had tears for when the truth was spoken. And I even shed tears for what Zera was able to accomplish. I was SO proud of her. But this story isn't close to being over, so I'll be desperately counting down until the next book is released and I can be back in this world I love. I can't wait to be back with my friends. So yes, I definitely recommend this series. But be prepared, it's a wild and fabulous ride!
*I voluntarily read and reviewed an advanced copy of this book, provided by the publisher. All thoughts and opinions are my own.*
Related Posts