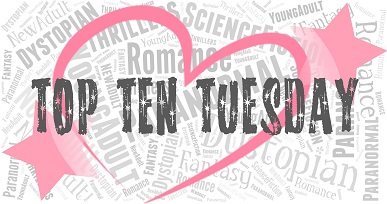 Top Ten Tuesday is a weekly meme hosted by The Broke and the Bookish
Today we're sharing what Books We Decided to DNF.  Some of them we only made it a chapter or two (I personally like to call those Read Sample Wasn't For Me ha!) and others we lasted longer.  But ultimately these books just weren't for us at all.  And they are….
| | |
| --- | --- |
| (Arielle's Choice) | (Arielle's Choice) |
1. Eat, Pray, Love by Elizabeth Gilbert
Amazon * Goodreads
Could not force myself to finish.  The ONLY good thing about this book is her time eating food in Italy.
2. Fifty Shades Freed (Fifty Shades #3) by E.L. James
Amazon * Goodreads
The only reason I tried reading these books is because I needed to see for myself what all the hype was. Unfortunately though, between the bad writing and plot points that I didn't like and couldn't look past, I had to stop. In the end it just wasn't worth it to me!
| | |
| --- | --- |
| (Jen's Choice) | (Jen's Choice) |
3. Written in Red (The Others #1) by Anne Bishop
Amazon * Goodreads
While I liked where the story was going, I struggled with some of the descriptive texts.  There was this scene, near the beginning, where the creature waited for the human to wake up before killing them….and then the way those moments were described ehhhhh.  Yup.  I couldn't handle it at all.
4. Never Tear Us Apart (Never #1) by Monica Murphy
Amazon * Goodreads
I made it to 50 pages and had to stop.   The flashback moments with her child molester and also the moments between that man and his son, I just couldn't stomach any of it.  I felt sick to my stomach and it hurt my heart too much to continue.
| | |
| --- | --- |
| (Jen's Choice) | (Jen's Choice) |
5. Irresistible You (Chicago Rebels #1) by Kate Meader
Amazon * Goodreads
I felt kinda lost with all of the hockey info and then when we switched back and forth using the characters first and last name, well I couldn't connect to any of them or the story.  I've heard amazing things about this author so I'm going to try another one of her series and hopefully that'll be a better fit.
6. To All the Boys I've Loved Before (To All the Boys I've Loved Before #1) by Jenny Han
Amazon * Goodreads
I didn't end up liking Lara Jean and the story dragged for me.  I made it partway through chapter 3 and then I had to put the book down and move onto something that made me want to turn the pages.
| | |
| --- | --- |
| (Chelsea's Choice) | (Chelsea's Choice) |
7. Stalk Me (The Keatyn Chronicles #1) by Jillian Dodd
Amazon * Goodreads
Yikes….I don't even know what to say…Overly cheesy, unrealistic, corny dialogue, switching from boy to boy, and insta-love on every street. I just can't do it. Everything that's a trigger for me was in this book. Not not not good.
8. Ten Tiny Breaths (Ten Tiny Breaths #1) by K.A. Tucker
Amazon * Goodreads
I just can't. I can't I can't I can't anymore.
-Dumb shit heroine.
-horrid writing (which I suspected but wanted a tortured male lead)
-stupid story line.
| | |
| --- | --- |
| (Chelsea's Choice) | (Chelsea's Choice) |
9. Paper Princess (The Royals #1) by Erin Watt
Amazon * Goodreads
One of the most ridiculous, asinine, overhyped books I've ever read.  Period.
10. Splintered (Splintered #1) by A.G. Howard
Amazon * Goodreads

It's a shame I'm such a wuss, because this was so creative and fun and could have been something great and different for me. The romance was very sweet and I actually found myself enjoying all parts Jeb and Alyssa. Then the fantasy elements with tests for Alyssa would resurface and I would sit looking at the Ipad with mild disinterest, because I'd have to skim if I didn't want to be disgusted. I wanted to love it. I begged and I bargained with myself, but I just couldn't do it. Too many books to try, and way too much fantasy in this one. If only, if only….

So these are the Books We Decided to DNF.  Have you DNFed any of these books too?  If not, which one have you DNF?

Related Posts