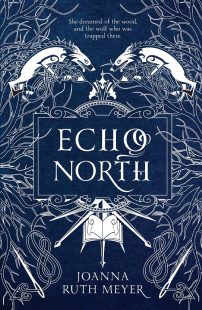 Echo North
by
Joanna Ruth Meyer
Purchase on:
Amazon
Add to:
Goodreads
Synopsis:

Echo Alkaev's safe and carefully structured world falls apart after her father leaves for the city and mysteriously disappears. Believing he is lost forever, Echo is shocked to find him half-frozen in the winter forest six months later, guarded by a strange talking wolf—the same creature who attacked her as a child. The wolf presents Echo with an offer: for her to come and live with him for a year. But there is more to the wolf than Echo realizes.

In his enchanted house beneath a mountain, Echo discovers centuries-old secrets, a magical library full of books-turned-mirrors, and a young man named Hal who is trapped inside of them. As the year ticks by, Echo must solve the mystery of the wolf's enchantment before her time is up—otherwise Echo, the wolf, and Hal will be lost forever.
Review:
First ARC of the year complete and just like last year, I started off with a good one! I feel like there have been a lot of re-tellings out/coming out recently. I had only vaguely remembered what the stories of Tam Lin, East of the Sun, West of the Moon, and even the myth of Cupid and Physche were about. I myself looked them all up after I saw another reviewer mention them and I would actually recommend not doing so. While this story is obviously unique, there were a few things that I think I was able to piece together sooner because I had just skimmed those tales.
This is a story of Echo, named such for the fact that she echoed her late mother's heartbeat with her own. When she is young, Echo is disfigured by a strange white wolf in the forest and grows up being reviled by her village. When she is sixteen, she has another encounter with the same wolf and ends up bartering one year of her life for the safety of her father. She ends up spending that year in this awesome house that all of these different rooms that she learns to tend to from the wolf. OBVIOUSLY my favorite one was the library that had the cool mirror books. Basically you could step into them and live out that particular story and leave whenever you wanted. It's in those "books" that she meets Hal and the story progresses and mistakes are made and ~feelings~ begin, and……………….that's basically all I'll say about it. You'll just have to pick the book up once it comes out and find out yourselves!!!
Anyway. I think I liked the second half of the book more than the first (even though the first had the mirror books). The second half featured Echo actually DOING something to try to save a certain someone. I felt like in part one there were too many instances of her wasting time, trying to figure things out. Maybe it's just because I've read so many books and fairy tales but I was like damn, girl, you need to figure your crap out already! Overall I loved the ending and this was a very solid book to start out 2019. I very much recommend!
Huge thanks to NetGalley and Page Street Publishing for allowing me to honestly review a copy of this book early!♥
Related Posts