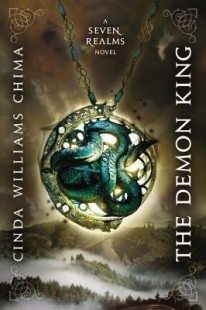 The Demon King
(
Seven Realms #1
)
by
Cinda Williams Chima
Purchase on:
Amazon
, 
Book Depository
Add to:
Goodreads
Synopsis:

Times are hard in the mountain city of Fellsmarch. Reformed thief Han Alister will do almost anything to eke out a living for his family. The only thing of value he has is something he can't sell—the thick silver cuffs he's worn since birth. They're clearly magicked—as he grows, they grow, and he's never been able to get them off.

One day, Han and his clan friend, Dancer, confront three young wizards setting fire to the sacred mountain of Hanalea. Han takes an amulet from Micah Bayar, son of the High Wizard, to keep him from using it against them. Soon Han learns that the amulet has an evil history—it once belonged to the Demon King, the wizard who nearly destroyed the world a millennium ago. With a magical piece that powerful at stake, Han knows that the Bayars will stop at nothing to get it back.

Meanwhile, Raisa ana'Marianna, princess heir of the Fells, has her own battles to fight. She's just returned to court after three years of freedom in the mountains—riding, hunting, and working the famous clan markets. Raisa wants to be more than an ornament in a glittering cage. She aspires to be like Hanalea—the legendary warrior queen who killed the Demon King and saved the world. But her mother has other plans for her...

The Seven Realms tremble when the lives of Hans and Raisa collide, fanning the flames of the smoldering war between clans and wizards.
Here went my night.
Yes, you read correctly. Despite my reading slump that drove me to DNF more books that I'm comfortable with yesterday, despite today being my last day of vacations and as usual busy as hell, despite the objective flaws of The Demon King, I couldn't stop reading for the life of me, and closed my reader at 6am pretty exhausted.
Worst is, I'm fighting the urge to start The Exiled Queen right now, and I can count on the finger of one hand the number of times it happened with a YA Fantasy series.
I hated Red Queen.
I thought I would die of boredom in A Court of Thorns and Roses.
I didn't care one way or another about The Young Elites, and I quickly lost my interest in Shadow and Bone.
Don't even mention the borefest that was The Kiss of Deception.
I loved the Lumatere Chronicles, but we're talking about Melina Marchetta, and The Demon King sure can't compare with it one second.
And yet, despite my issues, I enjoyed my read like nobody's business.
First of all, I ended liking the main characters even though they're far from perfect – or perhaps because of it. See, when it comes to series that go on for 4 books, I genuinely think that flaws are needed in order to picture a believable growth, especially when we meet the characters at 16.
Raisa, the somewhat selfish princess, shows the best of intentions but sometimes fails to think things through before acting, resulting in several illed-thought-out decisions that border on TSLT behavior. She's immature, annoying, and I understand why some readers had a hard time standing her. Yet despite being royalty, her issues – feeling trapped and needing to take control on her life – seemed pretty valid to me, and I LOVED the fact that she could kiss several guys without falling in love in a happily ever after fashion right away (please, am I the only one who cringes at teenager's weddings?). You go girl. I just cannot wait to see her grow into a character I can admire, and I have a feeling that I will.
Han's past as a street lord made me roll my eyes a little, because COME ON NOW, the guy's sixteen for crying out loud! That's how life rolls in the mountain city of Fellsmarch, though, so I chose to suspend my disbelief and accept it because sometimes, you just have to. I genuinely liked his free and impulsive personality and if he comes as a little whiny sometimes, you have to recognize that the guy needs a break! Oh, well. I'm not sure why, but I liked the guy.
#SorryNotSorry
Both of them make mistakes, and you're likely to fight the urge to strangle them at some point, but I cared nonetheless, for better or for worst. Moreover, after all this build-up, the anticipation to see them interact together is killing me. There, I said it.
As for the plot, many readers complained that nothing really happened in this book and that's true that it reads more like a big introduction to the world of the Seven Realms than anything else. Yet again, I was hooked from the very beginning and couldn't stop reading, so there's that. Not to mention that I guessed all the twists, because if you read Fantasy before, you just cannot help. Did it bother me? In all honestly, no. That's what I call the good kind of predictable, because every time a guess was confirmed, I was glad it was. The Demon King is full of Fantasy tropes, but it stays clear of girl hate and instalove, and then I was able to enjoy the hell out of it. Don't judge me.
However, my biggest complaint would be the way grief is handled. I don't know about you, but when characters face awful events, I expect to feel something, and sadly I didn't. It was Mockingjay all over again, letting me stunned and rather indifferent when I ought to despair.
► All in all, The Demon King was a good introduction to the Seven Realms, and if I can't recommend it blindly, if you're not put off by Fantasy tropes and characters who take stupid decisions sometimes, I'd say that you should go for it, because it's damn entertaining and addictive.
PS. Just so you know… I read the whole series in 4 days, and the books get better and better… until the last one that got 5 stars (reviews coming soon).
Related Posts