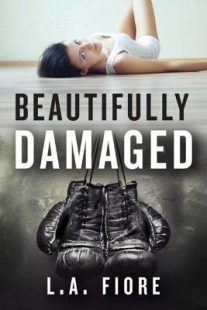 Beautifully Damaged
(
Beautifully Damaged #1
)
by
L.A. Fiore
Purchase on:
Amazon
Add to:
Goodreads
Synopsis:

Ember Walsh is a trusting soul with the quiet beauty of her late mother, who perished in a mysterious car crash when Ember was three. A little tomboyish from being raised by her father, Ember packs a punch when a stranger gets pushy with her in a bar, catching the steely blue eyes of a tall, gorgeous tattooed man—Trace Montgomery. Still damaged from her last disastrous relationship and warned off the bad boy by friends, Ember fights the smoldering heat that Trace sparks in her when he begins shadowing her like a dark angel.

Burdened by a lifetime of horror and heartbreak, amateur fighter Trace doesn't want to want Ember. His deep self-loathing keeps him from having any meaningful relationships, but Ember is an itch he can't scratch. The two push and pull, slowly crumbling their walls, seemingly brought together by fate, because the turmoil that haunts their pasts is interlinked in undeniable ways. But can these two fighters finally lay down their arms?
Review:
Beautifully Damaged pulled me in and then crashed and burned.  I haven't had a 1 star rating in almost 3 years, but there was no denying how I felt about this book.  Even though this story held so much potential, the characters wore on me and I kept picking holes at the story.  When I found myself skimming the last quarter of the book, I knew I was done. So my top three issues were…
✩A doormat heroine
He really was fucked up, but I loved him. I loved him enough to stay.
From the very first chapter, we watched as Ember let her roommate walk all over her.  Her roommate said rude things to her, took her stuff and even ditched her.  All while Ember let her.  And when she allowed Trace to do the same thing, I was done with her.  I was so angry that she allowed herself to be a victim, again.  It was frustrating that she never said anything when her boyfriend would be gone for all hours of the night or when she would catch him flirting with other girls.  And there's a scene where it looks like he's having sex with another girl, ugh.  Just no.  Her lack of actions made me completely lose any and all respect I had for her.  Yes she punched a guy in the beginning of the story and another person way down the road but it wasn't enough.  Not near enough because of all of the other moments I painfully had to sit there and watch her do nothing.
✩A jerk of a hero
"You actually believe I could feel any other way about you? You are my forever."
"You're not mine."
If you follow my reviews, you know I always love the guys that start off as a douche bag and then turn into so much more .  But with Trace Montgomery, I finally found a jerk I didn't like.  I tried my hardest to fall for him since he was thoughtful, caring and protective.  But in the end, I just hated him.  My first clue that I should have given up on him was when he was staring at Ember, while getting another girl off.  My second clue should have been when he purposely flirted with other girls when Ember was around.  My third clue should have been when he didn't care that he was tearing Ember apart when he threatened to bring another girl back to where they both lived.  Ohhhh and he proceeded to warn Ember that the girl he was bringing back was a screamer.  What a great guy *rolls eyes*. And while there was a ton more clues, the final nail in the coffin was when he made it look like he was fucking another girl while Ember walked in on it.  Just NO.  Trace pushed too hard.  He pushed too far.  I didn't care that his past made him the way he was.  He was cold and callous in my eyes.
✩WTFs
I discovered that a body could still function when the heart was reduced to nothing but ash.
I'm not even going to touch on the fact that we're told Ember is shy yet she has no problem singing in public or punching a guy in the face, or the cooking thing, or her tattoo she got before she even slept with Trace, or his stalking, because all of that was absolutely ridiculous.   But the huge revelation at the end?  I'm sure that was supposed to make us happy, but all it did was make me livid.  The legal implications, the emotional scarring, the abandonment?  Not to mention the complications in the future, I just, wow.  Are you kidding me?  It was messed up on so many levels and it left the worst taste in my mouth.
Beautifully Damaged was definitely not for me and I wont be picking up another book by this author.  
Related Posts