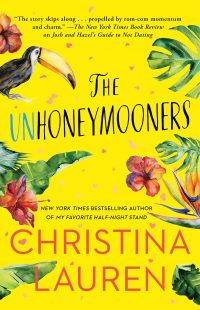 The Unhoneymooners
by
Christina Lauren
Purchase on:
Amazon
, 
iBooks
Add to:
Goodreads
Synopsis:

Olive is always unlucky: in her career, in love, in…well, everything. Her identical twin sister Amy, on the other hand, is probably the luckiest person in the world. Her meet-cute with her fiancé is something out of a romantic comedy (gag) and she's managed to finance her entire wedding by winning a series of Internet contests (double gag). Worst of all, she's forcing Olive to spend the day with her sworn enemy, Ethan, who just happens to be the best man.

Olive braces herself to get through 24 hours of wedding hell before she can return to her comfortable, unlucky life. But when the entire wedding party gets food poisoning from eating bad shellfish, the only people who aren't affected are Olive and Ethan. And now there's an all-expenses-paid honeymoon in Hawaii up for grabs.

Putting their mutual hatred aside for the sake of a free vacation, Olive and Ethan head for paradise, determined to avoid each other at all costs. But when Olive runs into her future boss, the little white lie she tells him is suddenly at risk to become a whole lot bigger. She and Ethan now have to pretend to be loving newlyweds, and her luck seems worse than ever. But the weird thing is that she doesn't mind playing pretend. In fact, she feels kind of... lucky.
Review:
It PHYSICALLY pains me to say that this is not in the running for one of my favorite Christina Lauren books. You better believe that I had been stalking NetGalley for the last few weeks, hoping to see this cover pop up. I was SO excited to find out that I was approved on the first day in YEARS that I had a snow day, too. I loved Olive and Ethan and when I first read the synopsis about this being a hate-to-love featuring a pretend marriage…mmmm…I figured this would be a recipe for perfection.
That wasn't exactly the case. Overall this book was still good and I still laughed out loud many, many times. I mean during a good chunk I was actually rocking my daughter, trying to get her down for a nap, and it was getting physically hard to hold in my laughter and not wake her up haha. I loved reading about their time in Hawaii together.  The banter and their chemistry was great as always.  The only part about this book that caused me to pause and knock off a star..maybe a star and a half, was purely a personal preference thing. It was a situation towards the end involving "the conflict" between Olive and Ethan..and even Olive's sister..that really rubbed me the wrong way. View Spoiler »Olive's sister's husband cheats on her (and hits on Olive) and NEITHER ONE OF THEM BELIEVE HER!!!!! Like I guess I can see Ethan initially wanting to give his brother the benefit of the doubt but why would Olive have lied about him hitting on her??!?!? Also, her sister said some pretty terrible things to her when Olive told her she thought the husband was cheating and it just did NOT sit well with me…… « Hide SpoilerThis similar type of situation bothers me in every romance though, so there's a good chance that it won't affect a lot of people's views on the book overall. Like I said, still a hilarious, sexy, finish-in-a-day because of the addictive writing kind of book…it just wasn't meant for me like most of their other ones!
Also, random side note–I am obsessed with this cover.  Even though it wasn't one of my top favorites I think I still need to buy it to brighten up my bookshelves at home, lol.
Huge thanks to NetGalley and Gallery Books for this eARC that was given in exchange for an honest review! ♥
Related Posts