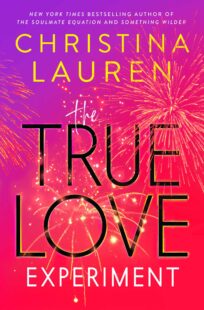 The True Love Experiment
by
Christina Lauren
Purchase on:
Amazon
, 
iBooks
Add to:
Goodreads
Synopsis:

Felicity "Fizzy" Chen is lost. Sure, she's got an incredible career as a beloved romance novelist with a slew of bestsellers under her belt, but when she's asked to give a commencement address, it hits her: she hasn't been practicing what she's preached.

Fizzy hasn't ever really been in love. Lust? Definitely. But that swoon-worthy, can't-stop-thinking-about-him, all-encompassing feeling? Nope. Nothing. What happens when the optimism she's spent her career encouraging in readers starts to feel like a lie?

Connor Prince, documentary filmmaker and single father, loves his work but when his profit-minded boss orders him to create a reality TV show, putting his job on the line, Connor is out of his element. Desperate to find his romantic lead, a chance run-in with an exasperated Fizzy offers Connor the perfect solution. What if he could show the queen of romance herself falling head-over-heels for all the world to see? Fizzy gives him a hard pass—unless he agrees to her list of demands. When he says yes, and production on The True Love Experiment begins, Connor wonders if that perfect match will ever be in the cue cards for him, too.
Review:
With a fun and flirty vibe, The True Love Experiment was so easy to devour! This story took place one year after The Soulmate Equation, and I definitely recommend reading that book first!  There were so many easter eggs for feelings! This time around, a company was using the dating technology within a tv show. And watchers got to determine who would progress to the next level. Connor was in charge of the show and I loved that he knew he needed Fizzy to be the leading lady. So when Fizzy, an author, threw out that the males had to be tropey oh my heart exploded. I couldn't wait to see how it all unfolded!
The world seems intent on beating us down, and I don't remember the last time I was genuinely happy.
Fizzy was so different then I perceived her in The Soulmate Equation.  She came across as bubbly, happy and fun in the previous book and in listening to her thoughts in this story she was cynical, jaded and could be harsh on men.  She was stuck in a writing block, didn't know if true love was for her and hadn't had sex in a year. My heart hurt for her.  But I struggled connecting with her at first.  She could be so harsh and was quick to judge Connor without blinking an eye. She had no problems assuming and painting others as a villain.  I was so thankful when I got to page 58 because then I finally saw the Fizzy I had fallen in love with!  She started to mess with Connor and I loved that her playful ways were coming out!  And I love that her friends were horrified when they learned that her first impression of him was soooo wrong *cheers for Connor!*. While Fizzy wasn't one my favorite Christina Lauren character, I was so happy to see that she grew in leaps and bounds. And I loved her by the end of this story!
You're going to be setting her up with other men. The reminder crashes into the forefront of my thoughts, and I blink away.
I loved Conor within those first few pages.  I loved that he would agree to her outlandish terms!  I loved how he had such an open and honest relationship with his ex, the mother of his daughter.  That warmed my heart how he could confide and talk to her. She was such an amazing best friend for him.  And I loved how they co-parented their daughter.  Connor was sexy, good hearted, kind and loyal. The company Connor worked for was making a major pivot from socially conscious programming to reality television.  And Connor was in charge. I was happy to know that he wasn't aware of who Fizzy's true match was, so I kept trying to guess as the pages unfolded. But at the same point, I was wondering how Connor would match up with her since there was a definite spark between them. And as Connor was in the background during the shoots, Fizzy couldn't ignore him. She was pulled to him, as strongly as he was pulled to her!
I know what love looks like— and I've written it so many times— but I've never felt it myself.
I loved watching Connor and Fizzy form a true friendship as the story progressed.  It was so effortless, once they got past their beginning hiccups. And we got to alternate this story between the two of them!  Yet Fizzy wanted more. And I loved seeing how Connor wasn't capable of compartmentalizing his feelings like Fizzy. He knew he couldn't get his heart invested. So with Connor being the voice of reason, I wondered how long that would last haha. Because lines were crossed. And they both made not the best life decisions. Especially with contracts dictating behavior ack. So while their times were hot, they were also a recipe for disaster. And I kept waiting for it all to blow up in their faces. I loved them together, but it left a bad taste in my mouth that she wasn't being in good faith for the show.
"This is a plot twist I should have expected," I grumble.
So while I had so much fun devouring this story, I still had my hiccups. I struggled with Fizzy's behavior at times, I didn't like an aspect of Connor's past, and their struggle later in the book just showed me that they could both be dumb at times *shrugs*. But things have a way of working out the way it should, and I loved the ending of this story! If you're looking for a beach read and don't have some of my issues, then this book is definitely will be it!
The sneakiest of thoughts escapes, unguarded: As great as these Heroes are, none are him.