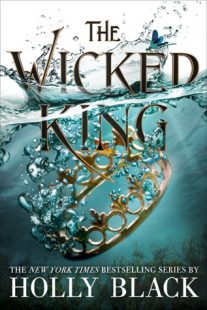 The Wicked King
(
The Folk of the Air #2
)
by
Holly Black
Purchase on:
Amazon
, 
iBooks
Add to:
Goodreads
Synopsis:

You must be strong enough to strike and strike and strike again without tiring.

The first lesson is to make yourself strong.

After the jaw-dropping revelation that Oak is the heir to Faerie, Jude must keep her younger brother safe. To do so, she has bound the wicked king, Cardan, to her, and made herself the power behind the throne. Navigating the constantly shifting political alliances of Faerie would be difficult enough if Cardan were easy to control. But he does everything in his power to humiliate and undermine her even as his fascination with her remains undiminished.

When it becomes all too clear that someone close to Jude means to betray her, threatening her own life and the lives of everyone she loves, Jude must uncover the traitor and fight her own complicated feelings for Cardan to maintain control as a mortal in a Faerie world.
"Carda—" I remember myself and sink into a bow. "Your Infernal Majesty."
I honestly feel like I am one of the last people on GR to have read this book. I want to commend all of you, though, because even though I did skim a lot of reviews and saw a million different versions of the sentence "WTF THAT ENDING, THO" I never once was spoiled! Do you know how rare that is?!?!? I think you all probably do. So great job, everyone. I really appreciate it because even though I was dreading/terrified of finding out what the ending was, I really thought I might have figured it out before I did. Hahahahahah nope. What a sucker punch. You better believe I have loads to say about it under a spoiler tag later on…
Cardan gives me a look up through his lashes that I find hard to interpret and then rises, too. He takes my hand. "Nothing is sweeter," he says, kissing the back of it, "but that which is scarce."
Soooo basically this book was WAY better than the first. I liked the first, I liked the characters, but looking back I hadn't connected like I should have. I was sucked into this one immediately. It seemed like we hit the ground running with Jude, right on the very first page. She already had so many schemes going on and I was so nervous for her. Honestly even though Cardan is the appeal factor in this series, Jude makes the entire thing. SHE IS SO BAD ASS. I've been thinking about this for a few days now and I think Black went above and beyond with her character. There were points in both books where I would…get annoyed (?) whenever she mentioned being frightened when she was around a certain character or her life was being threatened. I kept thinking, 'Jude, you've lived in this place all your life and look how far you've made it! Why are you scared??' BUT. YOU GUYS. That is so dumb of me because she's human! And mortal! And her body is relatively so fragile. And…I honestly think that all of those facts make it that much more impressive that she tricked Cardan into taking the crown and became his seneschal and literally every other plot she's put into movement. And the fact that she's tricked faeries that have been alive for probably centuries is just….it's so good. I love her. And I also love that even though she's accomplished all of those things, she's completely clueless when it comes to feelings involving Cardan. I'm leaving that subject alone though haha. That's for the reader to enjoy alllll on their own.
"You made me the High King, Jude. Let me be the High King."
AND SPEAKING OF CARDAN. I fell so much deeper in this book. My interest was certainly piqued in the last 25% of CP but in this one we get to know him so much better and find out that he has so much more to him than you initially would think. He's funny AF. SO FUNNY. He *cares* about Jude. He has what it takes to truly be a really great king. I mean, wow. I was glued to very single interaction between him and Jude. Like she just didn't get it and that can't be more funny to me (while also wanting to hug her and then let her know) hahaha. How could he have been more clear??!?! 
Now it is time for me to spew spoilers under a tag below this SO IF YOU DON'T WANT TO KNOW, DON'T LOOK!
Maybe I wouldn't have to be afraid to love him. Maybe it would be okay. Maybe I wouldn't have to be scared of all the things I've been scared of my whole life, of being diminished and weak and lesser. Maybe I would become a little bit magic.
View Spoiler »
Okayyyyyyyyyy folks. That ending. What the hell. I've had some time to sit down, think, and re-read and here are my thoughts. #1 Taryn can fuck off #2 Cardan exiledJude to the mortal world because he cares for her and wanted her to be safe #3 That kind of action couldn't have gone unpunished and he needed to think of some way to get her the hell out so she wouldn't be killed OR imprisoned there. #4 These quotes:

"Let us be wed until we wish for it to be otherwise and the crown has passed from our hands."
"I exile Jude Duarte to the mortal world. Until and unless she is pardoned by the crown . . ."

I am led to believe that this was Cardan's sneaky way of ordering her away but giving her a chance to come back. I mean come on. He said OUR HANDS when talking about the crown and that she can't come back unless she's pardoned by the crown. So once she realizes that she can just pardon herself and come back. BOOM.

It makes complete sense. I mean come on my BA was in English Lit. Do you know how many stories and writing I have analyzed? A shit load. Convince me I'm reading into it wrong but you better have a good argument! « Hide Spoiler
Related Posts