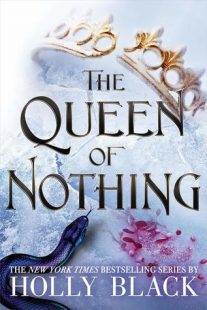 The Queen of Nothing
(
The Folk of the Air #3
)
by
Holly Black
Purchase on:
Amazon
, 
iBooks
Add to:
Goodreads
Synopsis:

A powerful curse forces the exiled Queen of Faerie to choose between ambition and humanity in this highly anticipated and jaw-dropping finale to The Folk of the Air trilogy from a #1 New York Times bestselling author.

He will be the destruction of the crown and the ruination of the throne

Power is much easier to acquire than it is to hold onto. Jude learned this lesson when she released her control over the wicked king, Cardan, in exchange for immeasurable power.

Now as the exiled mortal Queen of Faerie, Jude is powerless and left reeling from Cardan's betrayal. She bides her time determined to reclaim everything he took from her. Opportunity arrives in the form of her twin sister, Taryn, whose life is in peril.

Jude must risk venturing back into the treacherous Faerie Court, and confront her lingering feelings for Cardan, if she wishes to save her sister. But Elfhame is not as she left it. War is brewing. As Jude slips deep within enemy lines she becomes ensnared in the conflict's bloody politics.

And, when a dormant yet powerful curse is unleashed, panic spreads throughout the land, forcing her to choose between her ambition and her humanity . . .
Review:
The Queen of Nothing was a breathtaking conclusion!  With so much up in the air, the story felt as though it moved faster, so I wasn't able to put this book down.  Especially when pieces of the puzzle came together that I never even knew belonged to it in the first place.  So while I guessed a few things right, like the ending, others took me by complete and utter surprise.  If you're a fan of fantasy, you definitely need this series in your life.  Some of my favorite things were…..
It's okay to want something that's going to hurt, I remind myself. I move toward him, so we are close enough to touch.
Jude had come so far.  I laughed, I cheered and I rooted for Jude every step of the way.  She was capable of doing the unthinkable many times and proved why she was a heroine we could look up to and respect.  I loved Jude with every fiber of my being!
"Mock me all you like. Whatever I imagined then, now it is I who would beg and grovel for a kind word from your lips." His eyes are black with desire. "By you, I am forever undone."
Then there was Cardan.  He will forever have a place in my heart.  Even if he tortured it a time or two…or more, he made it so happy.  I loved the moments that showed how much he cared.  I loved that he could be sweet.  I was shocked when the words perfect left my mouth to describe him.  Because that was exactly what he had become to me by the end of this trilogy.
"I never wanted to be your enemy," I say. "But I didn't want to be in your power, either." With that, I take off through the snow. I do the one thing I told myself I would never do.
Relationships were pivotal in this story,  and they all had their personal struggles.  So I loved watching many push through hardships, heartache and get past where they were even comfortable.  I loved even more watching them each find their way.  So the fact that many relationships were mended by the end of this trilogy made me ecstatic.  My heart was so happy, I didn't expect as much as we were given.  Especially the redemption arc of a certain character.
We stare at each other for long moments, breathing hard. His eyes are bright with something entirely different from anger.
I am in over my head. I am drowning.
The stakes kept getting higher and higher.  I was so nervous for them and actually gasped out loud.  I cried.  And this story gave me the chills.  With tricky riddles, life and death situations, and huge risks, this story felt larger then life.  But there were also quieter moments that resonated with my soul.  Every part of this story was a favorite to me.
"It's you I love," he says. "I spent much of my life guarding my heart. I guarded it so well that I could behave as though I didn't have one at all. Even now, it is a shabby, worm-eaten, and scabrous thing. But it is yours." He walks to the door to the royal chambers, as though to end the conversation. "You probably guessed as much," he says. "But just in case you didn't."
With twists and turns, The Queen of Nothing held me in the palm of her hand.  With a HEA for those we love and a HFN for others I've come to care for, I absolutely loved this book.  Trust came to be.  And caring did too.  Two words that seemed to not exist between Jude and Cardan back in the beginning of their story.  And those letters at the end?!  Oh my.  They were everything and ended their story beautifully!