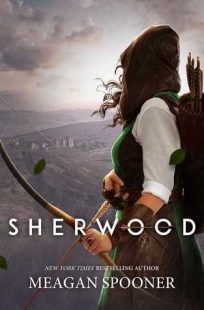 Sherwood
by
Meagan Spooner
Purchase on:
Amazon
, 
Book Depository
Add to:
Goodreads
Synopsis:

When news comes that he's fallen in battle at the King's side in the Holy Land, Maid Marian doesn't know how she'll go on. Betrothed to Robin, she was free to be herself, to flout the stifling rules of traditional society and share an equal voice with her beloved when it came to caring for the people of her land.

Now Marian is alone, with no voice of her own. The people of Locksley, persecuted by the Sheriff of Nottingham, are doomed to live in poverty or else face death by hanging. The dreadful Guy of Gisborne, the Sherriff's right hand, wishes to step into Robin's shoes as Lord of Locksley, and Marian's fiancé. Society demands that she accept her fate, and watch helplessly as her people starve.

When Marian dons Robin's green cloak, and takes up his sword and bow, she never intended that anyone should mistake her for Robin, returned from the Holy Land as a vigilante. She never intended that the masked, cloaked figure she created should stand as a beacon of hope and justice to peasant and noble alike. She never intended to become a legend.

But all of Nottingham is crying out for a savior. So Marian must choose to make her own fate and become her own hero...

Robin Hood.
Thank you to Edelweiss and Harper Collins for my ARC. Sherwood will be released on March 19, 2019.

I am the Lady Marian. I am a free woman and I am loved by Robin of Locksley. I don't shatter for someone like Guy of Gisborne.

Sherwood was another very good book from Meagan Spooner. I previously enjoyed Hunted, Spooner's take on "Beauty and the Beast." This time it is the legend of Robin Hood, with Marian stepping up to take Robin of Locksley's place after he is killed in battle.
Marian is an excellent main character. She takes her grief and sorrow over losing Robin and channels it into doing good for the people of Sherwood. Along the way, a fantastic cast of side characters help her steal from the rich to help the poor. She is strong and unwavering in her belief in right and wrong, yet is not immune from pain and sadness for those she cares for. She constantly goes out of her way to spare anyone unnecessary and pain and even when it is necessary, she feels guilty for what she has done. Marian is not morally grey–she does what she believes is right and doesn't second guess herself.
Madness, then, she thought with a grin. And then, missing the feel of wool on her fingertips, she thought, Robin would have loved it.

We are introduced to Robin with a series of flashbacks and his voice in her heard. I loved Robin's character. He is funny and sweet and charming. View Spoiler »I was so disappointed when he never returned. I honestly thought his death at the beginning was a red herring and he actually did survive and would find his way back to Marian « Hide Spoiler Robin's voice is constantly in Marian's head, guiding her through her foray into becoming Robin Hood.
Robin's voice in her thoughts was gentle. Will you take away their hope because you have none?

As I mentioned before, I thought the side characters of Alan, Will, John and Elana were all quite likeable and well-written. And in usual Meagan Spooner fashion, it was written quite beautifully and the world building was excellent.
You must be wondering, if all of this is good, why only 4 stars, Cassie? Well, unfortunately for me, I didn't love the romance angle of this. Spoilers hidden for those who haven't read/don't want to know:
[For most of the novel, Gisborne is Marian's nemesis. He is part of the problem, enforcing the rules of the crown to make the poor poorer and the rich richer. Marian is constantly trying to thwart Gisborne and they have several scuffles. From the moment Robin is declared dead, Gisborne is speaking to her father about marriage. We are made not to like him from the start, and yet, over the course of the novel, we are giving moments where maybe he is a misunderstood antagonist. There's a scene in her bedroom with a kiss where Marian is confused. But overall, she vows to bring him down. But then, inexplicably, he's saving her from being hanged and she's trying to save his life and then they are declaring their love for each other and working together.
View Spoiler »Don't get me wrong. I enjoy a hate to love romance as much as the next girl. But I just didn't feel it between these two. I was invested in Marian's relationship with Robin, even as Spooner insinuates Robin felt more deeply for Marian than she did for him. I just didn't *get it* and thus, my removal of a star, since the romance angle was pretty large for the book. « Hide Spoiler
Overall, this was another wonderful book by Spooner. I really enjoyed it and if you were a fan of Hunted or the Scarlet series, you will likely enjoy this as well. I'm sure there will be plenty of people who disagree with me regarding the romance, but I'm ok with that. I'm looking forward to whatever Spooner writes next.
Related Posts