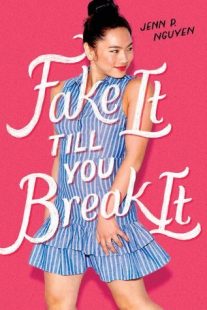 Fake It Till You Break
by
Jenn P. Nguyen
Purchase on:
Amazon
, 
iBooks
Add to:
Goodreads
Synopsis:

Mia and Jake have known each other their whole lives. They've endured summer vacations, Sunday brunches, even dentist visits together. Their mothers, who are best friends, are convinced that Mia and Jake would be the perfect couple, even though they can't stand to be in the same room together.

After Mia's mom turns away yet another cute boy, Mia and Jake decide they've had enough. Together, they hatch a plan to get their moms off their backs. Permanently. All they have to do is pretend to date and then stage the worst breakup of all time―and then they'll be free.

It's the perfect plan - except that it turns out maybe Mia and Jake don't hate each other as much as they once thought…
Review:
Fake It Till You Break It was absolutely adorable! If you're looking for a book that will make you smile and laugh, then look no further. This hate to love and fake romance story was a ton of fun. I got sucked in right away and I loved how it all unfolded. So if you're a fan of YA romance, Kasie West or cute movies like To All The Boys I've Loved Before, then you definitely have to pick this one up!
When he hooked his pinkie against mine, I couldn't help remembering all the times we had done this when we were kids. All the promises and secrets. Then it all went away.
We haven't been friends for nearly ten years, but today it felt like we never stopped. And I was glad some things never changed.
Mia and Jake had known each other since they were babies. Their moms were bbfs and just knew that their children were destined to fall madly in love someday. So both of their mom's made numerous attempts to make their dreams come true. And it was all over the top. It was impossible not to laugh or roll my eyes at their crazy antics. But all of their efforts were in vain since Mia and Jake became enemies over the year. In an attempt to get their moms off their backs, they decided to fake date and then break up. That way they'd never get shoved together again.
A small smile played on his lips. "Good night, Brat."
"Good night." The way he said "Brat" this time didn't sound like an insult anymore. It almost sounded . . . nice. Sweet. Like an endearment.
Oh, God, what was wrong with me? This was Jake. He wasn't nice or sweet. Ever.
I liked both Mia and Jake from the start! Mia could be so sarcastic, but she felt like the sweet, girl next door. Well except when she liked to mess with Jake, which was hilarious. And even though Jake messed with Mia too, it was impossible not fall for him. He was such a good guy who was not only kind, but thoughtful. Jake also had this boy next door vibe, even though he was a neat freak. So when I watched Mia and Jake interact, I realized they could be such good friends to each other. Well, when they wanted to be lol.
"For future reference, that's what a kiss on the cheek is supposed to be."
Not sure why, but the kiss took me by surprise . I stared at Mia for a moment before finally pushing her away.
When Mia and Jake pretended to date, they could be so awkward. Yet they knew each other inside out. There was a comfort level to them that made them smile. I loved that not only did they tolerate each other but they had fun together. But to make their relationship believable, there had to be touching and kissing. And when they threw that into the mix, lines between them became completely blurred. It should have just been pretend. What they felt for each other wasn't real right? But if that was the case, then why were they excited to see each other next?
Jake pulled back slightly, and the cool air hit me in my face, bringing me back to reality. My head swirled like I had stood up too fast. What the heck just happened?
This book was so much fun, that when I was in the middle of reading this story, I went and bought Jenn P Ngyen's other book! So if you love fake romance, hate to love and adorable stories then you definitely have pick this one up. It kept me smiling and laughing till the last page and I can't wait to read this author's other book!
He let out a short laugh as he reached out to touch my arm. "To be honest, I want a lot of things. But at top of the list is that I always want to see you."
PS I would LOVE to read Finn's story!!
*I voluntarily read and reviewed an advanced copy of this book, provided by the publisher. All thoughts and opinions are my own.*
Goodreads / Amazon / Barnes & Noble / iBooks / Kobo
About Jenn Nguyen:
Jenn Nguyen fell in love with books in third grade and spent the rest of her school years reading through lunchtime and giving up recess to organize the school library. She has a degree in business administration from the University of New Orleans and still lives in the city with her husband. Jenn spends her days reading, dreaming up YA romances, and binge watching Korean dramas all in the name of 'research'.
Review:
Related Posts
I am so excited to be on this tour because Fake It Till You Break was beyond adorable! So check out my review below and enter a fabulous giveaway! Enjoy!