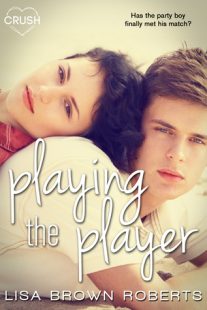 Playing the Player
by
Lisa Brown Roberts
Purchase on:
Amazon
, 
iBooks
, 
Book Depository
Add to:
Goodreads
Synopsis:

Trina Clemons needed the money. Why else would she - the most organized, prepared student in school - spend the summer as a nanny and partner with the biggest slacker ever? Now she's ready to tackle nannyhood with her big binder of research and schedules. Just don't ask her about the secret job of "fixing" the bad habits of a certain high school player...

Slade Edmunds prefers easy hook-ups, and Trina is definitely not his type. She's all structure and rules, while Slade wants to just have fun. Fortunately, Trina has no idea about the bet Slade made with his best friend that he can totally get her to unwind by the end of summer...

Then the weirdest thing happens. There's chemistry. A lot of it. But nothing gets between a boy and a girl like a big, fat secret...
Review:
Playing the Player was beyond adorable.  I couldn't stop smiling or keep the laughter contained that kept bubbling out of me.  I honestly can't remember the last time a book made me laugh this much.  Plus it had the perfect amount of angst that pulled at my heart.  Playing the Player was the perfect feel good story and such a huge win!
Not even two weeks into this gig and it had all turned upside down and backward. – Trina
Ironically, I started out this book unsure if it was going to work for me.  Slade Edmunds came across as a slacker who seemed to have maturity issues and Trina Clemons was a control freak who didn't know how to let loose and have fun.  But I was so wrong.  So very wrong!  Because while that may have been my first impression of them, I got to learn who they were.  I got to understand why they were the way they were since we got to alternate being in both of their heads.  And I absolutely loved the both of them!
"You're late," she announced.
I looked around at the empty library. " Yeah, it was crazy. We had to drive in circles waiting for a parking spot. Almost as bad as a concert at Red Rocks."
Trina's glare intensified, and her chest shifted higher. Why was I noticing this? – Slade
Trina got a job being a nanny to both Gillian and Max.  Well technically she was Gillian's nanny and Slade was supposed to be Max's nanny.  But here's the thing, Gillian was being paid to nanny both kids and she was also being paid to report back on how Slade was performing to his mom.  Slade's mom was friends with the kiddos mom, and thinks that Gillian will help her son mature and grow up.  It sounds like a recipe headed for a huge disaster right?!  While I guessed how a few things would play out, it definitely didn't take away from the story that unfolded!
"Naked party!" Gillian screeched. Before I could stop her, she'd peeled off her sundress and shot up the stairs in her swimsuit. Max followed her, giggling, with Spike in pursuit.
The two little kids they were nannying, Gillian and Max, were beyond crazy and energetic!  They made me laugh so hard.  Saying they added chaos to Trina and Slade's day is a huge understatement.  And Slade and Trina already have a rocky past.  He's the reason she earned the nickname Bird Brain years ago.  Plus they are literally the polar opposites from one another in almost every way imaginable.  Slade was relaxed, calm and enjoyed being a player so no one could break his heart again.  Trina was controlling and had the minutes of her day planned down to a T.  So between the two of them and the crazy kiddos, things were bound to be explosive, hilarious and emotional! And as time proceeded, Spade's playboy charm started to affect Trina, and Trina's cute pixie ways started to cloud Slade's head.
"I know the Heimlich." I kneeled in front of him, worried by all his hacking noises. "Do you want me to do the Heimlich on you? Give me one finger for yes, two fingers for no."
Still coughing violently, he waved four fingers at me, two on each hand.
Geez. Whatever. Not like I'd hurt him. I totally knew what I was doing from Babysitter First Aid class. I stomped away and opened cupboards until I found a glass, then filled it with water and handed it to him. – Trina
Playing the Player was so cute, and it was filled with such a charming story!  I have to say that my favorite scenes by far were the shredder incident, oh my gosh I went from laughing so hard to crying!  And the climbing wall.  Butterflies, excitement and nervousness consumed my thoughts while those moments took place.  If you're looking for a book that is going to make you laugh, feel giddy, and fall in love then this is definitely your book.  I can't wait to discover the other books this author has written!
"You called me a man whore."
He looked surprised, then he laughed. "No I didn't. But I wish I had. How 'bout I just call you bro-ho for short? Since you're hardly a man."
I splashed water at him as hard as I could.
"Bro-ho!" he yelled, sending a wave of water my direction. – Slade talking to his bff Alex
PS I have to give a huge shout out to Trina's best friend, Desi and Slade's best friend, Alex.  They were so full of life and added so much to the story-line!
*ARC kindly provided by Entangled: Crush via Netgalley in exchange for an honest review*
Related Posts