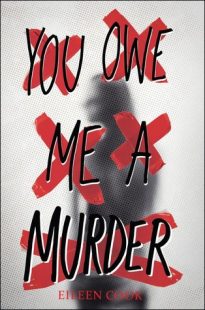 You Owe Me a Murder

Purchase on: Amazon, iBooks, 
Book Depository
Add to: Goodreads


Synopsis:

Seventeen-year-old Kim gets more than she bargained for when she is set up for murder. Perfect for fans of One of Us is Lying, E. Lockhart, and Gillian Flynn.

17-year-old Kim never expected to plot a murder. But that was before her boyfriend dumped her for another girl. Now, Kim's stuck on a class trip to London with him and his new soulmate and she can't help wishing he was a little bit dead, even if she'd never really do that.

But when Kim meets Nicki, a stranger on the plane who's more than willing to listen to Kim's woes, things start to look up. Nicki's got a great sense of humor, and when she jokes about swapping murders, Kim plays along—that is, until Kim's ex-boyfriend mysteriously dies.

Blackmailed by Nicki to fulfill her end of the deal, Kim will have to commit a murder or take the fall for one.
I don't lie to hurt people, or to pull something over on them, but I guess sometimes I…make up stories to make myself more interesting.
I wish I would have liked this book more than I did. I thought the premise was really interesting, but was unfortunately let down by the execution. And honestly, a lot of it came down to the main character, Kim, who I wanted to yell at in complete frustration on multiple occasions.
The beginning was quite well done, with Kim, a 17-year-old girl, headed to London on a class trip. What was supposed to be a fun trip with her boyfriend is now hampered by the fact they are broken up and he is dating a new girl who is also on the trip.
Enter Nicki, who Kim meets in the airport and gets to know on the flight. Nicki, who is engaging, enigmatic and friendly with Kim, gets to Kim to verbally agree to commit a murder for each other. (The fact that Kim was quite drunk when making this verbal commitment is a fact for another day…) Nicki will murder Kim's ex-boyfriend and Kim will murder Nicki's mom. A win-win, right? Kim doesn't take the verbal pact seriously, until her ex-boyfriend ends up dead, and Nicki won't leave her alone.
Trying to keep up with Nicki's conversational train was like navigating a carnival fun house. You'd turn one way and it would be a dead end. You'd go in a new direction and think you were going the right way and then run smack into a mirror. Up was down, right was left, and nothing made sense.
Up until the ex-boyfriend's death, I enjoyed the book fairly well. But after that, it turned a bit ridiculous. It was hard to believe that Kim could get away with all that she was doing. And honestly, I just didn't really like her much and I don't think the author intended for her to be unlikable. Kim was fairly immature and often selfish and thought only of herself. A few other characters get caught in her and Nicki's crosshairs, and those were the characters I felt badly for.
I feel fairly meh about the ending. More than anything, I was just happy for it to be over. This was my second Eileen Cook book, and I definitely enjoyed
With Malice
more.
I didn't want to lie. I wanted to be normal and interesting, but I wasn't.
Related Posts