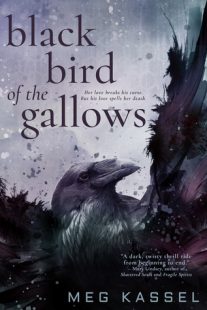 Black Bird of the Gallows
(
Black Bird of the Gallows
)
by
Meg Kassel
Purchase on:
Amazon
, 
iBooks
, 
Book Depository
Add to:
Goodreads
Synopsis:

A simple but forgotten truth: Where harbingers of death appear, the morgues will soon be full.

Angie Dovage can tell there's more to Reece Fernandez than just the tall, brooding athlete who has her classmates swooning, but she can't imagine his presence signals a tragedy that will devastate her small town. When something supernatural tries to attack her, Angie is thrown into a battle between good and evil she never saw coming. Right in the center of it is Reece―and he's not human.

What's more, she knows something most don't. That the secrets her town holds could kill them all. But that's only half as dangerous as falling in love with a harbinger of death.
Review:
Black Bird of the Gallows was hauntingly addicting, and I found myself completely mesmerized as the story unfolded.  The creatures and curses were not only unique, but an eerie combination that at times terrified me.  There were so many moments of subtle humor that had me laughing out loud and kept a smile on my face.  And when you add to that characters that won my heart, well Black Bird of the Gallows easily became one of my favorite books from this year!
"What are you?" The question slips out— suddenly, vitally relevant.
For a moment , we just stare at each other, our mingling breath making white puffs in the cold air. He drops his gaze. I know, then, the answer is horrible. He's kept his secrets for a reason, and that reason may be as scarring as the scene before us.
The book started out with Angie learning she has new neighbors.  And her first interaction with Reece, a boy about her age, had so many unexplainable moments.  He was speaking to a man whose face constantly changed, crows seemed to follow yet be playful with him, and he reminded her of something she couldn't quite pinpoint.  Despite all that, they started towards a tentative friendship.  While there was a few bumps in the road, the way it developed felt so sweet and innocent.  But there was also moments between the two of them that made my heart race.  And I'm not one to usually talk about butterflies, but I SO did have them!  Watching Angie and Reece together made me feel like I was falling in love for the first time all over again.
I hold my breath and watch the crow glide away. It melts into the blackness, silent as a ghost. Lonely as the night.
Dark as a boy's eyes.
Yet their relationship was forbidden.  It shouldn't have grown the way it did.  It seemed like they were destined for broken hearts.  And because of them growing closer, creatures took interest in Angie.  That could only lead to horrific things.  You see, Reece's arrival in her town was a horrible sign, since he's a harbinger of death.  Once he was in her town, there was a shift in the demeanor of the town's people.  Violence and chaotic events started to become more commonplace.  Then it all started to take an even darker turn.  I was terrified yet intrigued with how it would all play out.  Especially in regards to the bees.  When I fully understood the bees *shudders*, I realized that I will forever be haunted by them.  I can't ever look at a honeybee normally again. *sobs*
He leans his terrible face close. Way too close . "He watches you. Why?"
My heart smashes against my ribs. His nightmare face is inches from mine, but no breath comes from that changing mouth. No puff of white in the cold darkness. Only the disorienting scent of honey and a skin-crawling drone that sounds an awful lot like bees. A lot of bees.
And while I LOVED the storyline, I was even more obsessed with Reece and Angie.  Oh my gosh you guys, Reece may be one of the most tortured souls I've ever read about.  He gutted me.  He broke my heart and then shattered it into the tiniest of pieces.  But he also had the ability to completely captivate my attention and melt my heart.  And did I mention he was full of secrets?  He was such a complex soul and was deliciously addicting!  I loved, loved, loved Reece!
Reece goes perfectly still. "You are important to me," he says finally. "More important than anything any cursed creature thinks he could do to me."
And then there was Angie.  From the moment Angie stated that she preferred footwear that wasn't practical, I just knew her and I were going to be bffs!  But seriously, she had such a huge heart and a good head on her shoulders, I easily liked Angie right away.  While she had a troubled past, she tried her hardest to not let that define her.  And I was so grateful to see she had a wonderful support system with her two best friends and father.  The relationship she had with her father was realistic, and I loved that he played an active role in her life.  It was so refreshing to see that in a YA book!
His lips brush against mine in the whisper of a kiss. It's different from any other. It tastes of certainty and sadness and promises that can never be made.
With curses, love, friendship, trust, and sacrifice, Black Bird of the Gallows truly had it all!  It was a page turner, it was impossible to put down, it made me sob out of happiness and sorrow.  And did I mention it reads as a standalone?!  So now I will patiently wait until I can read every single future release from this author.  She has made me a fan for life, and I'm so grateful I got to pick up this book and discover what was inside!
*ARC kindly provided by Entangled Teen via Netgalley in exchange for an honest review*
Purchase Links:
And to the first 100 people who leave a review on Amazon for Black Bird of the Gallows & fill out this form, you'll received a Book Nerd T-shirt.  You can fill out your info here.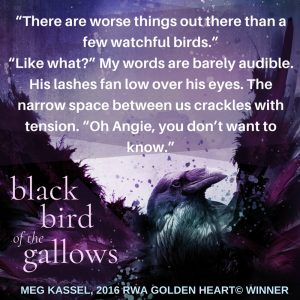 About Meg Kassel: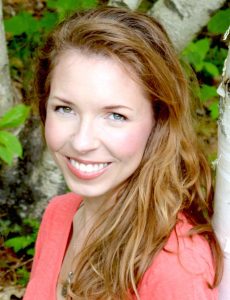 Meg Kassel is an author of paranormal and speculative books for young adults. A New Jersey native, Meg graduated from Parson's School of Design and worked as a graphic designer before becoming a writer. She now lives in Maine with her husband and daughter and is busy at work on her next novel. She is the 2016 RWA Golden Heart© winner in YA.
Website | Twitter | Facebook | Goodreads
Giveaway: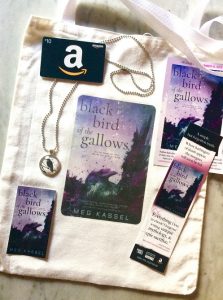 Save
Save
Save
Save
Save
Save
Related Posts
Black Bird of the Gallows is definitely one favorite books from this year! So check out my 5 Star Review below and enter a fabulous giveaway, enjoy!