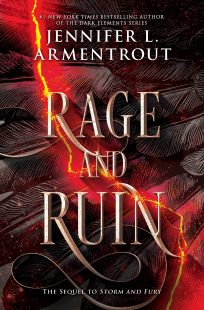 Rage and Ruin
(
The Harbinger #2
)
by
Jennifer L. Armentrout
Purchase on:
Amazon
, 
iBooks
, 
Book Depository
Add to:
Goodreads
Synopsis:

Half-angel Trinity and her bonded gargoyle protector, Zayne, have been working with demons to stop the apocalypse while avoiding falling in love. The Harbinger is coming…but who or what is it? All of humankind may fall if Trinity and Zayne can't win the race against time as dark forces gather.

As tensions rise, they must stay close together and patrol the DC streets at night, seeking signs of the Harbinger, an entity that is killing Wardens and demons with no seeming rhyme or reason. Forbidden to be with each other, Zayne and Trinity fight their feelings and turn to unusual sources for help—the demon Roth and his cohorts. But as deaths pile up and they uncover a sinister plot involving the local high school and endangering someone dear to Zayne, Trin realizes she is being led…herded…played for some unknown end. As anger builds and feelings spiral out of control, it becomes clear that rage may be the ruin of them all.
Review:
Rage and Ruin brimmed with emotions, secrets, twists and lots of charm. Not only did this story have so much heart but it made me laugh, smile, cry and I even got the chills a few times. I loved that their world had a richness and depth to it that I could easily visualize. And I was obsessed with these characters that felt like my friends. So if you love paranormal romance stories then definitely add this series to your tbr.
"I don't know if I can do this," I admitted in a whisper.
"I know you can," he insisted, and my next breath came out shaky. "I don't have a single doubt in my mind."
I wished I could see him. His eyes. His face. See how he was looking at me, because if I could see that faith he had in me, then maybe I could feel it.
Something out there was hunting demons and Wardens. It was referred to as the Harbinger. And while Trinity, a half human half angel, and Zayne, a gargoyle, patrolled at night, it seemed to toy with them. Deaths happened around them and there was nothing they could do to stop it. They teamed up with up with demons and other acquaintances and it all led them down an addictive path where I had to know what happened next. With emotions running high and so much unknown, it felt like everything could explode around Trinity and Zayne at any minute.
A kiss so chaste , so sweet that it shouldn't have undone me, but it did. The kiss rattled me to my core, just as his words had.
Not only did Trinity have to deal with hunting down the Harbinger, but she was in a dark, haunted place. She struggled from Misha's death and betrayal. What Trinity had to do cut into her soul. And I understood her avoiding those she loved. It was easier for her to keep everything locked inside, even though it was unhealthy. Since the story was told from just Trinity's POV, I connected so deeply with her. Her emotions became my own and I hurt for her. I understood why she acted the way she did, even when she was insecure or jealous at times. This story was a huge emotional journey for Trinity, but she grew so much in these pages. And a lot of that was because of Zayne.
I'm not trying to make it easy.
Those were his words— words that couldn't mean what I thought they did— but the longer he held my stare, the more uncertain I became.
Zayne was such a tortured soul who spoke to my heart. He pulled me under his spell anytime he was around. So when Zayne would say or do stuff that felt more than friendship or was extremely thoughtful, I paused right along with Trinity. Because while Zayne didn't always lay his emotions out there, his actions and gestures spoke volumes. And I'm one who loves to hunt and dig to figure out how a character feels. It helped at times that they could feel what the other felt, through the bond, but it wasn't always cut and dry. Because ultimately when everything was broken down, Trinity and Zayne were forbidden. They were not meant to ever be.
"You're under my skin and in my blood. I can't get you out." – Zayne
While Zayne and Trinity were attracted to each other and felt possibly more, ultimately they were stuck with each other till death. She was a Trueborn and he was her Protector. They didn't have a choice of being in each other's lives. So doubt festered in the air for Trinity. Even when sexual tension between them ran high. And in those moments you could feel the electricity in the air. But there were untold consequences if a Trueborn and a Protector were to be together, so the push and pull between them was sensually addictive.
"Angel Face?"
Sighing, I turned and bent down so that I could see into the car. "What, Demon Spawn from Hell?"
His lips quirked into a grin. "Just so you know, what I felt for Layla and what she felt for me was forbidden. That didn't stop us."
We got to see some of our past favorites from Storm and Fury. Roth and Layla had a bigger role in this story! Roth was still beyond sexy and smile inducing, and their love felt stronger than ever. Plus we got to see Cayman and Bambi! I just want to say the favor thing, ohhhhh I'm so ecstatic with how that turned out! Stacey was also back, but I wasn't the biggest fan of her this time. You'll see what I mean. But my favorite thing about these characters being back was the bromance between Zayne and Roth. They were really good at annoying one another lol, but at the end of the day, they had each other's backs. It made my heart so happy!
The taste of him branded my skin, the feel of him as I slid a hand down his chest, over the tight muscles of his stomach and even lower, tattooed itself into me, and the sound of his groan echoed like a prayer.
Rage and Ruin had a climatic ending that left me desperately wanting to grab that next book right away. I cried my eyes out and had lost all hope. But just wait. Because the last few pages, oh they'll change your world. And leave you with a ton of questions lol. Jennifer L Armentrout is beyond talented at giving us so much in a story but then also leaving us begging for more. So if you love fantasy, paranormal or romance then definitely add this series to your tbr. And if you want to understand the world even better then start back with Storm and Fury. I can't recommend both series enough!
I'd never heard him yell before. Ever. I focused on him, really looked at him, and for a ghost, he looked freaked-out. "What?"
Peanut drifted back a foot. "There's something here— something in the apartment."
PS Peanut made me laugh out loud. He cracked me up and added so much light to this story! But his moments of seriousness gave me the chills.
*I voluntarily read and reviewed an advanced copy of this book, provided by the author. All thoughts and opinions are my own.*
Related Posts