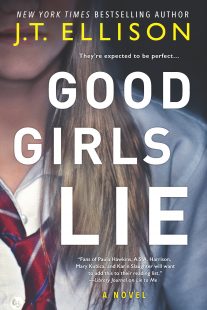 Good Girls Lie by J.T. Ellison
Purchase on: Amazon, iBooks, 
Book Depository
Add to: Goodreads


Synopsis:

Goode girls don't lie…

Perched atop a hill in the tiny town of Marchburg, Virginia, The Goode School is a prestigious prep school known as a Silent Ivy. The boarding school of choice for daughters of the rich and influential, it accepts only the best and the brightest. Its elite status, long-held traditions and honor code are ideal for preparing exceptional young women for brilliant futures at Ivy League universities and beyond. But a stranger has come to Goode, and this ivy has turned poisonous.

In a world where appearances are everything, as long as students pretend to follow the rules, no one questions the cruelties of the secret societies or the dubious behavior of the privileged young women who expect to get away with murder. But when a popular student is found dead, the truth cannot be ignored. Rumors suggest she was struggling with a secret that drove her to suicide.

But look closely…because there are truths and there are lies, and then there is everything that really happened.
There are truths, and there are lies, and then there is everything that really happened, which is where you and I will meet. My truth is your lie, and my lie is your truth, and there is a vast expanse between them.
Good Girls Lie was my first J.T. Ellison novel, despite seeing her name and books so many places, including several others of hers patiently waiting on my TBR list. I believe I've said this before with other books, but I am an absolute sucker for novels about boarding schools/secluded locations. I don't know what it is, but such a contained setting lends itself to creepy and mysterious and I just love it so much.
So an adult thriller focused on privileged teenage girls at an elite boarding school? Of course I was SO in.
I tell myself such pretty lies.
Good Girls Lie is told from varying perspectives, but mostly that of Ash Carlisle, a new student at the Goode School with a mysterious past. We slowly learn about the tragic circumstances that lead to Ash moving from across the pond, though life is sadly not any easier for Ash as she attempts to navigate her new school. Many of her new classmates are suspicious and unkind toward her and Ash quickly feels very isolated. However, one upperclassman alternately reaches out to help Ash and also makes her life a living hell: Becca Curtis.
Everyone in my life has been using me one way or another. What is one more? At least this one has power.
Ash and Becca's frenemies-plus-benefits relationship has a lot of strong ripple effects, as Becca is a popular senior and Ash is a lowly sophomore and makes her the envy (and target) from her fellow sophomores. Ash is desperately trying to stay under the radar, but Becca's attention makes that nearly impossible. With this extra attention, the other students begin to learn about Ash's past. But Ash is hardly the only one keeping secrets.
Eventually all this tension bubbles to the surface and people start dying under mysterious circumstances. Despite the dean's best attempts to keep things quiet, eventually this is impossible, and we truly start to discover the depths of the secrets crawling within the walls of the Goode School.
Overall, I really enjoyed this twisty book. Ellison's writing is very descriptive and quite beautiful. Because of this, I felt this took me longer to read than most thrillers and slows down the pace of the book. As I said earlier, the book jumps around to a few different perspectives, with some flashbacks, so it's important to identify the narrator as quickly as possible in each chapter to really grasp the time and setting.
I was satisfied with the ending. We knew the who/what/when/where/how and had a very fulfilling conclusion to all the conflict. About halfway through I started to guess at a few of the "twists," but I certainly never guessed to the full reveal or the ending. If you are like me and have been thinking about trying a J.T. Ellison book, I fully recommend diving into this one!
I've killed them all. It is my fault. If I had only been brave, if I had only said no. They would still be alive.
About J.T. Ellison:
J.T. Ellison is the New York Times and USA Today bestselling author of more than 20 novels, and the EMMY-award winning co-host of A WORD ON WORDS, Nashville's premier literary show. With millions of books in print, her work has won critical acclaim, prestigious awards, and has been published in 26 countries. Ellison lives in Nashville with her husband and twin kittens. Photo credit: Krista Lee Photography
Keep up with J.T.: Website | Twitter | Facebook | Instagram | Goodreads | BookBub
Related Posts