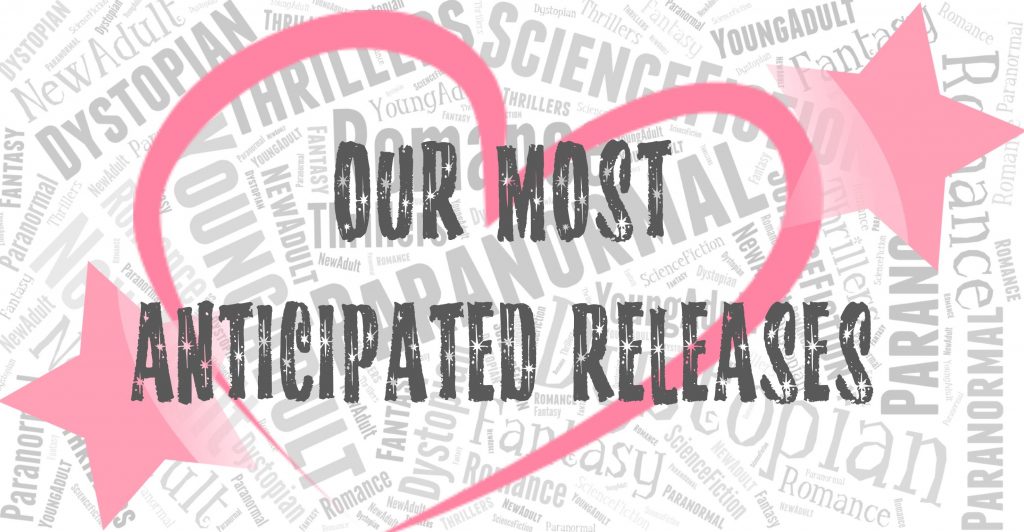 We love talking about books that we can't wait to read! And that includes the ones that haven't been released yet. So around the first day of every month, we'll share with you the books coming out that we're the most excited about. There's a link to Goodreads in case you want to add them to your tbr too! So here are the books we are counting down until they are released in January.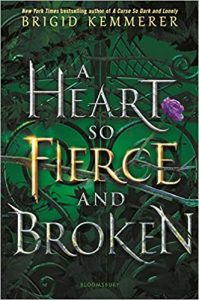 Releases 1/07 – A Heart So Fierce and Broken (Cursebreakers #2) by Brigid Kemmerer
Goodreads ✩ Amazon ✩ Book Depository

In the sequel to New York Times bestselling A Curse So Dark and Lonely, Brigid Kemmerer returns to the world of Emberfall in a lush fantasy where friends become foes and love blooms in the darkest of places.

Find the heir, win the crown.
The curse is finally broken, but Prince Rhen of Emberfall faces darker troubles still. Rumors circulate that he is not the true heir and that forbidden magic has been unleashed in Emberfall. Although Rhen has Harper by his side, his guardsman Grey is missing, leaving more questions than answers.

Win the crown, save the kingdom.
Grey may be the heir, but he doesn't want anyone to know his secret. On the run since he destroyed Lilith, he has no desire to challenge Rhen–until Karis Luran once again threatens to take Emberfall by force. Her own daughter Lia Mara sees the flaws in her mother's violent plan, but can she convince Grey to stand against Rhen, even for the good of Emberfall?

The heart-pounding, compulsively readable saga continues as loyalties are tested and new love blooms in a kingdom on the brink of war.
✩✮✩✮✩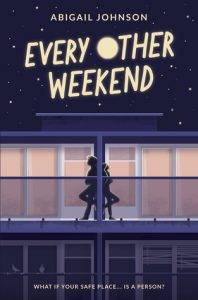 Releases 1/07 – Every Other Weekend by Abigail Johnson
Goodreads ✩ Amazon ✩ Book Depository
Can life begin again…every other weekend?

Adam Moynihan's life used to be awesome. Straight As, close friends and a home life so perfect that it could have been a TV show straight out of the 50s. Then his oldest brother died. Now his fun-loving mom cries constantly, he and his remaining brother can't talk without fighting, and the father he always admired proved himself a coward by moving out when they needed him most.

Jolene Timber's life is nothing like the movies she loves—not the happy ones anyway. As an aspiring director, she should know, because she's been reimagining her life as a film ever since she was a kid. With her divorced parents at each other's throats and using her as a pawn, no amount of mental reediting will give her the love she's starving for.

Forced to spend every other weekend in the same apartment building, the boy who thinks forgiveness makes him weak and the girl who thinks love is for fools begin an unlikely friendship. The weekends he dreaded and she endured soon become the best part of their lives. But when one's life begins to mend while the other's spirals out of control, they realize that falling in love while surrounded by its demise means nothing is ever guaranteed.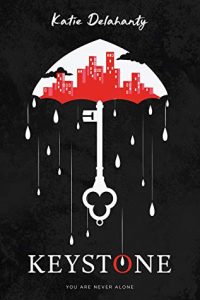 Releases 1/07 – Keystone by Katie Delahanty
Goodreads ✩ Amazon ✩ Book Depository
When Ella Karman debuts on the Social Stock Exchange, she finds out life as a high-profile "Influencer" isn't what she expected. Everyone around her is consumed by their rankings, in creating the smoke and mirrors that make them the envy of the world.

But then Ella's best friend betrays her, her rankings tank, and she loses―everything.

Leaving her old life behind, she joins Keystone, a secret school for thieves, where students are being trained to steal everything analog and original because something―or someone―is changing history to suit their needs.

Partnered with the annoyingly hot―and utterly impossible―Garrett Alexander, who has plenty of his own secrets, Ella is forced to return to the Influencer world, while unraveling a conspiracy that began decades ago.

One wrong move and she could lose everything―again.
✩✮✩✮✩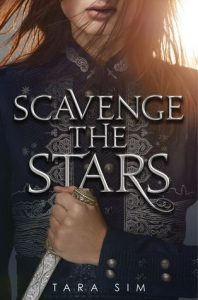 Releases 1/07 – Scavenge the Stars (Scavenge the Stars #1) by Tara Sim
Goodreads ✩ Amazon ✩ Book Depository
When Amaya rescues a mysterious stranger from drowning, she fears her rash actions have earned her a longer sentence on the debtor ship where she's been held captive for years. Instead, the man she saved offers her unimaginable riches and a new identity, setting Amaya on a perilous course through the coastal city-state of Moray, where old-world opulence and desperate gamblers collide. Amaya wants one thing: revenge against the man who ruined her family and stole the life she once had. But the more entangled she becomes in this game of deception—and as her path intertwines with the son of the man she's plotting to bring down—the more she uncovers about the truth of her past. And the more she realizes she must trust no one… Packed with high-stakes adventure, romance, and dueling identities, this gender-swapped retelling of The Count of Monte Cristo is the first novel in an epic YA fantasy duology, perfect for fans of Sarah J. Maas, Sabaa Tahir, and Leigh Bardugo.
✩✮✩✮✩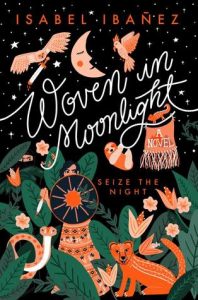 Releases 1/07 – Woven in Moonlight by Isabel Ibanez
Goodreads ✩ Amazon ✩ Book Depository
Ximena is the decoy Condesa, a stand-in for the last remaining Illustrian royal. Her people lost everything when the usurper, Atoc, used an ancient relic to summon ghosts and drive the Illustrians from La Ciudad. Now Ximena's motivated by her insatiable thirst for revenge, and her rare ability to spin thread from moonlight.

When Atoc demands the real Condesa's hand in marriage, it's Ximena's duty to go in her stead. She relishes the chance, as Illustrian spies have reported that Atoc's no longer carrying his deadly relic. If Ximena can find it, she can return the true aristócrata to their rightful place.

She hunts for the relic, using her weaving ability to hide messages in tapestries for the resistance. But when a masked vigilante, a warm-hearted princesa, and a thoughtful healer challenge Ximena, her mission becomes more complicated. There could be a way to overthrow the usurper without starting another war, but only if Ximena turns her back on revenge―and her Condesa.
✩✮✩✮✩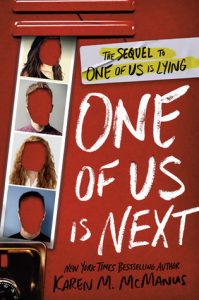 Releases 1/07 – One of Us Is Next by Karen McManus
Goodreads ✩ Amazon ✩ Book Depository

The highly anticipated sequel to the New York Times bestselling thriller everyone is talking about, One of Us Is Lying! There's a new mystery to solve at Bayview High, and there's a whole new set of rules.

Come on, Bayview, you know you've missed this.



A ton of copycat gossip apps have popped up since Simon died, but in the year since the Bayview four were cleared of his shocking death, no one's been able to fill the gossip void quite like he could. The problem is no one has the facts.





Until now.





This time it's not an app, though—it's a game.



Truth or Dare.

Phoebe's the first target. If you choose not to play, it's a truth. And hers is dark.

Then comes Maeve and she should know better—always choose the dare.

But by the time Knox is about to be tagged, things have gotten dangerous. The dares have become deadly, and if Maeve learned anything from Bronwyn last year, it's that they can't count on the police for help. Or protection.



Simon's gone, but someone's determined to keep his legacy at Bayview High alive. And this time, there's a whole new set of rules.
✩✮✩✮✩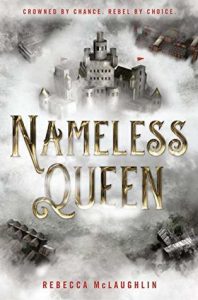 Releases 1/07 – Nameless Queen by Rebecca McLaughlin
Goodreads ✩ Amazon ✩ Book Depository

One girl must make a name for herself–or die trying–in this royal fantasy where an unknown peasant becomes the ultimate ruler. But how long can she keep the crown if everyone wants her dead? Perfect for fans of Furyborn, Red Queen, and Everless.




Everyone expected the king's daughter would inherit the throne. No one expected me.





It shouldn't be possible. I'm Nameless, a class of citizens so disrespected, we don't even get names. Dozens of us have been going missing for months and no one seems to care.





But there's no denying the tattoo emblazoned on my arm. I am queen. In a palace where the corridors are more dangerous than the streets, though, how could I possibly rule? And what will become of the Nameless if I don't?
✩✮✩✮✩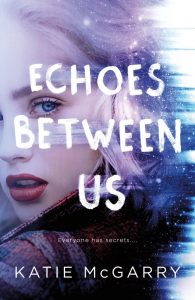 Releases 1/14 – Echos Between Us by Katie McGarry
Goodreads ✩ Amazon ✩ Book Depository
Echoes Between Us is bestselling author Katie McGarry's breakout teen contemporary novel about a girl with everything to lose and the boy who will do anything to save her.

Veronica sees ghosts―more specifically, her mother's ghost, thanks to the blinding migraines that consume her whole life and keep Veronica on the fringes. But the haunting afterimages make her wonder if there is something more going on….

Golden boy Sawyer is handsome and popular, a state champion swimmer, but this All-American is hiding an adrenaline addiction that could kill him. Drawn to each other after a chance meeting, can they help each other battle the demons that haunt their every step or will they push their luck too far and risk losing it
all…including their lives?
✩✮✩✮✩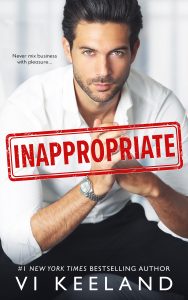 Releases 1/20 – Inappropriate by Vi Keeland
Terminated for inappropriate behavior.
I couldn't believe the letter in my hands.
Nine years. Nine damn years I'd worked my butt off for one of the largest companies in America, and I was fired with a form letter when I returned home from a week in Aruba.
All because of a video taken when I was on vacation with my friends—a private video made on my private time. Or so I thought…
Pissed off, I cracked open a bottle of wine and wrote my own letter to the gazillionaire CEO telling him what I thought of his company and its practices.
I didn't think he'd actually respond.
I certainly never thought I'd suddenly become pen pals with the rich jerk.
Eventually, he realized I'd been wronged and made sure I got my job back.
Only…it wasn't the only thing Grant Lexington wanted to do for me.
But there was no way I was getting involved with my boss's boss's boss. Even if he was ridiculously gorgeous, confident, and charming.
It would be completely wrong, inappropriate even.
Sort of like the video that got me into trouble to begin with.
Two wrongs don't make a right.
But sometimes it's twice as fun.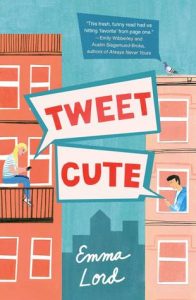 Releases 1/21 – Tweet Cute by Emma Lord
Goodreads ✩ Amazon ✩ Book Depository

Meet Pepper, swim team captain, chronic overachiever, and all-around perfectionist. Her family may be falling apart, but their massive fast-food chain is booming — mainly thanks to Pepper, who is barely managing to juggle real life while secretly running Big League Burger's massive Twitter account.

Enter Jack, class clown and constant thorn in Pepper's side. When he isn't trying to duck out of his obscenely popular twin's shadow, he's busy working in his family's deli. His relationship with the business that holds his future might be love/hate, but when Big League Burger steals his grandma's iconic grilled cheese recipe, he'll do whatever it takes to take them down, one tweet at a time.

All's fair in love and cheese — that is, until Pepper and Jack's spat turns into a viral Twitter war. Little do they know, while they're publicly duking it out with snarky memes and retweet battles, they're also falling for each other in real life — on an anonymous chat app Jack built.

As their relationship deepens and their online shenanigans escalate — people on the internet are shipping them?? — their battle gets more and more personal, until even these two rivals can't ignore they were destined for the most unexpected, awkward, all-the-feels romance that neither of them expected.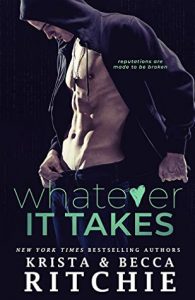 Releases 1/21 – Whatever It Takes (Bad Reputation Duet #1) by Krista & Becca Ritchie
​I HAVE A BAD REPUTATION.



Call me what you want: Bad Boy Next Door. Trouble. That Kid Who Can't Do Anything Right.





When Willow moves into my neighborhood, nothing should have happened. She's geeky. Shy. A true wallflower.





Willow is a good girl.




Too good for me.





And how the hell was I supposed to know that she's related to Loren Hale—yeah, that douchebag celebrity that lives on my street. The same guy I've been pranking by spray painting vulgar words on his mailbox and worse. Much worse.





Don't ask me why I do the things I do.




Don't ask me why it had to be her.





I'm cursed. Simple as that. But here's the thing about people who are cursed—they break everything they touch.





And yet. . .I still want to touch her. ​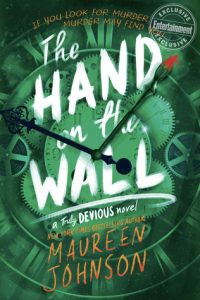 Releases 1/21 – The Hand on the Wall (Truly Devious #3) by Maureen Johnson
Goodreads ✩ Amazon ✩ Book Depository

New York Times bestselling author Maureen Johnson delivers the witty and pulse-pounding conclusion to the Truly Devious series as Stevie Bell solves the mystery that has haunted Ellingham Academy for over 75 years.

Ellingham Academy must be cursed. Three people are now dead. One, a victim of either a prank gone wrong or a murder. Another, dead by misadventure. And now, an accident in Burlington has claimed another life. All three in the wrong place at the wrong time. All at the exact moment of Stevie's greatest triumph . . .

She knows who Truly Devious is. She's solved it. The greatest case of the century.

At least, she thinks she has. With this latest tragedy, it's hard to concentrate on the past. Not only has someone died in town, but David disappeared of his own free will and is up to something. Stevie is sure that somehow—somehow—all these things connect. The three deaths in the present. The deaths in the past. The missing Alice Ellingham and the missing David Eastman. Somewhere in this place of riddles and puzzles there must be answers.

Then another accident occurs as a massive storm heads toward Vermont. This is too much for the parents and administrators. Ellingham Academy is evacuated. Obviously, it's time for Stevie to do something stupid. It's time to stay on the mountain and face the storm—and a murderer.

In the tantalizing finale to the Truly Devious trilogy, New York Times bestselling author Maureen Johnson expertly tangles her dual narrative threads and ignites an explosive end for all who've walked through Ellingham Academy.
✩✮✩✮✩
So these are the books we can't wait to be released this month! Are you excited about any of these releases too? Or is there a book we missed that we should definitely check out? Let us know. ♥
Related Posts