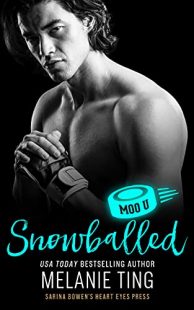 Snowballed
(
Moo U #9
)
by
Melanie Ting
Purchase on:
Amazon
Add to:
Goodreads
Synopsis:

She needs Prince Farming . . . but she got me instead.

Sure, life's been easy for me. Growing up in an oceanside house in SoCal, playing top-level college hockey, driving a luxury car with a generous allowance—sounds like the dream, right? Turns out what I didn't have was freedom. And when I decided to transfer to Moo U for my last year of hockey, my controlling father cut me off.

No money, no car, no friends. I'm just another student struggling to make ends meet. The only place I can afford to live is the Meyers' farm, where I'll work in exchange for room and board. Farm work is so exhausting that I don't even have time to wallow in the crappy turn my life has taken. Zoe Meyers is a hot blonde Amazon with all the energy of a chipmunk on crack. And her positivity is making me realize how lucky I really am, even though I'm broke. Too bad she's not impressed by a guy who can't figure out which end of a goat to milk.

Because suddenly I want to impress her. I want to do a lot more with her too . . . if I can get her out of the barn and into my arms.
Review
I FREAKING LOVED THIS ONE SO MUCH.
Snowballed had two of my favorite things in the World of True North. Farming and hockey.
Noah, a California kid who has a famous hockey play dad, figure skater mom, and a life dictated down to the very meal decides he needs to make a change after he's presented with a spot on the Moo U hockey team. He moves across the country, entirely cut off and jumps on the first opportunity that presents itself–move on to Zoe Meyers' farm, help out with chores, and have a warm bed and meals provided.
Zoe, who also plays on Moo U's women's team does not start off the the right foot with Noah. She's the type that babbles when she's nervous (especially around very attractive guys) and Noah could not take her personal brand of overly bright sunshine when she picked him up from the airport. These idiots, I tell you lollll. She kicked him to the curb, quite literally, after he made one too many rude remarks and things progressed from there.
The more time that Noah spends on the farm doing chores, eating fantastic meals, and being around a more normal Zoe, he does start to loosen up. I loved him so much you guys. He was super serious but also very genuine and caring. He was the ultimate team player on the ice and I loved watching him make the people he was paired directly with, better. Zoe, her brother—literally anyone he was on the ice with. Oh, and did I mention he was BOSSY? But in a good way. Both on the ice and in the bedroom and boy was that a turn on lol.
The ~drama~ in this on revolved around Zoe dealing (or I guess NOT dealing) with the death of her father from two years ago. The farm in which they lived was his baby and her ability to not let it go, as we eventually learn, is a result of that. I'm really glad that more and more books are championing the use of a therapist lately. The stigma on going to one needs to be broken because there is absolutely NOTHING wrong with asking for help from a professional. Watching Zoe go through that process and having her work through all of her pent up feelings about the past and find out what it really even was that was bothering her was a powerful thing. Very realistic and satisfying.
Highly recommend!
Huge thanks to Heart Eyes Press for allowing me to read this eARC early in exchange for an honest review!
Related Posts