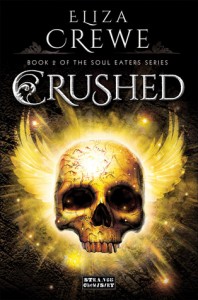 Crushed
(
Soul Eaters #2
)
by
Eliza Crewe
Purchase on:
Amazon
Add to:
Goodreads
Synopsis:

Meda Melange has officially hung up her monstrous mantle and planted her feet firmly on the holy and righteous path of a Crusader-in-training. Or, at least, she's willing to give it a shot. It helps that the Crusaders are the only thing standing between her and the demon hordes who want her dead.

The problem is, the only people less convinced than Meda of her new-found role as Good Girl are the very Crusaders she's trying to join. So when a devilishly handsome half-demon boy offers escape, how's a girl supposed to say "no?"

After all, everyone knows a good girl's greatest weakness is a bad boy.
"It's illegal, you know," he murmurs. "Stealing."
I clear my throat. "Stealing?"
"My heart. I could have you arrested."

Holy Shit. Holy freakin' (SEVERELY HOLDING IN STRONG CURSING) cow. This book. This. Fucking (whoops, I tried). Book. I liked book one, okay? I really did. Meda is a bona fide badass and the story (felt) unique and original. Now, to be fair, I don't really read many demon books. I don't. Really. So to say it's original? I might be off base here. But, to me, everything about it was a breath of fresh air. The plot, the characters, the voice. Just altogether a great book, if you ask me. But nothing, I really mean nothing, could have prepared me for how much I loved this second installment.
We'll face each other in battle, and when that day comes, we will do our utmost to reduce the other to bloody pieces. And we will do it unapologetically.
We know what we are.
Epic. Gripping. Harsh. As. Fuck. Oh, heyo, did I mention that my insides are literally ripped to shreds? No, you say? Well…yeah. They might be a heaping pile of mush at the moment. And I can't quite decide whether they are a good 'oooooh, how about that amazing Chelsea peril right there??? That was some good shit!' or a 'Noooo. Nononononononononono this can't be, this can't beeee' kind of thing. There are one of two ways my heart can be crushed (tee-hee) and while one is still painful (3), the other is unbearable (2).
Options:
View Spoiler »1. Armand is dead. 2. Armand and she will be unflinching enemies if he didn't die-no romance. End of story. End of Chelsea's beating heart as we know it. 3. They will be bitter. They will have a ton of shit to work through (namely betrayal from Armand-yikes, ow). But they will end up together. The end. « Hide Spoiler What does everyone think??? I HAVE NO IDEA! And what did that final line of the book mean and who was it referring to?!
And wah wah wah, call the wah-mbulance. I know I knooooow, I focus on romance waaaaay too much, but I don't care!!!! I don't give a heaping pile of Ellie's dog poo! To me, while the story was more than enough to stand on its own, romance only adds to the story.
I laugh. "How exactly do you see this…" I wave between the two of us, unable to come up with a descriptor.
"Beautiful friendship?" he supplies with a devilish grin.
"…going?" I finish, ignoring him. "Us being mortal enemies and all."
"I prefer the term 'star-crossed lovers.'"
And we all know I'm a sucker for bad boys with dark hair and dark eyes and long eyelashes and…Hmm. You didn't know? Lol. Well you do now. And I wants to tells ya….oh boy oh boy was he bad. Now, this is speculative, he was more of a quiet, doing it behind the scenes guy. But it doesn't make it any less of a certainty-The sky is blue. The grass is green. Armand isn't a sweet or reformed demon. Duh. But I loved him, guys. I luhhh-huuhhh-huuuuuvveeeeddddd himmmmmmmm *whiney voice*.
Every time I saw his name I got giddy, excited, breathless. He and Meda-together-made this story something I craved when I couldn't be near it. I literally ached for it. It was this deep, visceral longing. A lot of it had to do with Meda's voice-she's hilarious. But add a sexy boy to an already badass story? Meda+Armand+more snark+great story+ sexy sexy sexy=happy happy happy Chelsea. It's simple MATH, really ;).
"That's what I get for playing with fire, he grumbles, rubbing his head. It can't hurt too badly-his head is far too hard.
"And here I always thought I was the one playing with fire. You being the bad boy."
"Nope," he says, dropping down beside me. "The one playing with fire is the one most likely to get burned."
"Ah, well, that settles it. You were only bumped not burned."
A pause. "Maybe today."
This second story, to me, was a favorite because we got past all the introductory stuff, for the most part. Jo and Chi and Meda are besties and Meda is a beacon who hangs with the demon hunting crusaders. 90% of the crusaders don't want her to be at the camp, seeing as she eats souls and all… but Jo and Chi are always at her side and on her side (though it's not always clear), and would do anything to keep her there/save her-especially Jo. I adored their friendship. I know I tout about the romance blah blah but another layer to this intricate story was the friendship. For real. It was so beautiful to see two total opposites (and old enemies, really) become so close and to see what has became of their unlikely friendship and what's still to come. I loved it. Not only did it add to the book, it was another key component to making it irresistible.
What a thing, to have your best friend also be your worst enemy.
So, yeah, I could fangirl all day but eh, I think I made my point. I enjoyed this one immensely, and the only thing I can say is that I must love torture. I must love pain. Because my heart? It's pretty well ripped to shreds, due to recent developments and what's most likely to come. And, before anyone asks, YES I figured things out and YES I guessed. I won't elaborate. It changes nothing, ya hear? Nada. So back off on that front, anyone who has anything to say about it. lol. I'm thinking people need to read this. Stat. It's pretty epic….and I can't wait to see what happens (maybe…maybe-I might possibly die a slow and painful death, too…who knows? *shrugs).
Related Posts