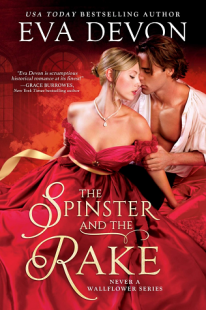 The Spinster and the Rake
(
Never a Wallflower #1
)
by
Eva Devon
Purchase on:
Amazon
, 
iBooks
Add to:
Goodreads
Synopsis:

The marriage game is afoot in this clever blend of My Fair Lady meets Pride and Prejudice with a twist!

Edward Stanhope, the icy Duke of Thornfield, likes his life in a certain order. Give him a strong drink, a good book, and his dog for company, and he's content. But when he goes to his library and finds a woman sitting in his chair, petting his dog, what starts as a request for her to leave quickly turns to a fiery battle of wits, leading to a steamy kiss that could ruin them both if they were caught.

So of course, damn it all, that's when Edward's aunt walks in, and thereafter announces Miss Georgiana Bly is the future Duchess of Thornfield.

Georgiana was content to be a spinster, spending her days reading and working to keep her family out of debt. But now her days are spent locked away with a growly duke, learning how to be the perfect duchess, and her nights spent fighting the undeniable attraction to a man who was never meant for her.

As their wedding day approaches, the attraction between them burns hot and fierce, but is it enough to melt the duke's chilly facade?
Review:
The Spinster and the Rake was a delightful romance that left me with a smile on my face.  If you're a fan of historical romance and opposites attracts, then you'll definitely want to add this one to your tbr!
Georgiana knew she had to simply accept the fact that she was marrying a man who would likely never love her. Who might not even know how to. Still, it was…hard.
Edward Stanhope, the Duke of Thornfield, always had women trying to snare him.  Even though he had a cold, icy exterior. So when Edward went into his library, to get away from life for a moment, there was a woman sitting in his chair who refused to leave.  After a verbal sparring and a passionate kiss, which unfortunately had an audience, he was left with the tough decision to make Georgiana the future Duchess of Thornfield.
Vindication coursed through her veins. At long last, she had shaken him and nothing could have felt better in this moment. Not even his kiss.
I loved Georgiana!  She was honest, brave and had a strong head on her shoulders.  I was delighted how vocal Georgiana could be and that she had no filter when it came to talking with Edward.  She definitely kept the Duke on his toes!  But I felt awful for her.  She did not want to be a duchess and people would talk.  Why would a Duke even become engaged to someone like her?  It wasn't feasible.  But fate has a funny way of intervening in our lives.
"I am not a dog, Your Grace."
"My dog is obedient and causes me a great deal of happiness. So we can agree on that point. You, Miss Bly, are not a dog."
She gasped.
Edward was such a mystery to me, and we got to be in his head too.  He seemed judgey and to assume the worst at times.  His walls were built up so high making him a challenge to get to know.  But while he was regal, I loved how Georgiana made him falter and pause at times.  I enjoyed that she was capable of making him see things in other ways, especially in regards to his behavior.  So while it took us a while to get to know him inside and out, it was worth the wait.  As Edward started to come out of his shell to Georgiana, you guys I melted.  There was this other side of him that wanted to make her happy and please her.  Every single tiny gesture or thought Edward did for Georgiana lit up my entire world!
This.
This was what would bring them together, even when everything else was tearing them apart. Of that he was certain.
Her lips parted as she gasped against him.
When Georgiana and Edward were together, they were fire and ice.  I loved watching how they butted heads, but they had to get to know each other.  And it wasn't a quick process.  They both had so much to learn about not only each other, but what their new future would be like too.  Georgiana would no longer be spending her life as a spinster and Edward wouldn't be living his life in solitude anymore.  While there was common ground here and there, they had to work to make their relationship grow.  And all the while, the passion between them burned brightly.
Edward wished her to be happy…
Much to his amazement, he wished it with all his heart. But most of all, he hoped they could find happiness together.
The Spinster and the Rake was an entertaining story that romance lovers will enjoy.  And if you love HEAs, you're going to love the epilogue in this book! It was fabulous!  While Eva Devon is a new to me author, I'll definitely be checking out her other books!
PS Their game of bowls…..oh my heart that was the moment that gave me so much hope and love in my heart.  They both give a little, have fun and I'm falling in love with them together.
*I voluntarily read and reviewed an advanced copy of this book, provided by the publisher. All thoughts and opinions are my own.*
Related Posts