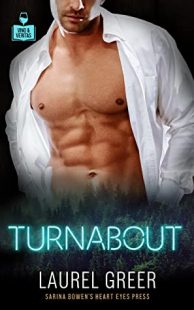 Turnabout
(
Vino & Veritas #9
)
by
Laurel Greer
Purchase on:
Amazon
Add to:
Goodreads
Synopsis:

"Auden and Carter are the swoony heroes I didn't know I needed in my life! Turnabout is spectacular, and everyone should read it." USA Today bestselling author Sarina Bowen

I don't have time for an unplanned visit home to help out in my father's struggling letterpress shop. My stint in Vermont will have to be short, for a couple of reasons:

One, I'm a busy executive trying to climb the corporate ladder.

Two, my ex is still my dad's right-hand man in the shop. And I am not over him.

Nothing has changed at the Burlington shop. Auden still has his infuriatingly sexy Scottish accent. He's still hot, and still stubborn. Between operating the antique press with his shirtsleeves rolled up, and moonlighting at Burlington's hottest inclusive wine bar, he pushes every one of my attraction buttons.

My falling-in-love-again buttons, too. Except I'm his polar opposite. I love change, and taking chances. Everything he avoids in life.

So why am I trying to convince him to reach for more than we've ever dreamed of—the possibility of forever?

Turnabout is a second-chance romance with interfering family, groveling, and a large helping of artisan stationery geekery.
Review
Okayyyy I love this series SO MUCH. Every single one that I've read so far has featured such a range of characters and emotions and love stories that are completely unique and unforgettable. This one features a second chance romance between Auden and Carter. The two had met and fallen in love in college and are in the interestingly uncomfortable position of not ever having gotten rid of the other post-breakup due to the fact that Auden works with Carter's dad at a his letterpress shop. Carter, who wanted to bring the shop into the 21st century and mayyyyybe didn't present his ideas to his father in the best of ways, was heartbroken when his boyfriend and love of his life sided with his father instead of him.

Naturally, Carter, wanting to get the hell out, moved away to work with a bigger, more modern company and doesn't visit home much. When he goes back temporarily to help both the shop (and Auden) and his parents' marriage he finds himself thrown back into things with his old love and they find quite early on that even if their ideals on the shop still don't align, those that they have about each other (in the attraction sense especially) pick up where they left off years ago.

I don't know what it was about these two but between Carter's bossy, white collared toned ass and Auden's Scottish stubbornness I was entranced. On paper, the two shouldn't make sense BUT THEY DID. Everything about them made my heart clench and expand. They both had their fair share of mental and emotional trauma to work through but of course, the power of love wins out. I loved every single bit of this story and I hope EVERYONEEEE make sure to pick this one up!

Huge thanks to Heart Eyes Press for allowing me to read this eARC in exchange for an honest review!♥
Related Posts