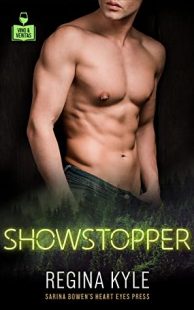 Showstopper
(
Vino & Veritas #17
)
by
Regina Kyle
Purchase on:
Amazon
Add to:
Goodreads
Synopsis:

I swore I wouldn't do this again. Mix sports, school, and sex. But right now the only thing standing between me and the NHL is six feet of frenemy packed into a pair of form-fitting jeans that have me thinking all kinds of things I shouldn't. Mostly how to get him out of them.

I don't just want Kolby. I need him. Because I've got to pass this theater class--yeah, I said theater--if I'm going to keep my spot on the team. When tutoring sessions turn into dates-not-dates over Shipley Cider at Vino and Veritas, I realize it's going to be harder than I thought to keep my hands on my stick and off of Kolby. Worse, I think I might be falling for him. But I'm not ready for that. I want to keep this thing between us on the down-low for now.

But Kolby hates secrets. Especially his own . . .
Review
I did not expect to be back at Moo U for this book and was so excited when that was the case! I can't even tell you how many times at this point I have googled Burlington and surrounding areas so that I can some time take a trip over there and pretend like I could go to all of these places in real life (especially Vino & Veritas).
Kolby and Adam were a great couple that I knew I was going to like from their first run-in where they clashed a little bit (while also still both being super attracted to one another LOL). I love that they both were put in situations around the other where they weren't at their top form (Kolby on the ice doing lessons and Adam in improv class) because I feel like that made them a little more vulnerable. I loved how once the team found out about the two, all but Slags immediately were super supportive to Adam. That's what we need more of in this world. Those Moo U boys really are unparalleled.
Also, and I feel like this isn't a HUGE spoiler since most romances have one side of the couple doing some kind of grand gesture at the end to make up for whatever they messed up, but I was super glad that Kolby just wasn't having it and walked out. Sometimes I come to hate that formula. Why do they always need to do some big huge thing to be forgiven? Why can't they just talk things out in a small and normal way? That's what happened here and I felt like it fit perfectly and I wouldn't have wanted to change one thing about it.
Finally, Regina Kyle, I love you. You added some really great pop culture references that I was obsessed with and even just a mention of a TV show and a book I love made me enjoy this book that much more. I'm a simple gal, what can I say? lol

Huge thanks to Heart Eyes Press for allowing me to read an eARC of this book in exchange for my honest review.
Related Posts