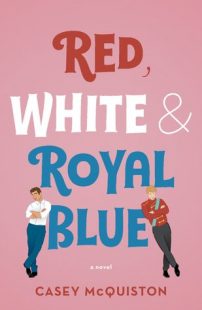 Red, White & Royal Blue
by
Casey McQuiston
Purchase on:
Amazon
, 
iBooks
Add to:
Goodreads
Synopsis:

A big-hearted romantic comedy in which First Son Alex falls in love with Prince Henry of Wales after an incident of international proportions forces them to pretend to be best friends...

First Son Alex Claremont-Diaz is the closest thing to a prince this side of the Atlantic. With his intrepid sister and the Veep's genius granddaughter, they're the White House Trio, a beautiful millennial marketing strategy for his mother, President Ellen Claremont. International socialite duties do have downsides—namely, when photos of a confrontation with his longtime nemesis Prince Henry at a royal wedding leak to the tabloids and threaten American/British relations.

The plan for damage control: staging a fake friendship between the First Son and the Prince. Alex is busy enough handling his mother's bloodthirsty opponents and his own political ambitions without an uptight royal slowing him down. But beneath Henry's Prince Charming veneer, there's a soft-hearted eccentric with a dry sense of humor and more than one ghost haunting him.

As President Claremont kicks off her reelection bid, Alex finds himself hurtling into a secret relationship with Henry that could derail the campaign and upend two nations. And Henry throws everything into question for Alex, an impulsive, charming guy who thought he knew everything: What is worth the sacrifice? How do you do all the good you can do? And, most importantly, how will history remember you?
Thank you to NetGalley (for granting my wish!), Casey McQuiston and St. Martin's Griffin for my ARC in exchange for an honest review.
I'm going to try and make this review as coherent as possible, but not promises. I'm honestly just so filled with emotions and glee and joy from this book. I have so many highlights from this book and they are all SO GOOD.
Welcome to 2018 and in a far better timeline than the one we currently find ourselves in (*sob*), the successor to Barack Obama is democrat President Claremont, a divorced and re-married bad ass lady, who made two wonderful, half Mexican-half American children in Alex and June.
We start this story in the months leading up to her reelection bid. Alex, the first son, makes a fool of himself, as well as his sworn enemy Henry, at Henry's brother's wedding. In attempt to show that there is no animosity between the countries, Henry and Alex are forced to show the world they are indeed, close friends. And cue the start of the enemies to lovers trope, in the best way possible.
"I think it's amazing," Nora says. "Sworn enemies forced to make peace to settle tensions between their countries? There's something totally Shakespearean about it."
"Shakespearean in that hopefully I'll get stabbed to death," Alex says. "This sheet says his favorite food is mutton pie. I literally cannot think of a more boring food. He's like a cardboard cutout of a person."
As you can imagine, as Alex and Henry are forced to spend time together, their feelings begin to blossom. While Alex had only been with women up until this point in time, I appreciate McQuiston not dragging out Alex questioning if he could possibly like other men. Alex pretty quickly accepted that he was bisexual; while I can totally appreciate this is not easy for many, it kept the story moving along nicely with Alex's quick acceptance.
While Alex and Henry's relationship is very much rooted in friendship as they put on a carefully cultivated PR trip in Great Britain, things really get going with Henry's visit to a New Year's Eve party in D.C. It eventually leads to one of the best first kisses I have ever read. There's so much tension leading up to it and I devoured every interaction between the two.
"C'mon, it's like in the hips. You have to loosen up." He reached down and put both hands on Henry's hips, and Henry instantly tenses under the touch. "That's the opposite of what I said."
"Alex, I dont'–"
"Here," Alex says, moving his own hips, "watch me."
With a grave gulp of champagne, Henry says, "I am."

I mean, be still my swooning heart. I was a little surprised how quickly Alex and Henry got together (not that I'm complaining!) as I expected a little more build up. However, I really liked how much attention was given to the complexity of navigating their relationship. There are so many laugh out loud funny moments – I know I was grinning like a fool like 85% of this book.
How dare Henry come into Alex's house looking like the goddman James Bond offspring that he is, drink red wine with the prime minister, and act like he didn't slip Alex the tongue and ghost him for a month.

He kisses Henry until it feels like he can't breathe, until it feels like he's going to forget both of their name and titles, until they're only two people tangled up in a dark room making a brilliant, epic, unstoppable mistake.

While most of the attention is on Alex and Henry's relationship, there's a lot of great subplots happening and excellent side characters. I absolutely adored June, Alex's sister, and Nora, June and Alex's best friend and Alex's sometimes girlfriend. They are both wickedly funny and smart and incredibly real. I also adored Zahra, Amy, Bea, etc. There are so many excellent characters in their own right, even if they revolve around Alex and Henry.
There's some also serious issues brought up, like the fact that Alex struggles with his mixed heritage, Henry struggles with anxiety and both struggle what it means to carry on a high profile family legacy.
If there's a criticism to be made (besides giving me more books in this world), is that you can fairly easily guess the major plot points. There's nothing terribly unpredictable about them, but honestly, I didn't find myself caring all that much. They needed to happen and I was more interested in how these characters were going to handle them.
Take for instance Alex's mother learning of his relationship and her immediate reaction was to make a powerpoint to lead their discussion, including this title for the ages:
EXPLORING YOUR SEXUALITY: HEALTHY, BUT DOES IT HAVE TO BE WITH THE PRINCE OF ENGLAND?
She apologizes for not having time to come up with better titles.

If I didn't love Alex's entire family already, this would have certainly sealed the deal. The ending, while a bit cliche, was still entirely wonderful and really tied up the book nicely. As I said, before, I would love a follow-up book in the future to see what all these amazing people are up to. I truly did not get enough of them in fantastic 432 pages McQuiston gifted us.
While I certainly have started to read more romance stories in the last few years, I still would not certainly consider myself a big reader of this genre. I tend to only like contemporaries and they definitely need to be well-done and bring something different to the table. I've only found a few so far that fit this billing that I've enjoyed and Red, White & Royal blue is certainly at the top of these.
I can't wait to get this in printed form and read it whenever I need a pick-me-up. I cannot say enough positive things about this book and from everything I've seen, just about everyone else who's read this agrees. It's sexy, it's funny and it's emotionally heart-warming.
"You are," he says," the absolute worst idea I've ever had." Henry's mouth spreads into a slow smile, and Alex kisses it.

Red, White & Royal Blue will be released on May 14, 2019.
Related Posts