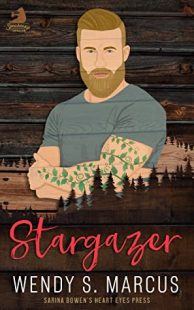 Stargazer
(
Speakeasy Taproom #8
)
by
Wendy S. Marcus
Purchase on:
Amazon
, 
iBooks
Add to:
Goodreads
Synopsis:

Randall Dickson is coping. Sort of. An upcoming medical eval, one that could end his military career, has him stressed and making bad choices. So when a concerned friend issues a strongly-worded "invitation" to Vermont, R.D. is all in for a change of scenery, a temporary job as a bartender, and the opportunity to shake himself out of his self-destructive routine.

Then he sets eyes on his seriously sexy new co-worker…

Lily Reynolds, an artist by day, Speakeasy's favorite bartender at night, works hard to stay positive, unlike her surly new coworker. He may be a treat to look at, but that grumpy attitude and terse manner are not her type. So when Lily finds herself in desperate need of someone to share expenses, she convinces R.D. to rent her vacant room. There's no way she'll find herself falling for him.

She'd like to find the secret admirer who's leaving her secret love notes around the bar, though. But he won't reveal himself...

This standalone contains: opposites who definitely attract, a workplace romance, and an opinionated French bulldog.
Review
OKAYYYY. SO. At this point I have read TWENTY FOUR freaking books between the four different series that make up The World of True North and I think this might be my top favorite. I know, that's a pretty bold claim. BUT….once you all read R.D. and Lily's story I think you'll understand.

Everything about their book was sheer and utter perfection. The two of them shouldn't make any sense together and yet they do. And it's beautiful. And really fucking hot. And Lily's little French bulldog is in love with R.D. and if that itself doesn't make you ALSO fall in love with him, I don't know what will.

Going into this book we have only seen Lily before, seeing as she is one of Speakeasy's favorite bartenders for her upbeat personalities and inspiring quotes that she loves putting up on a white board every day before her shift starts. I knew there was going to be more to her story than someone who was just positive and happy every minute of the day so finding out more appealed to me. Enter R.D. Randy Dick. lollll He and our old pal Griff Shipley had been friends back in college and when R.D. makes the mistake of reaching out to an old dealer to get pain pills for an accident than occurred over a year ago, Griff catches wind and "forces" him to come to Colebury to work at Speakeasy for a bit.

The two work together for a bit and then R.D. winds up moving in after Lily's terrible ex moves out. I loved how Lily immediately confided in him, big things that she never told other people who had been in her life for longer. Even just the fact that she gave him a key to her workshop. That was a big trust move right there. The almost-moments they had too were so appealing. Who doesn't love a good ~oh we promised we wouldn't have sex but now we're drowning in all this sexual tension and how long are we going to last before we break and do something about it~ dynamic? *Chefs kiss*

I don't even know what more to say about this book other than to again just reiterate how obsessed I was with it and how I am both excited and devastated to be starting the final book in the series next. This is one I will for be re-reading many a time!

Huge thanks to Heart Eyes Press for allowing me to read an eARC of this in exchange for my honest review!♥
Related Posts