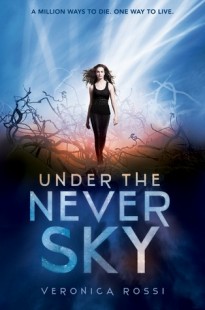 Under the Never Sky
(
Under the Never Sky #1
)
by
Veronica Rossi
Purchase on:
Amazon
, 
iBooks
Add to:
Goodreads
Synopsis:

Exiled from her home, the enclosed city of Reverie, Aria knows her chances of surviving in the outer wasteland—known as The Death Shop—are slim. Then Aria meets an Outsider named Perry. He's wild—a savage—and her only hope of staying alive. A hunter for his tribe in a merciless landscape, Perry views Aria as sheltered and fragile—everything he would expect from a Dweller. But he needs Aria's help too; she alone holds the key to his redemption.

In alternating chapters told in Aria's and Perry's voices, Under the Never Sky subtly and powerfully captures the evolving relationship between these characters and sweeps readers away to a harsh but often beautiful world. Continuing with Through the Ever Night and concluding with Into the Still Blue, the Under the Never Sky trilogy has already been embraced by readers in twenty-six countries and been optioned for film by Warner Bros.
Review:
It took me a few chapters to become immersed in the story and wrap my head around their world.  But once I did, I fell madly in love with Under The Never Sky!  I loved how the story continually built with fascinating ideas.  I loved how rich and soulful the characters were.  And I absolutely loved how my emotions tangled together and parts kept my heart beating fast for a myriad of reasons.  Under The Never Sky was such a beautiful story, and I can't wait to see where this series goes!
And in life, at least in her new life, chances were the best she could hope for. They were like her rocks. Imperfect and surprising and maybe better in the long run than certainties. Chances, she thought, were life.
Aria has lived her whole life in a dome, where they spend their time dually within their real world and a virtual one.  The reason they live in the domes was beyond unique to me – aether flows in the sky.  It's a mixture of fire and water which builds together to create deadly storms that singe and destroy everything in it's path that it touches.  And of course once I started to get a good grasp on Aria and the world she lived in, she was thrown outside the dome.  To die alone.  Yet that's not what happened…..
"I should have let you die. I lost everything because of you." – Perry to Aria
Aria meets Perry, an outsider who she refers to as a savage.  They are people who live outside the dome and have learned to survive the torrential land.  While Aria needs Perry to help survive, Perry needs Aria too, for reasons I can't say haha.  I loved that this unlikely duo had to team up to get what they wanted.  Especially since they are enemies with a very flimsy peace in place.  But the best part?!  We get to hear both of their voices!  We alternate chapters between Perry and Aria and hearing their internal thoughts was so perfect and helpful, especially since they were good at wearing masks *cough Perry cough*.  I found myself caught up in their struggles and hoping that their hatred status could move to friendship.  Or even more!
"Hurt me again, I hurt you back harder," he said through clenched teeth. She felt the rumble of his voice where their ribs pressed together. – Perry to Aria
Perry easily comes across to Aria as a heartless, killing, bastard.  And if you know me, I have a weakness for those lol!  Yes he was a jerk at times.  But his actions spoke volumes for what he was capable of not saying.  It showed that he was loyal, caring, thoughtful and someone who you would want to have your back in their horrific world.  I fell so unbelievably hard for Perry.  Especially with his past and current decisions that he made in life *clutches heart*.  He's definitely going on my favorite tortured heroes list.  And he's someone I hope you all get to meet.
With the weight of the rock resting in her hand and the dusty smell he'd brought in with him. Aria heard her own breathing and felt the quiet power of his attention. She felt completely where she was. There with him. With herself.
She'd never felt anything like it.
Which made me question Aria as his travel companion, since she could seem so unsure of herself.  But all I had to do was wait a little while, because she grew so much!  Aria started to show her true colors when she wouldn't back down to Perry, and when I kept seeing how she hated having to rely on someone to survive.  She wanted to learn.  She wanted to survive on her own.  She was a fighter through and through and never gave in easily.  She was on a direct path to becoming brave and fearless like Perry, and as one of my favorite Heroines.  I can't wait to see how much more she'll grow with the next two books.  Okay, all this talk is making me antsy…..I have to see what happens next!  I am off to start Through The Ever Night, and if you haven't picked up this book yet I highly recommend you do!
Related Posts